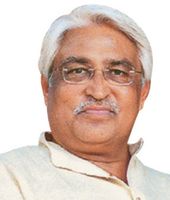 On July 24, 1991, a soft-spoken man stood up and faced the Lok Sabha. He had not led any street battles or union face-offs, or won a popular election. He looked so out of place in a house that was chock-a-block with grizzled warriors, master tacticians, growly bears, raging bulls and sly foxes—all battle-hardened from the political tumult in the preceding years. Looking back, I remember thinking of him as a solitary pawn, all alone on a chequered field. But, no, he was no pawn. In that moment, he was queen—the most powerful piece on a chessboard.
Manmohan Singh's speech ran to 154 paragraphs, almost all of them crammed with facts and strong arguments. In para two he said that India had been "at the edge of a precipice since December 1990 and, more so, since April 1991". He blamed a "combination of unfavourable internal and external factors" for the "double digit inflation, which hurts most the poorer sections of our society". "The crisis in the economy is both acute and deep," he said. "We have not experienced anything similar in the history of independent India." He was not exaggerating.
We are reaping the benefits of what he and prime minister P.V. Narasimha Rao kicked off that day. And, this issue pays tribute on the 25th anniversary of economic reforms. When the Rao government turned 100-days old, Sachidananda Murthy, now our resident editor in Delhi, and I met the prime minister for an interview (October 6, 1991 issue). Rao told us that the largest economic activity in India had always been in the private sector—agriculture! We talked about everything from his contesting from Nandyal to Mandal to the need for an ideological reorientation of the Congress.
Another interesting interview done by THE WEEK that year was with Singh (August 18, 1991 issue). Many answers hinted at the steel core inside that blue-turbaned head. The same steel that he showed, as prime minister, to push the nuclear deal through. In the interview, he bristled when asked about supplementary demands for loans and grants. He said he would stick to the deficit fixed in the budget and would not "run to the RBI to print more notes".
Another interesting comment was on white papers: "White papers do what? Governments, when they don't want to act, set up commissions of inquiry, and spend time on preparing white papers, and then nothing happens." He was even self-deprecating when the interviewer, Rajan Guha, grilled him on his balancing act, as economist and finance minister. "I am not very good at statistics," he said. "I am also a very poor thinker."
Also read: Then Manmohan spoke
Throughout Singh's career, rarely have I read anything that offered me a window into his soul. So, para 151 of his budget speech was a surprise. "I was born in a poor family in a chronically drought-prone village which is now part of Pakistan," Singh said. "University scholarships and grants made it possible for me to go to college in India as well as in England. This country has honoured me by appointing me to some of the most important public offices of our sovereign Republic. This is a debt which I can never be able to fully repay. The best I can do is to pledge myself to serve our country with utmost sincerity and dedication. This I promise to the house. A finance minister has to be hard-headed. This I shall endeavour to be. I shall be firm when it comes to defending the interests of this nation. But I promise that in dealing with the people of India I shall be soft-hearted. I shall never forget that ultimately all economic processes are meant to serve the interests of our people."
Singh closed the speech on a "blood, toil, tears and sweat" note: "I do not minimise the difficulties that lie ahead on the long and arduous journey on which we have embarked. But as Victor Hugo once said, 'no power on earth can stop an idea whose time has come.' I suggest to this august house that the emergence of India as a major economic power in the world happens to be one such idea. Let the whole world hear it loud and clear. India is now wide awake. We shall prevail. We shall overcome."
Amen to that, Dr Singh. And, many thanks.