Murmurs for a sartorial makeover first reached Mohan Bhagwat in 1987, when he was in charge of the physical training department of the Rashtriya Swayamsevak Sangh. Soon after he took over as the RSS chief in March 2009, the murmurs became louder for a change in uniform—from trademark khaki shorts to full-length trousers. A year later, however, during the annual meeting, Bhagwat reportedly told his cadre, "The RSS does not work on the principle of majority view, but unanimity." The matter was deferred for five years.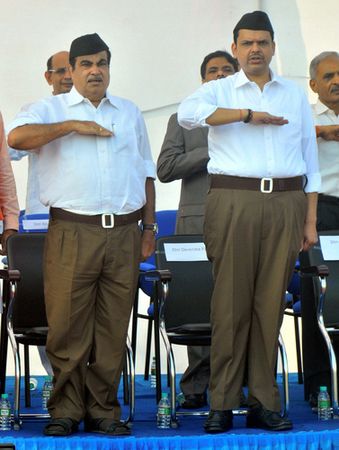 But then its 'pracharak' Narendra Modi became prime minister, and the RSS began attracting more youngsters to its fold. The number of shakhas, too, increased sharply (see box). More than six lakh people joined the RSS in 2015-2016. There could have been no better time for a makeover. The proposal, therefore, was approved during the RSS's annual meeting this March, and on its foundation day on October 11, scores of sangh cadres, led by Bhagwat, ditched the khaki knickers for brown trousers.
Eight lakh cotton trousers, in different sizes but of similar specifications, were stitched and made available at 0250 per piece. Additionally, for its volunteers in the north and northeast, one lakh brown sweaters have been ordered for the coming winter.
Manmohan Vaidya, RSS's chief of publicity, told THE WEEK that there had been many changes in the RSS, its programmes and dimensions over the years. "Initially, there were commands in English, which changed to Sanskrit in 1940. The marching tunes in the RSS band were English till 1973, which eventually acquired a bharatiya touch. Yoga and niyuddha [martial art] were introduced later," he said. "In the uniform also, this is the fourth change since the RSS's inception. There is no difference in uniform for pracharaks or any other office-bearer, even up to the sarsanghchalak."
The RSS's stress on the use of uniform was not only to create a distinct identity but also to ensure "unity, equality and discipline" among the cadres. As Kishore Kant, former Punjab unit chief of the RSS and its current in-charge of archiving, said, "Sangh is not in ganvesh [uniform], but ganvesh is in sangh…. Uniform provides sense of security in society and discipline in the individual."
The sangh's acceptability among the youth was on the rise, said its members. "We do not have a formal process of enrolment in the RSS," Vaidya said. "But from among those who join, a few [one in six new members] undergo a seven-day residential training [for those aged between 14 and 40 years] at their own expense. In 2015-2016, about 1,12,000 participants attended such training camps, which indicates that about 6.5 lakh youth had newly joined the RSS." From January to September, there were 65,620 online requests to join the RSS, he said; it was 53,270 in the same period last year.