Projecting a more approachable image during the Facebook Townhall, Modi credited social media with "transforming diplomacy".
This is going to be India's century and please do not get in the way, even if you are Mark Zuckerberg. The message was clear during Prime Minister Narendra Modi's five-day visit to the US, which ended on September 28. In a video clip that went viral after his townhall meeting with Zuckerberg, Modi was seen pushing away the Facebook chief as he got in the way of cameras, spoiling a perfect photo op. Zuckerberg, however, took it in his stride, smiling sportingly, which also gave the world a peek into Modi's chemistry with the tech titans.
All prominent avatars of Modi—the master orator, the astute businessman and the shrewd showman—were on display during the visit. As he flew from the east coast to the west and back, meeting leaders, delivering speeches and sealing deals, what came through was a stellar display of showmanship. His support team, which worked like a well-oiled PR machine, made sure he stayed in the limelight. Not a mean feat considering that Modi went to the US at a time when hundreds of world leaders, including the pope, were visiting the country. Modi's brilliantly executed appearances—be it at the United Nations or in Silicon Valley—contained an abiding message: "The 21st century is India's century."
Modi's itinerary hinted at his sense of urgency to achieve as much as possible in the shortest possible time. In his address to the UN and at the G4 summit on September 26, he claimed legitimacy for India's bid for a permanent seat in the UN Security Council. "It is time for reform that would include the world's largest democracies [in the Security Council]," he said, reiterating the need to take the issue of reforms and expansion of the UNSC to text-based negotiations in the General Assembly, to commemorate the 70th anniversary of the UN.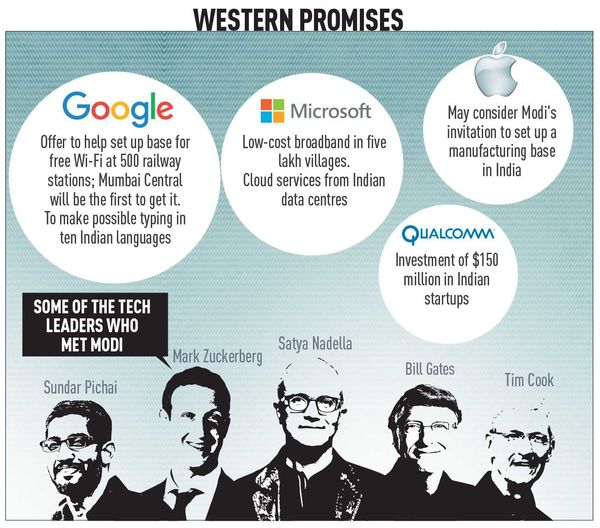 Leaving the world leaders to ponder over his words, Modi flew off to California to a tumultuous welcome from tech town CEOs and tens of thousands of Indian Americans. In Silicon Valley, Modi successfully roped in tech giants to play vital roles in his Digital India agenda, which included expanding wireless connectivity, connecting schools and colleges with broadband and streamlining digital infrastructure. He spoke to technology leaders with the conviction of a man determined to get the job done.
Perhaps it was this sentiment that prompted the Indian American CEO of Google, Sundar Pichai, to name India as the world's fastest growing startup nation. "Modi has accelerated India's efforts in becoming the hotbed of innovation," said Pichai. In a promising initiative, he said, Google would team up with the Indian Railways to provide Wi-Fi services at 500 railways stations by next year. At Google's Mountain View campus, Modi scored with young techies who were taking part in the Code for India Hackathon. He said he would like to start the hackathon culture in India so that the youth would be "inspired to find solutions to the country's problems."
Modi must have felt like home at his next stop. With more than three crore "likes" on Facebook, Modi probably considers his followers on the social networking site part of his extended family. The most anticipated event during his Silicon Valley sojourn was the Facebook Townhall with Zuckerberg. Projecting a more approachable image during the interaction, he credited social media with "transforming diplomacy". Missing at the meeting was the thundering rhetoric that marked his speech at the UN. Modi's eyes welled up recalling the sacrifices of his mother, who cleaned dishes and worked in nearby houses to support the family. He also acknowledged the contributions of Zuckerberg's parents and got the audience to give them a standing ovation "for having raised a fine boy like Mark."
Although Modi was sophistication personified for most part of the visit, he could not resist the temptation of taking a dig at his political enemies back home. He charged the previous Congress government with inaction, arguing that despite the nationalisation of banks 40 years ago, 60 per cent of Indians had been without bank accounts, until his government launched the Pradhan Mantri Jan-Dhan Yojana.
To help millions of Indians access the fruits of technology, Modi has found an ally in Microsoft. The tech giant, led by its Indian American CEO Satya Nadella, revealed plans to bring low cost broadband to five lakh villages. Microsoft is soon expected to announce the availability of its cloud services operating out of Indian data centres. At Apple, Modi went a step further and asked CEO Tim Cook to set up a manufacturing plant in India, to which the company has responded positively. An even bigger surprise was awaiting the Indian delegation when chip maker Qualcomm announced the establishment of an India-specific venture fund. At the Digital India dinner hosted in honour of Modi, Qualcomm's executive chairman Paul Jacobs announced the setting up of a $150 million fund to fuel innovation and foster startups.
As he wound up his visit to the west coast, it was once again showtime for Modi. Nearly 18,000 Indian Americans were waiting to listen to him at the SAP Centre in San Jose. Ignoring protestors who raised slogans and waved anti-Modi placards outside the venue against "massive rights violations against minorities," Modi went ahead with his speech. He delivered his speech with typical panache, which was interrupted only by several rounds of thunderous applause.
Back in New York, diplomacy took centre stage as Modi met US President Barack Obama, British Prime Minister David Cameron and French President Francois Hollande. As he explained to them the importance of India having a seat at the UN high table, the easy smile on Modi's face was replaced by a look of steely resolve. He did not mince words when he asked the UN to define "terrorism once and for all."
For the average Indian, however, the most important takeaway from the visit is the belief that Modi has succeeded in changing the way the world looks at India and Indians. That perhaps has been the single greatest achievement of the visit, rather than specific results. John Chambers, who heads the technology giant Cisco, summed up the predominant sentiment during Modi's visit. "We believe Modi will change the world and change India.... He has the global vision and understands global trends."