Modi met the Bose family members many times—in Delhi and Kolkata—and wooed them into the BJP fold. But the image-conscious family treaded cautiously.
As a child, Amitava Das learnt through history text book pages that Subhas Chandra Bose was a nationalist who had become a rebel to free India. As he grew up, he was eager to know more about the enigmatic icon—about his passion and ideology, and what he could have emerged as, had he returned to India. That was missing in the text books, as they were replete with Bose raising the Indian National Army and joining hands with Adolf Hitler to free India.
"To me he was like a hero, like James Bond, who travelled from one country to another to free India. That was magical," says Das, an author and publisher of a children's magazine in Kolkata. "We had no information about his personality. We were not taught Netaji like we were about [Mahatma] Gandhi and [Jawaharlal] Nehru."
Das feels academic history throws little light on Bose, except about his rebellion and mysterious disappearance. While the official version is that he died in an air crash in Taipei, Taiwan, on August 18, 1945, there is a plethora of conspiracy theories on his 'disappearance', including one that he had returned to India and lived incognito as 'Gumnami Baba' in Faizabad, Uttar Pradesh.
Now, as Prime Minister Narendra Modi has declassified 100 "Netaji files", and has promised to release more—25 files every month—does Das see a new chapter of political history opening up? No, he says. He believes the declassification is just a "political drama".
"Though I am interested to know how Netaji died and who were behind his death, the revelations won't make any impact on me and others in the younger generation. That is, even if Jawaharlal Nehru had a hand in Netaji's disappearance," says Das, who is in his late thirties. "Neither Modi nor [West Bengal Chief Minister] Mamata Banerjee [who had declassified 64 files last year] would benefit out of it," says Das.
Nehru once was the most hated political figure in West Bengal. He was seen as a villain who did in Bose. Kolkata, for instance, has very few Nehru statues, unlike his descendants Indira Gandhi and Rajiv Gandhi, who are worshiped by Congressmen. There is just one Nehru statue amidst a bush in Kolkata's Park Street.
Not many Congressmen, besides the second chief minister of West Bengal, Bidhan Chandra Roy, who erected the statue at Park Street, dared to worship Nehru. They feared political isolation.
Things, however, have changed. The Bengali youth are not obsessed with the Nehru-Bose rift anymore.
"Actually, many of us came to know about Netaji when we became adults," says Muhammad Shahnawaz, who teaches English at a tutorial in Kolkata. "I knew him not as a freedom fighter, but a nationalist extremist. My students are least bothered about what the Netaji files would be revealing. We would not sprinkle black ink on Nehru's portrait even if any damning revelations against him comes out. Times have changed, so have people's priorities."
Shahnawaz, however, wonders why Bose was "kept hidden" from several generations. "Everyone is doing politics over his death now. Why none tried to tell us about his life?" he asks.
Seven decades have passed since Bose's 'disappearance'. But, people like Shahnawaz still believe he was a leader independent India missed.
"Many of us visited the Netaji Research Bureau in Kolkata as we grew up. Had he been alive he would never have kept issues plaguing the nation pending. Just imagine how in a short time he raised an army and attacked the British! We needed such a prime minister," said Shahnawaz.
It is this sense of reverence that Modi is trying to exploit. Appropriating Bose is, in fact, a coup of sorts, with assembly elections coming up in West Bengal, Punjab, Tamil Nadu, Kerala and the northeast.
Modi & Co. have managed to capitalise on the divide in the Bose family over his disappearance. The family had so far been backing the Congress (which believes in air crash theory) or the leftist Forward Bloc (which suspects foul play in Bose's disappearance).
But after the releasing of files, a large part of the family has been Modi-fied. Chandra Kumar Bose, grandnephew of Bose, joined the BJP a day after Modi initiated the declassification process on January 23, the 119th birth anniversary of the legend. Soon after getting re-elected as the BJP's national president, Amit Shah held a rally in West Bengal. And he handed over a party flag to Chandra Bose, who waved it with a broad smile.
"I am proud to be part of the BJP. This is the first government since independence that is trying to unravel the mystery of Netaji's death. Thus, I have decided to join the prime minister's attempt to establish good governance in the country," says Chandra Bose, in an exclusive interview with THE WEEK.
The Modi government, he says, is set to rewrite Indian history since 1857. "The prime minister has told me that he would constitute a committee to take a re-look at our history since India's first war of independence," says Chandra Bose. "Many sidelined freedom fighters would find a place in history books. Netaji certainly would find more space. I will be part of the committee."
Would Bose have accepted his joining the BJP?
"There are hot-heads in all the political parties of India. I can assure you that the prime minister is not a communal man. I had many discussions with him over the past one year," says Chandra Bose.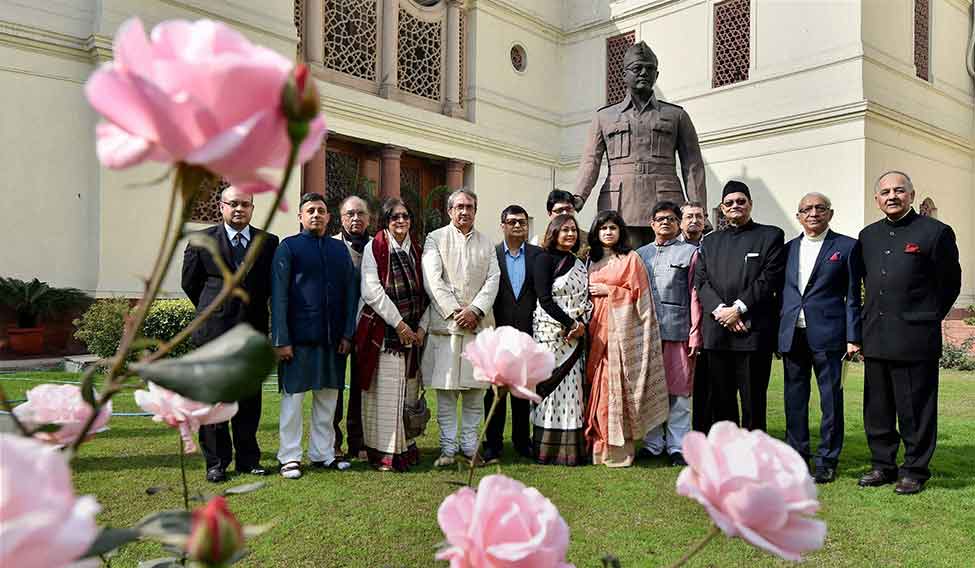 Modi clearly is desperate for a firm footing in West Bengal. He had been sending feelers to the Bose family ever since he became prime minister. He, apparently, spoke to every prominent member of the Bose family, including Trinamool Congress MP Sugata Bose.
An internal study had found that the BJP was facing an image crisis in West Bengal. Hence, over the past two years, the party has been trying for a makeover by inducting people from the civil society. And now comes the trump card: Bose.
Roping in the larger part of the family, which disbelieved the air crash theory, was not a cakewalk. Modi met the family members several times—in Delhi and Kolkata—and wooed them into the BJP fold. But the image-conscious family treaded cautiously.
The family members asked Modi to do something that would justify their support to him. "Yes, the prime minister first approached me to join the BJP. But I was not prepared for that, as I was part of left politics then," says Chandra Bose. "Then, I requested him to release all the classified documents with the PMO, National Archives and with home ministry. I requested him to deliver on KGB files by taking up the issue with Russian President Vladimir Putin. He did that. He also promised he would ask foreign governments concerned to release files on Netaji. All files with the British archives in London will be released soon. He accepted my pleas, and I accepted his."
Chandra Bose seems charmed by Modi. He, in fact, says he had never even imagined joining the BJP, but Modi made him change his mind. "Trust me, I have never seen such a dedicated prime minister who could act on unravelling the mystery of Netaji's disappearance. We are proud of him," he says, adding that many more in the family have become Modi fans.
Chandra Bose's cousin Sugata, however, does not share the enthusiasm. When asked about the political churning in the family, he smiles and says, "I prefer not to comment." Senior BJP leaders, too, refuse to comment on the connect between Modi and the Bose family. "How would I know what was transpired between the prime minister and them?" asks Dilip Ghosh, president of the BJP's West Bengal unit.
"The prime minister or our party president have not discussed the subject with us," says a national leader. "But we are happy that we have got members of the Bose family backing us."
Forward Bloc secretary Ashok Ghosh, 94—the only living Indian politician who has met Bose—is upset with the family aligning with the BJP. "I could not leave the party, as I know the legendary leader," says Ghosh, who has been the party's secretary for 65 years. "His family member [Chandra Kumar Bose] joined the BJP because they did not inculcate Bose's ideology. They remained just family members."
Congress leaders, meanwhile, feel Modi sought to strike two birds with one stone—to tarnish the image of Nehru and the Congress, and to boost the BJP's prospects in West Bengal.
"The prime minister and the BJP aim to defame Nehru by declassifying the files," says Congress Rajya Sabha MP Pradip Bhattacharya. "It is very unfortunate, but they would not find anything [against Nehru] even if they go abroad and try to unearth things." Bhattacharya suspects an understanding between Mamata and Modi to polarise West Bengal in the name of Netaji. "He, after all, is the biggest icon in Bengal and would remain so," he says.
Mamata had declassified Netaji files with the state about six months ago, when she had been cornered over her alleged role in the Saradha scam. "How could India never reveal the secret? How could the past governments of India hide it from the public eye? It is shameful," said Mamata, soon after Modi's declassification move.
And that has put an end to rumours about Mamata warming up to the Congress. "Didi asked us to support the BJP government's decision on Netaji files," says a Trinamool Congress leader. Sources say Mamata is miffed over the Congress cosying up with the left in West Bengal.
Both Mamata and Modi have told their party men to make Bose an election issue. "Yes, we will take up this issue," says Chandra Bose. "We have no problem if Mamata also takes it up. But Modi's act is courageous, as government after government had dilly-dallied saying declassification of files would affect India's relations with foreign countries."
Even the CPI(M) had no choice but to praise Modi's move. "I welcome it," says the party's central committee member Gautam Deb. "The government should release all the files related to Netaji. I will not go into the debate whether Nehru was involved or not [in Bose's disappearance]. The government should reveal all documents it possesses before the countrymen."
That will happen in the coming days, assures Chandra Bose. There is no question of Modi cherry-picking, he says. "The prime minister told me: 'I have not seen a single file. Nor would I study anyone in the near future. I am only interested in letting people know the inside story'."