I met Monika Ghurde, 39, on a balmy evening in Goa last year. We were at the launch of origami artist Shivaram Ananthanarayanan's book, In the Fold, in Porvorim. She was striking and soft-spoken.
After the event, Shivaram, his brother Shrinivas, a young man and I stood chatting near the entrance. Monika emerged from the refreshments area with some fritters. She slid next to the young man, and passed the fritters around. "I just followed my nose—it took me straight to where the food was," she said, as the rest of us relished the home-made fritters.
"Monika is a perfumer, and that is her brother, Anand, who is a lawyer," said Shrinivas, pointing towards the young man. I shook hands with them, a little embarrassed, as I had assumed they were a 'cool couple'.
Monika greeted me with a sparkling smile. And I could not stop admiring her personal style. There was something about her beauty, the way she wore make-up, the way her soft curls fell on her shoulders, the way that shift dress adorned her body and the way her tiny nose stud gleamed. The oomph factor oozed, effortlessly. 
What, however, piqued my curiosity about her was the word 'perfumer', as I had been an amateur perfume collector for 25 years. So I was delighted to be in her company, and we soon started discussing fragrances.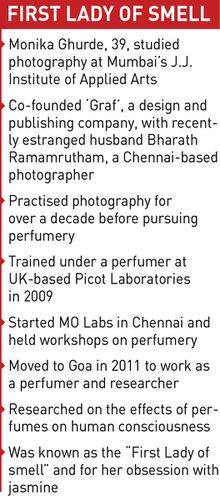 She patiently listened to me as I gushed about the evolution of my passion, right from the silly, schoolgirl fascination for those beautifully crafted bottles. I told her about my love for French perfumes and that I did not care much for the American ones. Monika explained the broad differences between the two, and the cultural reasons for that. 
For instance, she noted, the French were initiated to various smells from childhood. They were made to smell cheese and wine, so that they would have well-developed olfactory senses and palates early on, she said. 
The Americans, she added, preferred fresh, citrusy fragrances over the classical and glamorous ones the French preferred. Arabs and Indians also had very distinct tastes, she said. 
From Elizabeth Taylor's White Diamonds to Givenchy, Guerlain, Kenzo and even Calvin Klein, we spoke at length. Then, the conversation shifted to the personalities behind the perfumes, and names of legends such as Coco Chanel and Ralph Lauren came up. I mentioned Lauren's Romance, and was glad that Monika did not think poorly of it. 
She, however, did not think high of Gucci's Envy, my signature fragrance. I wondered—and still wonder—how she could not. 
While leaving the venue that night, I handed her my business card and a copy of THE WEEK's latest issue, in which I had written the cover story on William Shakespeare's 400-year-old legacy. And I returned to my hotel, pleased as Punch. 
A few days after returning to Mumbai, I got an email from Monika. She inquired whether I had enjoyed my stay in "oh so lovely Goaland". 
"I am totally sooo jealous," she wrote, on I getting to watch Benedict Cumberbatch's Hamlet at The Barbican in London. "I want your job. Please let me know when you need an assistant... :)" 
She ended the email with, "Hope we have more time to talk about cars, literature, perfumes and all other exciting things in life.... Looking forward to seeing you soon." 
A few weeks later, she sent New Year wishes. This time, "Dear Rachna" was replaced by "Dearest Rachna". She wrote: "May 2016 be a fragrant year full of precious moments. A new chapter in life waiting to be written. New questions to be asked and new dreams to be dreamt. Wishing you a journey full of new discoveries, adventure, success, and inspiring conversations. Happy New Year." 
The beautiful lines were accompanied by a montage of photos capturing different moods, probably clicked by her. (She was a photographer earlier.) And she signed off with "Big hugs, M". 

I wrote back returning best wishes and inquiring about the new fragrances she had been creating at her MO Lab in Goa. I asked her to call me the next time she was in Mumbai, so that we could catch up over coffee.
In an email later, she wrote: "Fun projects on the horizon for 2016... I am excited, will tell you about it over that cup of coffee or a drink...:) and find out what's happening in your fascinating world." 
Her last email was to inform me about a workshop for children that she was organising in Mumbai. She wanted to know if we could meet. Sadly, =I was travelling at that time. 
Some days later, my mobile phone broke the horrid news: Monika had been murdered. 
I still am in shock. A fragrant life has been snuffed out. Her gruesome murder (see graphics) seems like a Shakespearean tragedy, with elements of the morbid and macabre. 
I am so sorry, Monika, that we could not meet. But know this: you, my friend, were every bit of what Coco Chanel wanted women to be—"classy and fabulous". RIP.