Kanhaiya's family lives in a village that is considered the Leningrad of Bihar. His relatives did not feel the need to go to Delhi until he was assaulted at Patiala House.
He is home. Bright red flowers litter the grounds of Jawaharlal Nehru University. The rain over the weekend has reduced the sweltering heat. The smog of fear that enveloped the university seems to have lifted. The leaves are shiny green, the air cleaner, and the revolution, stirring but quiet. The triumphant return of Kanhaiya Kumar, the 29-year-old president of the JNU Students Union who was arrested last month on sedition charges, has changed the campus. The campus was under siege, with protesters blocking the gates demanding that anti-nationals be shot. It is now reverberating with chants of azaadi. The battle has been won; the war remains.
On the periphery of the campus is the Brahmaputra hostel. The smell of hot parathas, the comforting smell of potatoes and flour being fried, wafts in. A small shop selling chai, the fuel on which revolutions are brought about, is doing brisk business. Plump dogs lie on the ground, lolling in the sun. A poster welcoming Kanhaiya is up on the wall. Clothes hang in the far corner of a garden devoid of grass, just outside the hostel.
The campus is limping back to normal. "Classes have to go on," says a student, shrugging his shoulders and clearly wishing that the mantra was struggle and struggle rather than study and struggle. Activists who were forced to go underground have resurfaced. The raids in hostels and the 'witch-hunting'—a term students use to describe the dark days of the protests—have stopped. The admin block, which had become the Tahrir Square of the movement, is empty. Students walk around talking, sipping tea at the dhaba and waiting for evening, when the block would become alive once again.
Kanhaiya, whose azaadi speech on March 3 fired up even cynics, is busy. His friends and party colleagues now manage his schedule, which is jam-packed with television appearances and appointments. It is mid-afternoon and his day has just begun. He is yet to settle down into a routine. The evenings are long and the night stretches into the day.
Sleep is never in the same bed, or in the same room. The day starts with newspaper and chai. "Even today, he was woken up by friends and then he walked here," says Amrita, who handles the media for Kanhaiya. Requests are pouring in, and interviews are lined up for the whole day.
Kanhaiya walks in, surrounded by his friends. And then he is off to talk to his PhD supervisor sitting on a rocky outcrop. For the past few days, studies have been his only struggle. Since his release on March 3, Kanhaiya's constituency has grown—it is no longer the 5,000 students of JNU, it is now India.
Students and teachers are keen to meet him. As he walks out of the Brahmaputra hostel, a woman comes up to him and holds his hand. "You are much shorter than I expected," she exclaims. "I just wanted to come and thank you. Bless you. You will make India proud."
Another student hugs him. Selfies are taken. Kanhaiya smiles and complies. He is no longer just a leader—he has become an icon. With fame has come adulation, and the expectations are so high that he is bound to disappoint.
His biggest test will now be living up to the expectations. "I do realise that people are looking at me with hope. This needs a positive culmination. If you talk about democracy, then you have to be down to earth. I can't speak about those who are downtrodden without being grounded. You have to be honest about that cause. If you talk naturally, people will understand," he says.
His speeches are lucid and liberally sprinkled with his earthy humour and wit, turning ideas and ideology into understandable concepts for students. Yet, a conversation with him tends to veer off to topics like the idea of India, the forces of fascism, and philosophy and democracy. "I said what I had to when I spoke on Thursday (March 3)," he says. "But I do realise that I need to repeat the same things to different channels and newspapers."
He sits down, and a crowd gathers around him immediately. "I will feed your number into my new phone when I get it," he says with a smile. "The other one is with the police."
The days since his release have melted into a haze for him. Everyone wants Kanhaiya to be everywhere.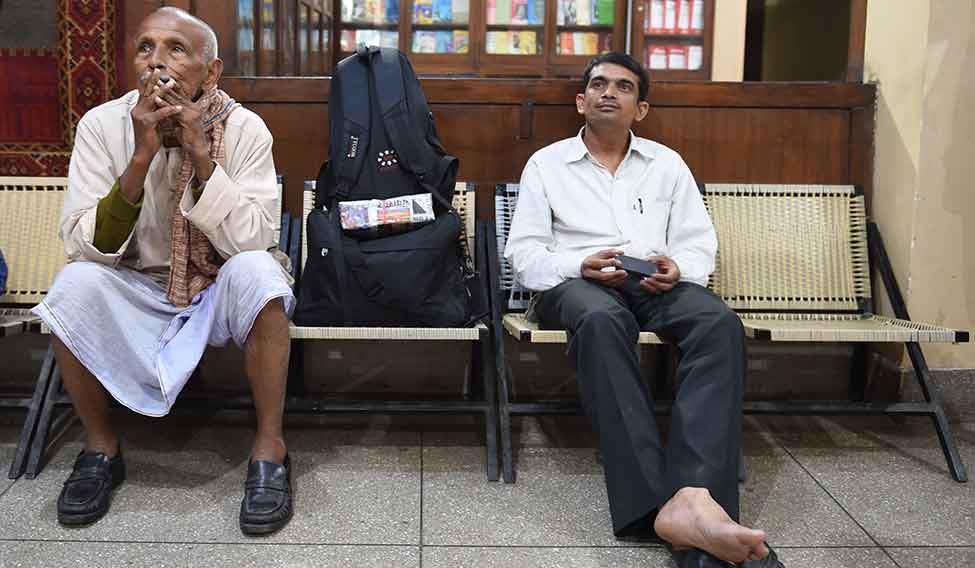 So, will he campaign in the West Bengal assembly elections? "I am primarily a student," he says, smiling. "The basic questions for me are hostel, Wi-Fi and security. My primary task is to study and, being a student representative, deal with these issues. This needs to be taken out of the campus. But it is not an election campaign. This is about basic issues of poverty, hunger and corruption. This is a movement. This is a struggle, not an electoral battle."
The next stage of the struggle will be much harder. And it might be less popular, especially with the students' union committing itself to fight for Anirban Bhattacharya and Umar Khalid, the two students who are still in jail. The support for them has not been as thumping as it had been for Kanhaiya. Getting them home will be tricky. "There was a council meeting yesterday," he says. Their suspension is one aspect that may be challenged. But their homecoming will not be simple, or even soon.
The Kanhaiya story has become larger than life. Its ingredients—hope, struggle and triumph—are the stuff that makes the India story, something the government has tried to sell as a dream.
And the story is powerful as it is real. Kanhaiya went to jail under a cloud of suspicion. He returned to campus as a hero. Clean-shaven and dressed in a pristine white shirt and black jacket, Kanhaiya created history with his homecoming speech. "It was not his best speech," says a student leader. "But that day, anything he said would have made history. And so it did."
The stories of Kanhaiya abound on campus. One thing seems indisputable: that he is popular, regardless of the political divide. His speeches, of course, are the stuff of legends. When he first stood up at the JNU presidential debate, he was the underdog. Yet, when he spoke, he swept people off their feet. Ten minutes later, he secured a victory. "To take the campus in ten minutes is not easy," says Kanhaiya. "It isn't about ten minutes. It is about the 65 years of India's history that I put into those ten minutes. If authoritarian forces have emerged, progressive forces are responsible. We believe that politics is only about fighting elections and becoming MP or MLA. Politics begins when a child is in the womb. Who will get pulse polio drops and who won't—these are choices. These are things that are not debated. We get involved with forming the government. The nation gets left behind."
There is a 'Kanhaiya type of answer' that people now speak of—and it is repeated all over the campus with great relish. On March 3, as crowds gathered and waited patiently to hear Kanhaiya speak, a student was overheard telling another student: "Why are you gawking at Barkha Dutt? She is, after all, human. Humare pass Kanhaiya hai [We have Kanhaiya]."
Kanhaiya's family lives in a village that is considered the Leningrad of Bihar. His relatives did not feel the need to go to Delhi until he was assaulted by lawyers at the Patiala House Court Complex. They went back home just as news of him being released from jail trickled in. Kanhaiya's brother, Manikant, did not meet him when he was released from jail. "If he goes back home, it would send a wrong message," he said.
Like his brother, Manikant is blessed with the gift of the gab. His wit is acerbic. "Aaj kal kya hai ki anti-national free mein bikra hai. Ek ke saath ek free [You are getting anti-nationals for free these days. One free for one]," he quips. "They call us anti-national. At least they are giving us the nation. What really hurts is when they call us traitors."
Kanhaiya was a formidable public speaker even as a child. "Children refused to stand up against him in a debate," he says, laughing. "He would turn the speech written by his teachers—to be delivered on January 26 or August 15—into his own." Manikant has saved Kanhaiya's March 3 speech on his phone. "I listen to it," he says.
The last time he went home to vote, Kanhaiya gave a speech at his village. The villagers now hope that he would return to inspire them. "He has always been calm," says Manikant. "Neat and clean."
He and his uncle Rajendra Singh, a sprightly 83-year-old, watched the JNU drama unfold on television. "I don't watch television at home," says Singh. "The road he has chosen will never be easy. He knows that. Anything can happen anytime."
Manikant and his uncle twice met Kanhaiya in jail, but chose to leave before he was released. "When we went, my uncle got emotional. Kanhaiya told him that he shouldn't feel sad. 'I have done nothing for you to feel humiliated,' he said. 'I have only done what you taught me'," says Manikant.
Even as a child, Kanhaiya never lost his temper. Kanhaiya's JNU friends say nothing has changed. "He hasn't slept under a thick blanket all winter," says Amrita. "A friend borrowed it. Kanhaiya doesn't want to ask, as the friend needs it more."
His halo has been carefully hammered on. "I have learnt one thing in jail. Never be without hope. When things are hopeless, it marks the birth of hope,'' he says like a true politician. The question is, can he always remain a leader? JNU believes he will. The nation lives in hope.