He made up his mind to demonetise large currency notes after a NITI Aayog meeting tracked the progress of the Pradhan Mantri Jan Dhan Yojana.
Former chief election commissioner S.Y. Quraishi was at Ashoka University in Sonepat, Haryana, on November 9 to deliver a lecture on democracy and elections. He had lunch at the canteen with Gopalkrishna Gandhi, who teaches history at the university. Quraishi did not offer to pay for Gandhi's lunch because he had in his wallet just Rs 100 and a few pieces of paper. It did not matter that those pieces of paper were, till a few hours earlier, worth Rs 500 or Rs 1,000 each in legal tender.
"To fight corruption in elections this is the most brilliant move anyone could have made," said Quraishi, referring to the government's sudden decision to demonetise Rs 500 and Rs 1,000 currencies. When he took over as CEC in June 2010, he mentioned money power in elections, along with voter apathy, as the biggest challenge. "Our theory is that abuse of money power in elections is the source of all corruption in the country. To spend money that is not accounted for, they collect by means fair and foul, and there is a quid pro quo. And anecdotally we know they spend up to 100 times the ceiling," he said.
It was a masterstroke from Prime Minister Narendra Modi, with which he possibly converted Rs 14.17 lakh crore into "worthless pieces of paper", and wiped out black money and fake currency that the government knew had been used to fund terrorist activities. "It is a great move, and we have been arguing for it in the past three years," said Dr Shamika Ravi, senior fellow at the think tank Brookings India.
Chartered accountant P. Sivaram called it an "involuntary disclosure" scheme which came a month after the government's voluntary income disclosure scheme. "It is good politics and good economics," he said. All money will come into the banking system, which became the tracking point, he added.
Modi's out-of-the-blue move, in fact, had been under consideration for more than six months. Suggestions to ban large-denomination currency notes came from different quarters, for different reasons. One that the prime minister took seriously was from Peter Sands, former CEO of Standard Chartered Bank. Though not in the Indian context, Sands proposed that if the world's 20 largest economies pull out high denomination currency notes, the problem of black money could be tackled.
"The problem is, large transactions through large denominations are almost always illegal. It is true of every country. The Indian economy has many large sectors which are cash-driven. Real estate, movies, elections and trade, too," said Shamika.
Former Reserve Bank governor Raghuram Rajan is said to have mooted proposals to deal with counterfeit currency and tax evasion, which paints the money black. At a press conference in April, Rajan expressed his surprise at "an extra Rs 60,000 crore in the hands of the public", lightly commenting that cash with the public increases around election time.
Some five years ago, yoga guru Baba Ramdev called for demonetisation, dubbing it as the simplest way to deal with black money. When he met Modi ahead of the first International Yoga Day, he raised the issue of black money and told the prime minister that people were concerned.
Modi's poll time talk of bringing back black money stashed abroad had been a stick for the opposition to beat the BJP during the subsequent assembly elections. "That became a serious cause for concern within the party, and it stands to reason that the prime minister was constantly thinking of how to tackle the black money. And he looks everywhere for ideas," said a BJP leader.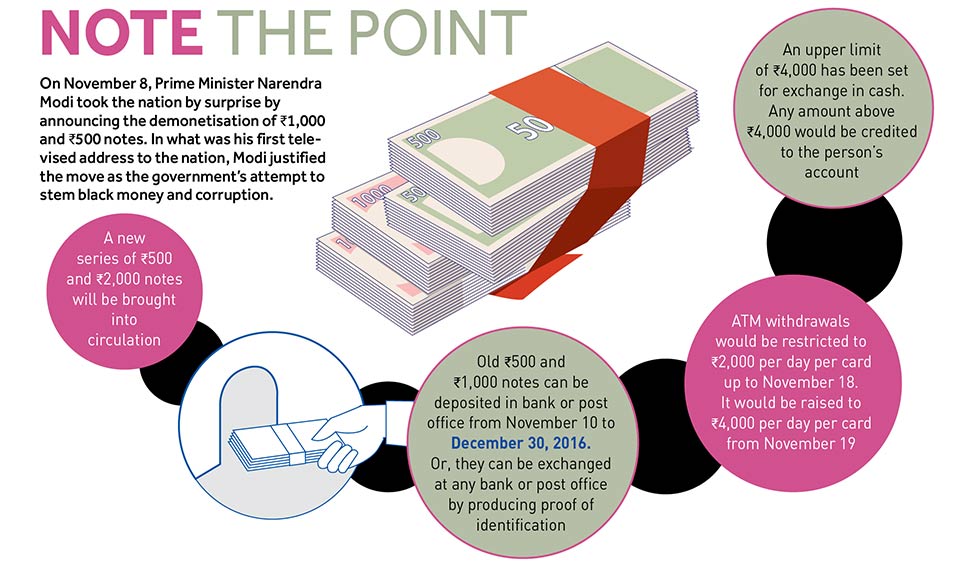 If Modi's victory in 2014 could be attributed in substantial measure to the seriousness with which he spoke against black money and corruption, and the promised solutions, the first few months saw very little action other than the setting up of a special investigation team to deal with it.
Modi's statements on the need to enter into agreements with other countries sounded no different from those of the Manmohan Singh regime. While it was clear that the real estate sector was a big player in the black money affair, there was little the government could do directly. The best it did was the Benami Transaction (Prohibition) Amendment Act, which made it difficult for people to park their black money in property in someone else's name. "This bill is also intended to deal with black money," Finance Minister Arun Jaitley told a gathering while the bill was in Parliament.
Then came the Income Declaration Scheme 2016, which let people declare their unaccounted wealth paying 45 per cent tax and penalty by September 30. Lots of immunity clauses were also thrown in. As enough of an opportunity was given to people with money stashed away, Modi was disappointed with there being "no visible attack on black money and recovery proportionate to assessment," said a BJP leader.
Two years ago in his 'Mann ki Baat' radio programme, the prime minister said dealing with black money was an "article of faith" with him and no effort would be spared. In the same programme this summer, he spoke about the amnesty scheme and the deadline of September 30. He made up his mind to demonetise large currency notes after a NITI Aayog meeting tracked the progress of the Pradhan Mantri Jan Dhan Yojana, a scheme aimed at bank accounts for everyone.
A lot of thought was given to 'how to make the transition to plastic money driven by technology as painless as possible'. The idea of doing it in two stages was considered but was dropped at the insistance of Modi. Then came the warning. "Consider this as one last chance," he told the nation in his Mann ki Baat the following month.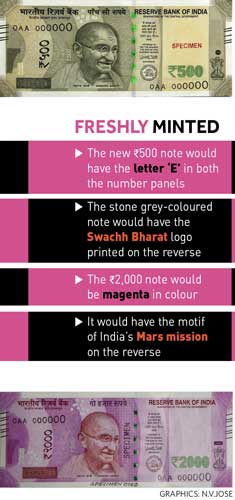 Possibly only seven people knew about the demonetisation programme. The prime minister, his principal secretary Nripendra Misra, Jaitley, finance secretary Ashok Lavasa, economic affairs secretary Shaktikanta Das, Rajan and his successor Urjit Patel.
"There was not much file movement on this subject," said a source. The RBI had released the newly designed Rs 500 currency note under Rajan. So the printing of the new currency notes of Rs 500 and Rs 2,000 did not evoke any curiosity.
Once the announcement was made, Jaitley was happy on many scores. "With this move, globally the credibility of the Indian economy has gone up," he said.
And it was timed pragmatically. "It would have been naive to do it before the Jan Dhan scheme had been implemented. The government claims 98 per cent of the people have bank accounts and we have no reason not to believe it. The need to hold cash no longer exists. The question of where to keep money is not an issue," said Shamika.
Quraishi said the timing was perfect. "Political parties changed their strategy to beat the model code of conduct, and began spending on elections three or four months ahead so that voters remember what they got from them. Now it will not be easy for those with large denomination currencies to convert them into small notes immediately," he said.
It is customary for leaders in Uttar Pradesh to be received with a garland made of currency notes. A few years ago there was pandemonium in Parliament over one such garland gifted to BSP leader Mayawati. Made of 1,000-rupee notes, it was said to have Rs 10 crore. Such garlands may now vanish.
And, political parties are stunned. "We agree that the objectives are sound, but we will have to wait and see how far the objectives will be achieved," said P. Chidambaram, former finance minister and senior Congress leader. "There is no empirical evidence to show that unaccounted wealth and income is stashed away in the form of cash. Most people hide it in real estate, construction, gold jewellery, bullion and securities."
How much black money will be wiped out by this move is anybody's guess. Modi did not want to put a number on it. Chidambaram, however, pointed out that ultimately only the old notes that are not legally exchanged for new notes would be actually demonetised. "How much will that be, by value, is uncertain and unknown. This will be the real test of the success of the demonetisation," he said.
Former income tax chief commissioner Hardayal Singh, who was in service during the demonetisation in 1978-79, said people always found a way out. "In a country where less than 3 per cent of people pay income tax, it is easy to convert black to white by paying a small commission. If people can use the bank accounts opened under the Jan Dhan Yojana to exchange notes, they can use the same accounts to exchange other people's black money for new currency," he warned.
People, it seems, were more bothered about the inconvenience, as there have been protests everywhere since the announcement. A poor maid was seen wondering how to go ahead with her daughter's wedding, and a labourer was looking for a way to convert his three months' salary in Rs 500 notes into smaller denominations.
Shamika said the demonetisation had to come as a shock to force a behavioural change—move to plastic or e-transactions, as near to a cashless economy as possible. "It is a structural reform to make black money go away. There will be correction in many sectors," she said.
While it remains to be seen what the demonetisation move will do to black money, Modi has already gained significant political mileage out of it. The prime minister has expanded his talking points that can capture the nation, more importantly the voters in states that are going to the polls in the next few months. Now Modi can tell rallies in Uttar Pradesh, for instance, about the crores of unaccounted money that has been trashed and about the gains that will accrue to the Indian economy.