"Once the police get Vidhyadhar, the big picture behind the conspiracy and its stakeholders will become clear" - Vinod Gangwal, counsel for Hema's family
For a small-time metal fabrication artist with no known criminal antecedents, Vidhyadhar Rajbhar—prime accused in the twin murders of installation artist Hema Upadhyay and her lawyer Harish Bhambhani—has succeeded in sending the Mumbai Police on a wild-goose chase. The bodies of Hema and Bhambhani, stuffed in cardboard boxes, were discovered on December 12, 2015, beside a drain in Kandivali, a suburb in north Mumbai. The police say they were murdered on December 11 by Vidhyadhar and his four employees at his warehouse. More than 100 days after the murders and several hundred miles of travel later, the police are still clueless about Vidhyadhar's whereabouts.
Yet, on March 11, the police filed a 1,600-page charge sheet against him. Very rarely does one come across a case where the charge sheet has been filed before the arrest of the prime accused. Nonetheless, the police surmise that Chintan Upadhyay, Hema's husband and an artist, is the chief conspirator and plotted the killings on his own volition. Chintan and four other accused were arrested in December (see box).
But the charge sheet has thrown up more questions than answers. For instance, the police suspect the involvement of a seventh person—a man in a red shirt—who, along with Vidhyadhar and a few other accused, had met in Chembur, an eastern suburb of Mumbai, a week before the double murders. The police have failed to establish his identity, let alone nab him.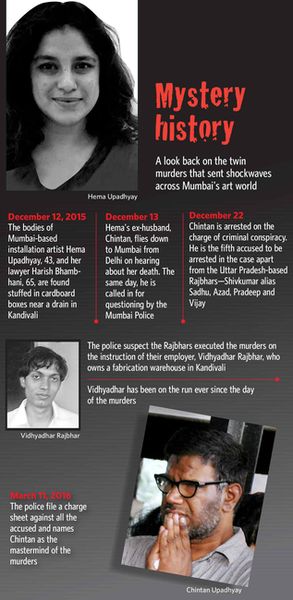 The police suspect that a section of Mumbai's art community is helping Vidhyadhar evade arrest. Several police teams have travelled across the country, from Jaipur to Allahabad, Coimbatore, Chennai and Assam, looking for Vidhyadhar, but in vain.
Vidhyadhar had worked with Hema and Chintan on several occasions, with his warehouse serving as a storeroom for their artworks. Though there is talk that Vidhyadhar and Hema fought over money a few days before her murder, the police are convinced that Chintan was the mastermind and Vidhyadhar and the other accused executed the murders at his behest. Chintan allegedly wanted to kill Hema because he was fed up with the court cases, including one on alimony, that she had filed against him. A property angle, too, features among the motives. Vidhyadhar's arrest, therefore, is key to solving the case.
Chintan's lawyer Niteen Pradhan, however, finds the charge sheet short on substance, and says it lacks concrete evidence against Chintan. More than 800 pages of the charge sheet, he says, contain insignificant conversations between Hema and Chintan and their conversations with a few other people. The charge sheet should have been clearer and surefooted on the charges against Chintan, he says.
"Chintan has been undoubtedly scapegoated," says Chintan's friend Amir Rizvi, a graphic artist. "He was always nice to Hema even though they were living separately since 2010." He says Chintan had never refused to pay her alimony. "He wasn't a spendthrift. On the contrary, he lent money to people in need. So, there is no reason to believe that he would object to paying his wife the quantum of money he owed her," says Rizvi.
Rizvi, too, says that the 800 pages of call data records do not reveal much and do not substantiate Chintan's involvement in the murder plot. "Also, the pages of Chintan's personal diary, which the cops have attached as part of evidence against him, do not hold much water since those are innocuous jottings indulged in by a creative mind," he says.
Pradhan says the police failed to take note of divorce lawyer Mrunalini Deshmukh's statement that "Chintan and Hema were on cordial terms" even when they were living separately. "It is a fact that the police acted out of a gut feeling against Chintan," he says. "Otherwise how do you explain the cops initially giving him a clean chit and then suddenly switching sides implicating him squarely?" A few of Chintan's friends say he lived with Hema at her home some days before she was killed. Rizvi maintains that Chintan wasn't an alcoholic and had never misbehaved with Hema.
Hema filed a harassment suit against Chintan in 2013 when she objected to his 'obscene' paintings of women at their home in Juhu. That's when Bhambhani began representing her in the courts. Her friends, too, are hesitant to give Chintan a clean chit. "Why would he [Chintan] call up Hema's servant the morning after the murder and inquire about her? Wasn't that done to pull wool over everyone's eyes?" asks Sanchu Menon, a family friend of Hema.
Lawyer Vinod Gangwal, who is representing Hema's family, says, "The prosecution has ample evidence against Chintan to prove that he had masterminded the killing of his wife. I believe the police have been successful in investigating and unearthing Chintan's role." The only thing that remains to be done is the arrest of Vidhyadhar. "Once the police get him," he says, "the big picture behind the conspiracy and its stakeholders will become clear."