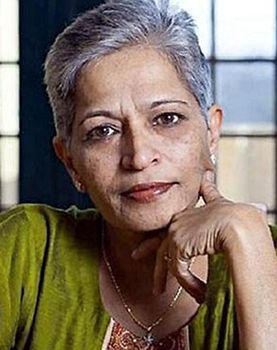 On September 5, an unidentified assailant shot dead senior journalist Gauri Lankesh, 55, outside her home in Rajarajeshwari Nagar, Bengaluru. She had just returned from her office in Gandhi Bazaar, and was opening the front gate when an assailant pumped at least three bullets into her head and chest. The neighbours, who rushed to the spot on hearing the gunshots, found her lying in a pool of blood.
Within hours, protests erupted across the state and continued the following day, when Gauri was buried with police honours. She leaves behind her mother and younger siblings—filmmaker Kavitha and theatre personality and producer Indrajit.
Comparing the murder to the murders of rationalists M.M. Kalburgi (2015) of Karnataka, and Narendra Dabholkar (2013) and Govind Pansare (2015) of Maharashtra, her close friends said that Gauri was eliminated for her leftist ideology.
Chief Minister Siddaramaiah condemned the killing, calling it an "assassination of democracy". He has formed a 21-member special investigation team headed by Karnataka Intelligence Inspector General B.K. Singh to catch the killer. Siddaramaiah also said that he would order a CBI investigation if the family demands it. "I knew her family since her father's days," he said. "The investigation into Kalburgi's murder is nearing completion and all angles will be probed in this case, too. The CCTV footage of two cameras will be crucial evidence.... It appears a man wearing a black jacket and a helmet shot at her from close range.... We are going to evaluate the risks and threats to writers, intellectuals and rationalists in the state and extend police protection. We are tracking the threats on social media, too."
Apparently, Gauri had told her close friends that she had got life threats on the phone. A close friend said that Gauri refused to seek police protection despite the threats. She had, however, installed four CCTV cameras around her house—in the parking lot, near the door, in the cellar and in the backyard.
Gauri was the eldest child of P. Lankesh, poet-journalist and founding editor of crusading Kannada weekly Lankesh Patrike. She started her career as a journalist with The Times of India in Bengaluru and moved to Delhi after her marriage to journalist Chidanand Rajghatta. She also worked in the Sunday magazine, Bengaluru, and subsequently with Eenadu's Telugu news channel, in Delhi. She took pride in calling herself "daddy's girl".
In 2000, when her father died, Gauri became editor of Lankesh Patrike. Since her divorce, she had been living alone.
In February 2005, she had a quarrel with Indrajit, and they filed complaints against each other. Gauri had approved for publication a report on a Naxalite attack on a policeman. Indrajit, who was the proprietor and publisher, withdrew the article saying that her pro-Naxal stand was hurting the paper's "ideology". While Indrajit complained to the police that a computer printer and scanner were missing from the office, Gauri alleged that her brother detested her social activism and had threatened her with a revolver. Eventually, she floated her own weekly, Gauri Lankesh Patrike.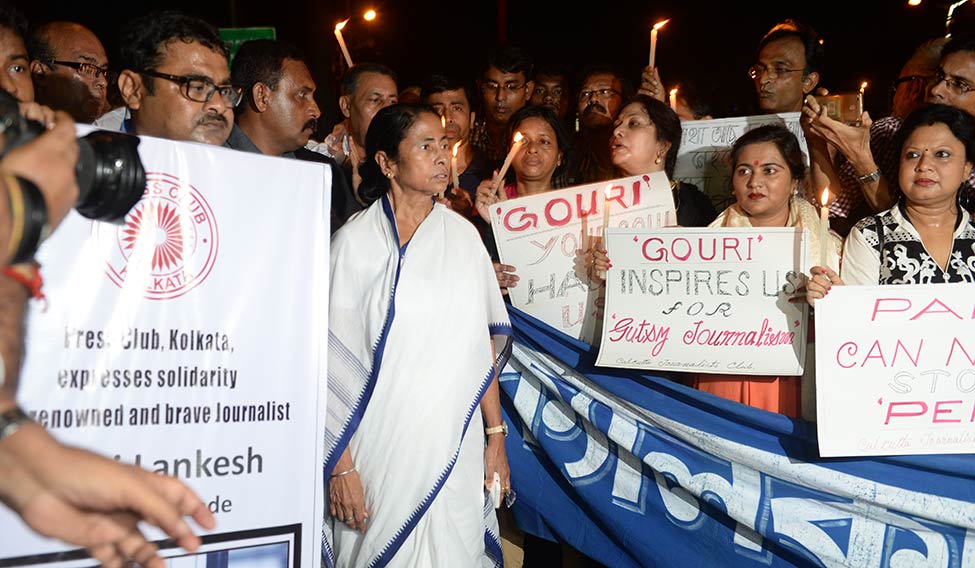 A feminist, dalit activist and staunch critic of communal politics, Gauri had earned the reputation of being a Naxalite sympathiser for her writings and her access to Naxalites such as Saketh Rajan, who was killed in an encounter in 2005. "Saketh Rajan (alias Prem) was not just a guy carrying a gun, running around the forest fighting for the people," she had once said of him. "He was one of the most brilliant minds this state has ever produced."
Throughout her long career, Gauri had several confrontations with the right wing. In 2003, she opposed the sangh parivar's "attempt to Hinduise" a Sufi shrine in Chikkamagaluru district. She then demanded a ban on communal groups in Mangaluru. In 2012, she said that Hinduism was not a religion, but a "system of hierarchy in society" to "treat women as second-class creatures". In November 2014, when the Congress government in Karnataka made her a member of a committee to oversee the rehabilitation of left-wing extremists, the BJP opposed her inclusion in the panel, saying she had a soft corner for Naxalites. Siddaramaiah, however, had backed her.
In December 2014, two former Naxalites Sirimane Nagaraj and Noor Zulfikar returned to the mainstream. "We had parted ways with our comrades eight years back because of differences in opinion, but could not come into the mainstream owing to the police cases against us. Now, we are relieved," Nagaraj had said after surrendering before panel members Gauri and freedom fighter H.S. Doreswamy.
In November 2016, a magisterial court in Hubballi convicted Gauri of defamation. Her article in Gauri Lankesh Patrike, dated January 23, 2008, had accused BJP MP Pralhad Joshi and three party workers—Umesh Dushi, Shivanand Bhat and Venkatesh Mestry—of having cheated a jeweller of 01 lakh. As she had no evidence to prove the charges, she was sentenced to six months in jail. She was out on bail the same day and dubbed the court verdict a temporary setback.
Gauri was fond of her niece Esha (Kavitha's daughter), was good with youngsters and also supported student movements. Her friends said she considered Jawaharlal University student leader Kanhaiya Kumar and dalit activist Jignesh Mevani her "adopted" children.
A Lingayat by birth, Gauri chose to be an atheist like her father. Recently, she had supported the demand that Lingayats be treated as a separate religion as she believed that the followers of social reformer Basavanna were not Hindus.
Her articles attacked the Congress and the BJP alike. Her flair for literature was evident in her critique of renowned author S.L. Bhyrappa's Aavarana: The Veil; she also published the Kannada edition of journalist Rana Ayyub's Gujarat Files.
While speculation is rife about the possible motive behind the murder, there are murmurs that the killers were stalking Gauri for many days.
"Why do I feel some of 'us' are fighting between ourselves? We all know our 'biggest enemy'. Can we all please concentrate on that?" read one of her last tweets, perhaps summing up her state of mind in her last days.