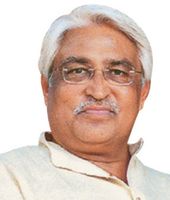 They say you must not read your first classic before you are mature enough. There are many layers to a classic, layers a child might fail to appreciate. Elsewhere, in a novel, the hero, a hunter, says that you must not shoot your first animal or have your first woman until you are mature enough. Else, you might never value life and never respect women, he says.
But, how mature is mature enough? Age cannot be a marker for maturity. It is like what Alice asks the White Rabbit. Alice: "How long is forever?" White Rabbit: "Sometimes, just a second."
Before running this week's cover story, I sat looking deep into the eyes of the boys—child soldiers, if you may—we feature in our package. There is a lot in there. Pain, passion, rage, resentment, and, maybe, even a spoonful of disillusionment. They are old men's eyes. In an age where their urban counterparts are app-hunting and planning careers, these boys have borne arms, seen much, suffered much.
In pursuit of this story, our Principal Correspondent Rabi Banerjee walked 15km in biting cold through a snake-and leopard-infested jungle to reach the boys. At the village, he was met by irate, gun-toting residents who wanted no truck with India and Indian media.
Their anger against the state is understandable. The government guesthouse in which Rabi stayed in Pounkori, Nagaland, had last hosted a government official in 2010. Little wonder that the 1977-batch IAS officer C. Balagopal titled his autobiographical book thus—On A Clear Day You Can See India. When Balagopal was a probationer in Manipur, his deputy commissioner took him to a vantage point and showed him the lay of the land. The DC pointed west, and said, "...on a clear day, you can see India".
In fact, at least two stories in this issue highlight the continued apathy of Union and state governments. The road safety bill package talks about how a well-intentioned bill is losing its teeth because of intense lobbying from stakeholders. Let's not forget that the bill was born from a death—Union minister Gopinath Munde's.
The second instance of apathy is the Chennai floods. Multiple reports suggest that encroachment into seasonal water bodies and lack of vision caused the floods. True, the rainfall has been the heaviest in a hundred years. And, that's where vision comes in. All great cities are icebergs—the unseen part of the city is what props up the seen part. New York proudly acknowledges the role of its 'sandhogs' in building the city. The sandhogs dig everything from storm sewers to water tunnels to foundations for bridges. Governance is not only about the tangible and the skyline, but also about the intangible and the sewer.
When urban youth grow disillusioned, they migrate—domestically or internationally. The rage of the rural youth often finds violent expression in armed insurrection. Why should they pick up arms, you might ask. I do not have an answer. In And the Mountains Echoed, Khaled Hosseini writes: "Some people feel unhappiness the way others love: privately, intensely, and without recourse."