Diwali night, October 30, was peaceful in Bhopal. Madhya Pradesh Chief Minister Shivraj Singh Chouhan celebrated the festival at Arjun Nagar slum. On social media, Yogesh Choudhary, inspector general of police (Bhopal range), posted photos of celebrations with family. And, around 80 per cent of the staff of Bhopal Central Jail were on leave.
Before sunrise, a groggy Chouhan was woken up by his ringing cellphone. Director General of Police Rishi Kumar Shukla told him that eight members of the Students Islamic Movement of India had broken out of Bhopal Jail. Chouhan and the DGP were deeply worried as SIMI operatives had escaped from Khandwa jail on October 2, 2013. Three of the eight had escaped during that jailbreak and were later caught. These men were already facing charges ranging from murder to jailbreak and terrorism.
A meeting was scheduled at 10am at Chouhan's residence. Attendees included the DGP, Chief Secretary Basant Pratap Singh, Director General (Jails) Sanjay Choudhary and Additional Director General (Intelligence) R.K. Tandon. A source said Chouhan wanted the operatives neutralised before they launched a possible terror attack. Bhopal Jail is close to the headquarters of the Indian Army's 21 Corps.
Traditionally, in MP, buses do not ply on the day after Diwali. So, the operatives were expected to escape by rail. Additional Director General (Railways) G.P. Singh ordered around 3,000 railway police constables to search all trains. Teams lay in ambush near crossings close to townships. But, the railways refused to delay trains for operational reasons.
The police were in a tizzy. All clues were being pursued. Senior Superintendent of Police Raman Singh Sikarwar even approached his astrologer for help. He told the cop that operatives would be caught in eight days. They were shot in eight hours.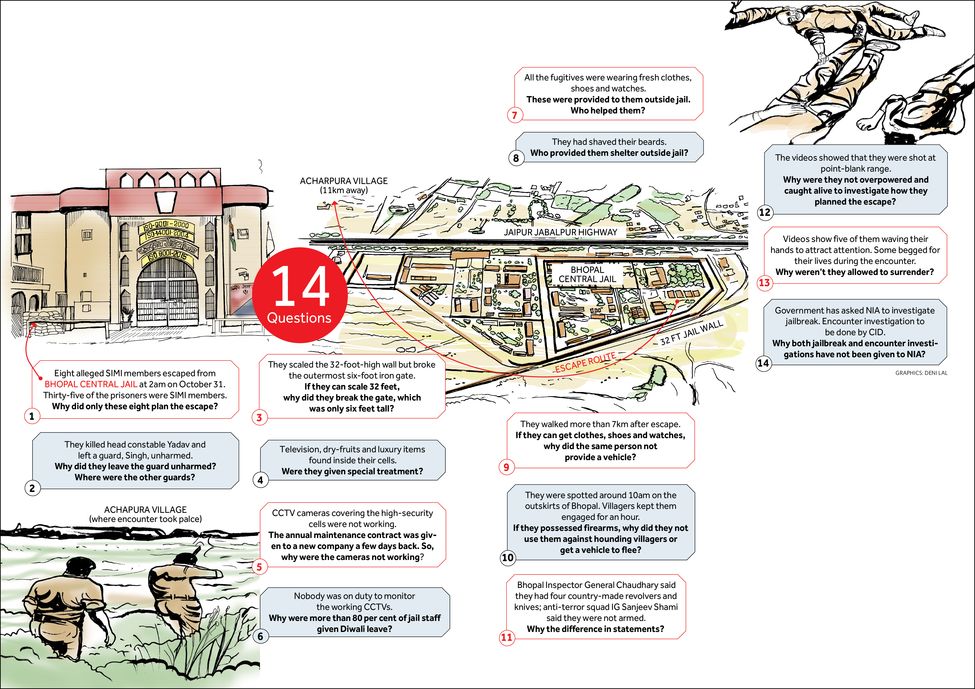 While the meeting was on at Chouhan's home, news came that the fugitives had been located and they were being engaged. After the meeting, Chouhan talked to journalists from the visual media. But, he gave nothing away. At 1:30pm, he addressed a news conference and confirmed that the eight had been shot dead. The opposition has alleged that information was withheld earlier to create an atmosphere of fear.
The eight were shot dead on a basalt hillock named Manikhedi Pathar in Acharpura village. By the time the media reached there, BJP MLA Vishnu Khatri and his supporters had a celebration going, complete with drummers. Bhopal Collector Nishant Warwade arrived to congratulate the policemen.
Home Minister Bhupendra Singh, too, congratulated the police, but said there had been a massive security and intelligence lapse. "We have ordered a probe covering all angles, including why the special armed force guards deployed on the watch tower failed to spot the fleeing men," he said.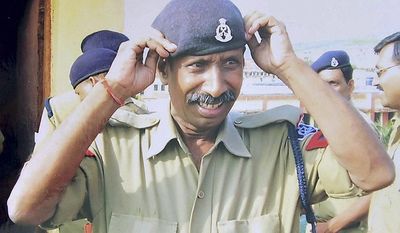 Action over, it was time for politicking. The police say the operatives slit Head Constable Ram Shankar Yadav's throat with sharpened spoons, before escaping. Chouhan spent an hour paying last respects to Yadav, announced a grant of Rs 25 lakh to his family and said the residential colony where he lived would be renamed after him and his bust would be erected.
On November 1, the state foundation day, Chouhan said, "We cannot risk the lives of our people. I cannot allow terrorists to be served chicken biryani in jail, while they enjoy jail life endlessly. I have made my state terror- and terrorist-free."
Congress spokesperson K.K. Mishra and senior Congress leaders Kamal Nath and Digvijaya Singh questioned the facts of the encounter. State Congress president Arun Yadav demanded a high level inquiry into the jailbreak, because Bhopal Central Jail is ISO-certified. Parvez Alam, lawyer of the operatives, too, asked for a probe into the encounter.
To complicate matters further, top cops gave conflicting statements. While Yogesh Choudhary said the operatives were armed with guns, Inspector General (Anti-Terror-Squad) Sanjeev Shami said they were largely unarmed.
The police version is that eight of 35 SIMI operatives lodged in Bhopal Central Jail escaped from the B block at around 2am, during change of guard. They used ladders made of bed sheets and were armed with knives made of steel plates and spoons. They killed head constable Yadav and tied up another constable.
The alarm was raised after roughly an hour. Security cameras in the jail were on the blink. After top cops arrived on the scene, a manhunt was launched and security was stepped up across the state. In the morning, a private security guard spotted the fugitives near a stream in Acharpura village. He informed sarpanch Mohan Singh Meena, who alerted the police.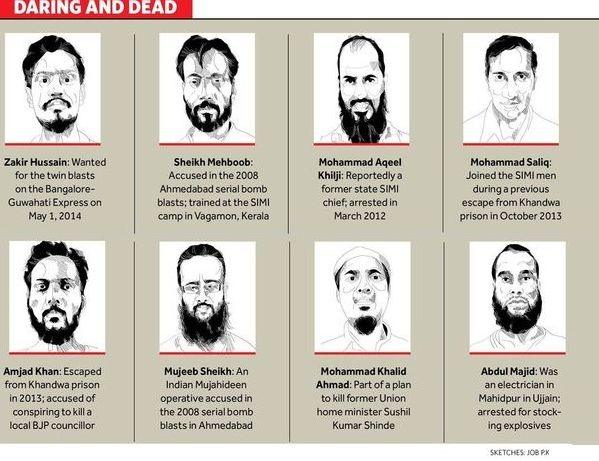 At around 10:15am, the police anti-terror squad arrived, armed with Kalashnikovs and INSAS rifles. In less than an hour, they gunned down the fugitives. Villagers said the fugitives were wearing new shoes and clothes. The villagers had captured much of the action on cell phone cameras, and these video clips raised more questions.
A clip shows five fugitives standing on the hillock and waving their arms shortly before they were gunned down. "They had already killed a jailor a few hours back, and had killed another constable in 2013. So, we had clear orders from our seniors to kill them," said a police officer who wished to remain anonymous. "We did not want to leave them for the judiciary, which take ages to decide. They would have run once again from the corrupt jail system. We decided not to leave anything to chance."
The police officer's statement is further corroborated by a video clip which shows a policeman gunning down a fugitive who was injured and alive. "They could have easily nabbed him and kept him for investigation," said Mishra, the Congress spokesperson. "He could have narrated how he escaped from jail, and who helped from inside and outside. But, they killed him and destroyed all evidence."
As criticism mounted, Chouhan announced a probe by the National Investigation Agency, transferred the additional director general (jail) and suspended five jail officials, including a deputy inspector general and the jail superintendent.
There have been multiple issues involving jailed SIMI operatives, police sources said. They had raised slogans against Prime Minister Narendra Modi when he formed the government in 2014. This July there was a bomb threat in a Bhopal court; it was a hoax. Based on intelligence inputs, hearings of these operatives were held through video conferencing. Reports have said that the operatives often threatened and abused judges on camera.
The tension in Bhopal was so high that families of two of the slain operatives did not get ambulances from the government medical college to transport the bodies to Khandwa, their hometown. This, and other factors, led to heightened communal tension in Khandwa.