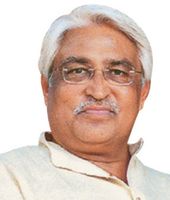 And, so, in a flash, the last issue of the year is rolling off the presses. Every year, the popcorn-movie analogy comes to me in December. Living through a year is almost like sitting down to watch a movie with a tub of popcorn. (Popcorn prices in multiplexes are frightful, I say.) You munch your way through the movie. Then, suddenly, your fingers scrabble against bare cardboard. You stare into the tub; a few unpopped kernels stare back. The movie is not yet over. But, the popcorn surely is. A year is like that, isn't it? January brings you hope and you set out to conquer the world. When December knocks on your door you realise that you have not even conquered your demons, let alone conquering the world.
It is all right to live with one's demons, I guess. Recently, I read online that everyone deserts you when you are in darkness. Even your shadow disappears. But, your demons stay with you, don't they? Some of us have grown stronger for having confronted our demons. The anniversary issue of THE WEEK is all about such people. While one volume highlights 25 people who have shaped the course of India, the other features people who have gone off the beaten entrepreneurial track and hit the mother lode.
Take away the trappings—the denims, the soul patches, the tattoos and accessories—and many young startup founders resemble earlier entrepreneurs in spirit. Of course, windfalls from venture capitalists were unheard of in those days.
In fact, the cover picture of Ritesh Agarwal of OYO Rooms on a sports bicycle reminded me of my father. When he began working with Malayala Manorama, the company was nowhere close to its present size. The official vehicle was a bicycle. It was used both by the editor and the staff. Every day, my father cycled home for his lunch and siesta. If someone in the office wanted the cycle before he returned, an attendant would run home to fetch the cycle. Sometimes the cycle would be back home in time for my father's return to office. If not, he would walk back. Of course, Agarwal's cycle could be the cheapest set of wheels he owns. Just that it triggered memories for me.
One of our smaller packages is about how liberalisation and education changed the fortunes of many Indian families. In fact, these two factors have had a significant impact on the media industry, too. An educated population looks beyond its rozi roti, and starts spending on information. I do hope that the individuals in our story will instil hope and courage in our readers.
As you go into the new year, my wish for you is this: may you be blessed with smiles, friends and peace. May there be hands to wipe away your tears, and hearts that share your joys. 2016 is a leap year. So, 366 days. Who knows what those days hold for us! You can count the number of seeds in an apple, but you can never count the number of apples in a seed.