It was under Panagariya's (in pic) watch that NITI Aayog's three-year action agenda document was prepared to replace the Nehruvian five-year developmental model.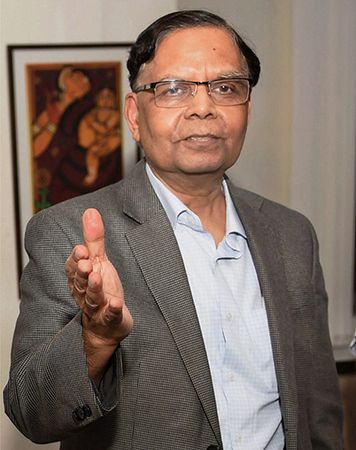 When Arvind Panagariya—the Jagdish Bhagwati Professor of Indian Political Economy at the School of International and Public Affairs at Columbia University, New York—walks into the classroom after a long gap, he will probably be wearing a broad smile. For he has now seen the other side as well, in both government and politics. He had been away from the classroom for two and a half years, as vice chairman of the National Institution for Transforming India (NITI) Aayog, which did not have the financial powers of its predecessor, the Planning Commission.
Panagariya spoke of a dream—India could be a $15 trillion economy if the economy grew at a rate of 8 per cent for seven years. That dream has to wait, but he has enough material for writing a sequel to his book, India: The Emerging Giant. "I have asked them not to give me any classes in the first week after returning to New York. I would like to devote some of this time for a sequel to my book on India," he told THE WEEK.
The supply-side political economist was a strong critic of the demonetisation and had sought a higher, Rs 2.5 lakh, limit for cash deposits. Apparently, the finance ministry overruled him. Opposing farm loan waivers, Panagariya said politicians must understand the economic significance of the promises they make to people.
It was under his watch that NITI Aayog's three-year action agenda document was prepared to replace the Nehruvian five-year developmental model. The action plan proposed a medium-term spending framework which could lower the fiscal deficit to 3 per cent of GDP by 2018-19. Fiscal deficit currently stands at 3.4 per cent.
Some chief ministers like Chandrababu Naidu of Andhra Pradesh held Panagariya in high esteem and sought his advice. Naidu said his state would follow the action plan.
Higher education has been Panagariya's constant focus. "I completely agree with his views. Politicians in India are yet to realise the potential political dividend of pushing for better education reforms," said Arvind Subramanian, chief economic adviser, finance ministry. Education and teachers deserved much better treatment from politicians, he said.
It was Panagariya who recommended an overhaul of an opaque and corrupt education system perpetuated by the Medical Council of India. He has also been working on revamping the All India Council of Technical Education and the University Grants Commission. He said he would try to finish the task before he left office on August 31.
"These things have to be done before I leave. I am very busy with these and some others that I have started," Panagariya told me. "You must keep on writing about the right things to do," he said, praising THE WEEK's reporting on national issues.
Panagariya had recommended 44 sick public sector undertakings for privatisation or complete closure. "We are already working on some of these names from NITI Aayog's list submitted to the government," said Neeraj Gupta, secretary in the department of investment and public asset management. Panagariya also advised the cabinet to decide on disinvestment of a debt-laden Air India.
He was particularly unhappy about the management of centrally sponsored schemes. It was apparently on his guidance that a high-powered group of chief ministers reduced them to 27 from 100. "Central support must flow on the basis of results from states, and not just endlessly into something which will never show any," Panagariya had said.
Non-performing assets of banks troubled him. "NITI Aayog provided us a number of options including the retailing of bank NPAs to private entities. The government is also keen on that and we will extend all the neccessary support to the RBI to get rid of this problem," said G.C. Murmu, additional secretary in the department of financial services, finance ministry.
Panagariya laid stress on promoting digital economy and revamping the agricultural policy, including marketing of all agricultural produce in the country. "We will come out with a policy on land acquisition soon. It is long overdue particularly for the farmers, and NITI Aayog wants to overcome this shortcoming as soon as possible," said Ramesh Chand, member (agriculture) at the Aayog.
One of Panagariya's ideas that did not elicit a response from the government was creation of Coastal Economic Zones to drive manufacturing, as in China. "It is sad that these human capital intensive ideas for manufacturing did not work out," said Rakesh Mohan, former deputy governor of the RBI.
A 15-year vision document, which was to present the culmination of the three-year action plan to drive India towards 8 per cent annual economic growth, remains unfinished. Hopefully, Panagariya's successor, Rajiv Kumar, will complete it.