Global warming is "expensive bullshit" to him. On Iran, he said businessmen like him would make better negotiators.
Last August, Donald Trump was in India to take stock of the progress of his two real estate projects in Mumbai and Pune. Never short on pomp, all his engagements in India were red carpet events, to which only A-listers were invited. During one such event, compered by former Miss Universe Lara Dutta, Trump made a candid admission. "You could say that I've brought theatrics into real estate," he said. A year later, Trump's theatrics seem to be dominating American politics. In one of the biggest surprises in this presidential primary cycle, Trump is the frontrunner among the Republicans vying for the party's nomination in next year's elections.
Trump, 69, is a billionaire real estate developer, a television show host, and an occasional politician. He was a Republican to begin with, but he quit the party in 1999 to join the Reform Party and explore a presidential bid. Two years later, he joined the Democrats. In 2005, when he got married for a third time, Bill and Hillary Clinton were in attendance. Trump rejoined the Republican Party in 2009, only to quit two years later. He is currently registered as an independent.
Though no one took him seriously when he jumped into the fray, Trump now leads the 17-member Republican field, according to all national surveys.
With hardly any political or policy credentials to boast, Trump, it seems, has made it to the top by virtue of his controversial statements. Political observers, however, said there was a method to his madness. "Many reasons can be cited for Trump's early lead. For example, he's rich, he's a celebrity, and he's a 'straight-shooter' [you do not have to guess what Trump is thinking]," said Zackory Burns, an incoming student at the University of California, Irvine. But, with the first Republican presidential debate scheduled for August 6, these factors might not be enough. "While these help early on in an election, once debates start and Americans are exposed to the core issues and policies of each individual, Trump may struggle," said Burns.
Trump's campaign, in fact, got noticed with his xenophobic tirade against the Hispanics. "They are bringing drugs, and bringing crime, and their rapists," he said. While he drew a lot of flak for his comments, and lost a lucrative contract with NBC, it now seems that Trump chose his target audience well. Trump's shrill anti-immigration rhetoric has made him a favourite with the conservative Republican base. "He echoes the sentiment of a group of Americans that has many worries about illegal immigrants. This group is significant (a measurable plurality), but does not represent the proportion of Americans necessary to elect a presidential candidate," said Burns.
The anti-Hispanic rhetoric, meanwhile, has found traction among at least a section of the African Americans. "Jobs are a legitimate issue, and immigration does strain municipal costs, a legitimate concern if one is at the bottom of the barrel," said Alexander Lindsay, a medical clerk, who works for the city of Philadelphia. Lindsay, a 61-year-old devout African American, said there would be many from his race who would vote for Trump. "But, it won't be the majority of us." There are many African Americans who fear that Trump would turn against them, too. It is not too far in the past that he said the struggles faced by African American youths were because of their lack of spirit.
Trump's irreverent nature has worked to his advantage. His attack on Senator John McCain, a decorated Vietnam War veteran and a former Republican presidential candidate, is a case in point. Trump said he did not consider McCain a hero because he was caught as a prisoner of war. Although it came from someone who dodged draft, it did not seriously hamper his prospects.
For the media, Trump's controversial outbursts make saleable copy, ensuring nonstop coverage. "This is branding that he could not spend all his money to buy," said Steve Deace, a conservative radio host from Iowa. With the media focusing all its attention on Trump, other Republican hopefuls are struggling for attention. More often, the questions they face are about Trump, much to their exasperation.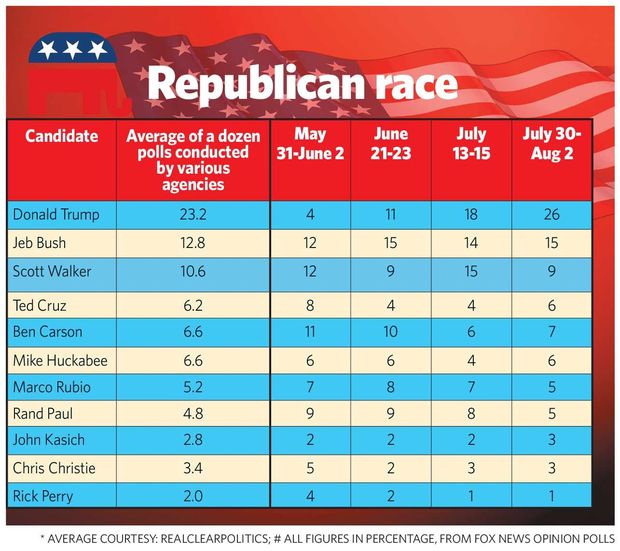 Yet, it remains to be seen whether Trump will be able to sustain his lead. "Four years ago, at this time, Michele Bachmann was the frontrunner. Rick Perry quickly surpassed her, and then Herman Cain led for a brief period. None of them seriously competed for the nomination once the primaries and caucuses began," said Candy Nelson, head of the department of government at American University, Washington, DC. Trump could go the same way.
On policy matters, Trump's weakness is palpable. On the foreign policy front, Trump skates on thin ice. "I think he would be a disaster. He is pretty clueless, and clearly has no real understanding of foreign affairs," said Mahesh Shankar, who teaches international politics at Skidmore College, New York. Global warming, for instance, is "expensive bullshit" to him. On Iran, he said businessmen like him would make better negotiators. About Russia, he said the US was having trouble because President Putin did not respect President Obama. China, he said, was cheating the US, and the way out was "to raise trade tariffs". Trump, however, is unenthusiastic about his country's role as global policeman. Yet, he said if any country in the Middle East refused to"sell us their oil at fair market price, we have every right to take it."
On the domestic front, too, his record is inconsistent. He used to support a super tax for the rich for many years, but now he wants to lower all taxes and even repeal corporate income tax. He was once pro-choice, but now has become anti-abortion. He favoured government funded insurance plans for long, but now says he will repeal Obamacare if voted to power. But being such a bundle of contradictions could work in favour, said Joshy M. Paul, who teaches international politics at Christ University, Bengaluru. "Trump's contradictions ensure that he remains flexible and it might help him in building coalitions, giving him a fighting chance," said Paul.
The flexibility could also help him shape a more business-friendly India policy. "As a businessman, Trump will be interested in India," said Uma Purushothaman, US expert at Delhi-based Observer Research Foundation. Yet, for most Indian policy makers, Trump, as a politician, seems to be an unknown quantity. "He is known more for his real estate deals, flashy lifestyle and television shows," said Paul.
For the Republican Party, however, the surge of Trump calls for introspection. The support for xenophobic policies is on the rise among the party's core support base. The Hispanic immigration to the US is a reality and the party knows that if it has to win the presidential polls, it needs to carry along the Hispanics and the moderate voters. The moderates do not seem to be too happy with Trump. "His campaign theme, Make America Great Again, seems to indicate that the US is no longer a great nation. Why would the people want to elect someone who doesn't believe in the American dream?" asked Jisa Sebastian, an American citizen of Indian origin, from Pennsylvania.
The challenge for the Republicans is to win over the Hispanics, but without alienating their core base. Trump's surge could add to the dilemma. "He has no chance, even if he wins the Republican nomination," said David Reith, a retired academic from Kent, Ohio. "If not, I would not dismiss the idea that Trump would run as a third party candidate. If that happens, the Democrats would win in a landslide."