While most Indians are delighted to have their prime minister generate so much hype, they are also keen that he takes back more than just the success stories of Indian-American CEOs.
Tech giants in California are rolling out the red carpet for Prime Minister Narendra Modi, who arrives in Silicon Valley on September 26. And, Modi's itinerary suggests he has his work cut out from the moment he sets foot in tech town. After all, in his two-day trip, he has to gather resources and partners for his ambitious energy and entrepreneurship projects and, most importantly, for his dream of Digital India. The programme seeks to connect citizens to various government services and departments, and it would be strengthened with inputs from potential investors and Silicon Valley stalwarts. That Modi means business is clear from his meet-and-greet list, which includes Facebook CEO Mark Zuckerberg, Apple CEO Tim Cook, and the Indian-born CEOs Satya Nadella (Microsoft), Sundar Pichai (Google) and Shantanu Narayen (Adobe).
Modi will reach the US on September 24, and will host a meeting of G-4 leaders in New York to discuss the United Nations Security Council reforms. He will also address the UN Sustainable Development Summit before heading over to California.
The first Indian prime minister to visit Silicon Valley since 1982, Modi's first stop, on September 26, will be Tesla's Fremont plant. He will review the company's 'Powerwall', a battery charged by solar panels, which can aid India's quest for clean energy. He will then attend a digital economy dinner, where he will be joined by several tech leaders, including Cisco chairman John Chambers and Qualcomm chairman Paul Jacobs. Such meetings, and the visit itself, will hopefully send strong signals to US-based venture capitalists to invest in Indian startups.
Flashback into Modi's first US visit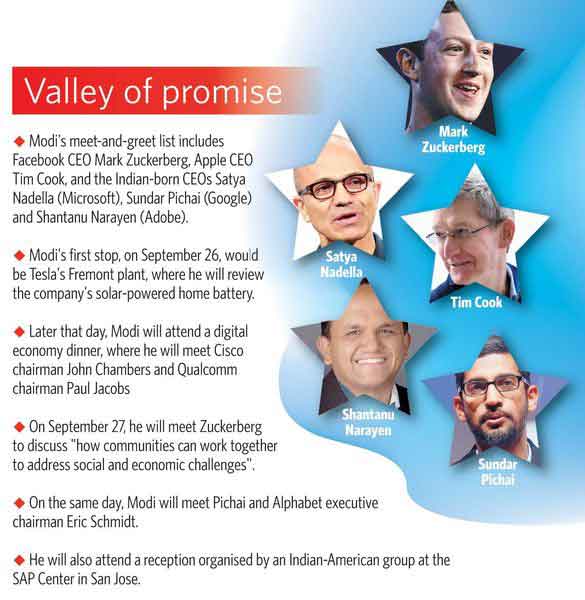 On day two, Modi will meet Zuckerberg, and the two, according to Zuckerberg's post on Facebook, will discuss "how communities can work together to address social and economic challenges". Zuckerberg's town hall-style Q&As are famous and he has invited his 1.49 billion social network users to submit questions.
Modi's next stop will be Googleplex, Mountain View, Santa Clara. The highlight of his visit here, however, is not just the meetings with Pichai and Eric Schmidt, executive chairman of Alphabet, Google's new holding company. Modi will also witness the inception of a 15-hour hackathon, during which 150 Indian programmers will work to produce applications that can help build the spine for Modi's Digital India and Skill India projects. The event, hosted by National Association of Software and Services Companies and a group of startups in India and the United States, will run a simultaneous session at Tech Mahindra's facility in Noida.
His last engagement, with Silicon Valley pioneers, would be to discuss renewable energy at a round table hosted by the Precourt Institute for Energy, Stanford University.
With tough business talks behind him, Modi will attend a community reception hosted by an Indian-American group at the SAP Center in San Jose on the evening of September 27. With a seating capacity of 19,000 and almost 45,000 registration requests, the reception promises to be a major crowd-puller.
For full coverage on Modi's second US visit, click
While most Indians are delighted to have their prime minister generate so much goodwill and hype, they are also keen that Modi takes back with him more than just the success stories of Indian-American CEOs. "I hope that our prime minister understands that we need to change our education system and promote growth and innovation in our own Silicon Valleys back home," says Smitha Kalapurrakal, a Microsoft employee. "The governments can facilitate innovation by removing ungainly business policies, which will enable us to build our own enterprises instead of merely utilising the ideas of Silicon Valley."
But, despite their reservations, most Indian Americans are betting that Modi will charm folks at the SAP Center with his Digital India dream, just as he did with his Make in India rhetoric at Madison Square Garden earlier this year. The palpable buzz has excited everyone from techies to housewives to second generation Indian-American children.
Some people, however, are calling for caution amid the euphoria. A Nitin, who works in Sunnyvale, says: "What makes Silicon Valley tick? That's what I would like to see Modi take note of. Why do the same youngsters who leave India shine in Silicon Valley? The work culture is such that there is little or no interference from the government as long as you are not doing anything illegal. Let's change those things about socio-economic India, even as we try to realise the dream of Digital India."
That said, the Indian community in Silicon Valley is impressed by Modi's speed and level of engagement in such a short trip. And, even if Modi achieves 50 per cent of the agenda he outlined during this trip—renewable and clean energy, promoting entrepreneurship and innovation, and digitising the economy—he might just pip US President Barack Obama as the most liked leader on Facebook. Regardless of its results, Modi's visit to Silicon Valley is being hailed as nothing short of "historic".