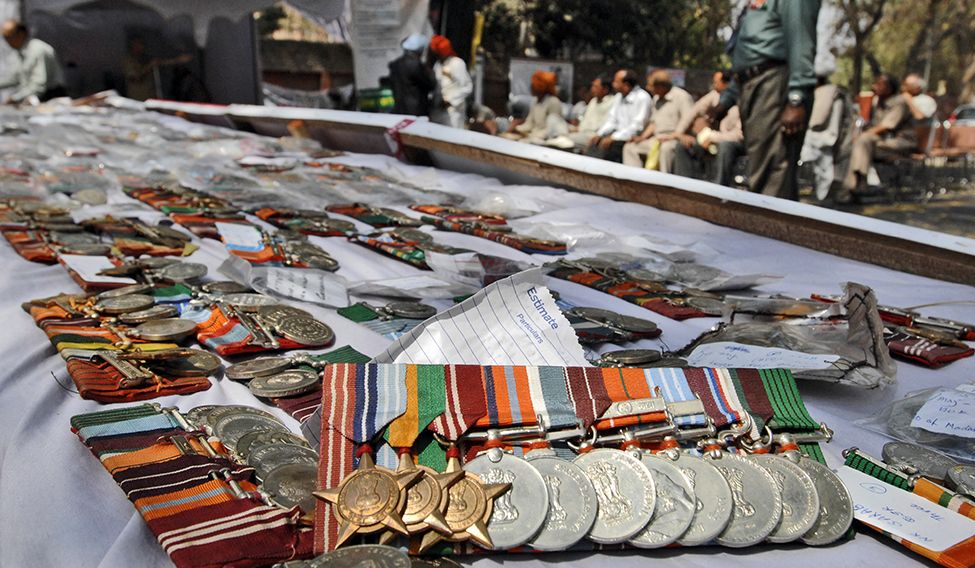 Prime Minister Narendra Modi's 'mann ki baat' radio broadcast on May 31 failed to strike the right chord with ex-servicemen, who have been waiting to get increased pensions.
In his speech, the prime minister assured the ex-servicemen that their demand for One Rank One Pension (OROP) would be met, but as it was a "complex issue", it would take some time for the government to resolve it.
"We have had enough assurances and promises made to us in the past and that is why we have decided to protest and draw attention of the government towards this demand for implementing the One Rank One Pension scheme," said retired major general Satbir Singh, who started the Indian Ex-servicemen Movement in 2009 to mobilise veterans for the OROP demand.
The veterans, he said, would once again return their gallantry and distinguished service medals to the president of India, just as they had done in 2009, and some of them would sit on fast-unto-death dharnas in the capital, he said. They plan to start the protests on June 14.
Singh said the only way their agitation can be averted or deferred was by announcing the date on which the government would implement the demand.
Ex-servicemen are miffed at the confusing statements from different quarters of the government, especially about the funds required for implementing the demand.
"Some people are talking about a figure of Rs8,300 crore, while a new figure of Rs22,000 crore has been quoted by some agencies. This is creating confusion, which could have been avoided by the ministries involved in the process," said retired air vice marshal Kapil Kak.
Just before Modi's 'mann ki baat', Defence Minister Manohar Parrikar stated in Mumbai that the issue had been resolved and the definition of OROP crystallised.
Sources in the defence ministry said the issue of financial liability has been more or less decided and it came to 08,298.60 crore. All retired jawans would receive pension as per their gradings of X,Y and Z. They said the defence minister had held four meetings with the veterans on the issue for arriving at the figure and the definition of One Rank One Pension.
On June 3, Parrikar said the "bus has left for Delhi but it has not reached there so far... It is in the process and it is progressing well." But he did not mention any date for implementing the demand.
At the moment, the file on the OROP demand is with the finance ministry, but Arun Jaitley is not exactly popular among the veterans as he had reportedly asked them to "lower their expectations".
"How can one lower expectations on the OROP issue? If it is not fully implemented, it is just enhancement of pension and not OROP," said Satbir Singh. "Anything short of full implementation of OROP would be treated as breach of trust and non-fulfilment of promises made by the prime minister."