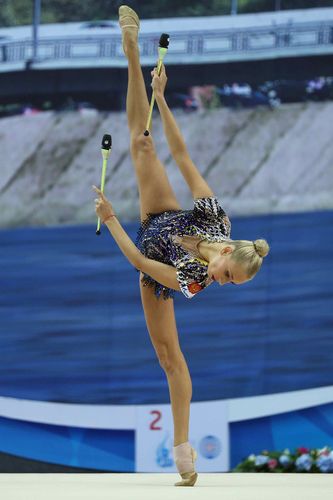 Imagine The Matrix, but without the special effects. Keanu Reeves bends backwards to dodge bullets; Yana Kudryavtseva bends at all angles to wow crowds. At 15, the Russian became the world's youngest rhythmic gymnast to win the World Championships in the all-around category. That was 2013. Now, a veteran at 18, Yana, or the 'Angel with Iron Wings', is set to beat her own records at Rio.
Rhythmic gymnastics incorporates balls, clubs, hoops and ribbons. And Yana treats them like an extension of her body. In just a handful of years, she has already created quite a legacy. Such was her ingenuity that the International Federation of Gymnastics approved some of the new moves she executed. In one of them, she spins the ball on her finger while doing a front walkover. Also, there is a move, called the Kurdy, named after her.
But, though her limbs stretch to reach newer heights, her head is firmly on her shoulders. Her coaches, she says, have made her humble. "You cannot be too proud of yourself," she told CNN.
But the thirst for Olympic gold was in her blood; her father, Aleksey, won a gold in swimming at the 1992 Barcelona Olympics. The daughter, however, went further. She became a three-time world champion in the all-around category and the youngest to win back-to-back all-around world titles; all before she could legally drink or drive.