A 2015 survey revealed that the median wage for women in India was 27% lower than men
She walks in with flowers in her ears. In the next meeting, her earrings are flaming red flowers. These quirks apart, Priyanka Gupta is like her name—not terribly uncommon. Her life revolves around Garima, her college-going daughter. Her phone rings, and up pops Garima's picture. "She is much more friendly than I am," says Gupta, in her 40s, with a smile and evident pride. Divorced, Gupta lives in west Delhi with her mother. The facts of her life couldn't be more average. Two months ago, however, Gupta did what many people with similar facts might have wanted to do, but never had the nerve to do—start a petition to allow her daughter to have a passport without her father's name.
Gupta's marriage lasted less than a year. The divorce didn't define her. But years later, there was a rude reminder—the only way her daughter could get a passport was to have the name of the man who had been in her life for a shorter time than spring in Delhi. "I was fed up, I was frustrated,'' she says.
Despite court orders that recognised the mother as a guardian, the passport officers were adamant: if Garima wanted the passport, she had to fill in her father's name. Gupta decided the passport was more important, and gave up. But Garima didn't. "I mean nothing to this man," she says. "Why should I have his name on my passport?''
It was then that Gupta filed a petition on Change.org, which garnered a number of signatures within a few days. "I didn't really expect this,'' says Garima, as she spoons out ice cream from a tall glass in front of her. The first person to sign the petition was Gupta's brother; Garima was the second. And within an internet minute, it had Women and Child Minister Maneka Gandhi push for it. "I was surprised by the kind of comments that the petition got," says Gupta. "There were single parents who had faced this issue."
A simple request, but it challenged the accepted notions of family, and much more. "He had no visitation rights either. In short, as the court observed in one case, he was just a sperm donor. If a single mother chose to have a child that way, would she require the name of the donor?'' asks Gupta. It isn't rebellion or even a stand for grander feminist reasons. "I am not a feminist,'' she says. Gupta, who spent her whole life quietly, never creating a fuss, took up this fight because her daughter was determined. "She told me, 'I will fight this case once I start earning money'," she says. "I fought for her." The change, however, is yet to take place. The petition received tremendous attention, but there has been no movement on the issue.
Change.org provides the platform to get people to create a movement, at least online. Preethi Herman, who heads the platform in India, says it is a silent revolution. "More and more women are coming out to challenge attitudes towards them that were taken to be 'normal'—standing up for fair and equal space in society," she says. The platform sees about 1,500 petitions a month. Many of them revolve around women's lives. And almost all of them are by "ordinary women like Gupta".
So, does the internet really have the power to make change? In a small basement of Adchini, an urban village in Delhi, Khabar Lahariya—a news-based outfit run by rural women and catering to Bundelkhand—is attempting to find the answer. This newspaper has become a symbol of revolution. The outfit became digital last December. Armed with a microphone, these women have ensured that everyone with a smartphone in the village can get access to information. The number of readers has jumped from 70,000 to 7 lakh in a matter of months. "With the camera in my hand, I feel I have the power to change," says Kavita, one of its first reporters. "It gives me the proof I need."
Rizwana, barely 5ft and in her 20s, is the designer of Khabar Lahariya's social media campaigns. Originally from Varanasi, she belongs to a generation that quickly grasped how the internet can tangibly make a difference. "When I was in school, I was even shorter," she says. It was a class of 50. Except in one class, Rizwana always sat at the back. She couldn't see the teacher but could hear the lecture. "I would take down the terms the teacher used, then go to a cyber café and Google them," she says. It was also her gateway into the world outside—Roger Federer matches, gangster Abu Salem, email and a few years later, Nirbhaya. "I was in second year," she says. "It was the first time that I participated in a programme that was just beyond my coursework. Boys and girls from my college stood together and lit candles."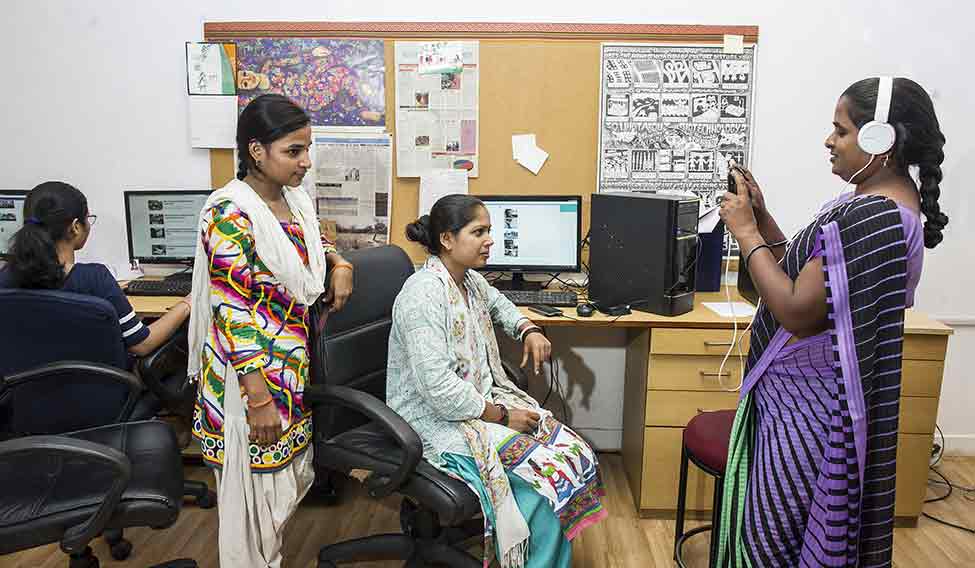 It was a small step, but she realised then how the issue can get amplified on the internet. Now, she realises how these campaigns have the ability to reach out. "You can't reach people like the prime minister directly. But on platforms like Facebook or Twitter, you can follow them and message them. It takes your issue a little closer to people who can make a difference," she says.
It would be romantic, and naïve, to believe that the traction online is a reflection of an improvement of things on the ground for women. The fight for equality will be a long and arduous journey.
Also, a battle against the system is never easy. It is gigantic, and it is brutal. "The most difficult moment is when a woman has to decide whether to complain or not," says Rupan Deol Bajaj, an IAS officer, who took on K.P.S. Gill—the man credited with stamping out militancy in Punjab—for patting her "posterior" while intoxicated at a party. "That is very excruciating. Once you make it public what you want anyone to know, you have to put it down in writing. It undermines your social conditioning and undermines your life."
It took her 17 years of going to court—of her career being sidetracked, of each boss telling her, "I hope you won't complain about me,"—to bring her case to an end. When she filed her case in 1988, sexual harassment laws were a decade away. "It was the first time in 120-odd years that anyone had sued a man for outraging modesty," she says. Her case, a landmark judgment, took a toll on her and the family. But it has helped women in the same position have a way to get justice.
Like Gupta, who has managed to ensure that the issue comes into the limelight, the change will require more than just outrage online. But it has made society start confronting uncomfortable questions—of identity, of safety, of equality and of acceptability. And, as Garima says: "Hopefully, I won't need my father's name on the passport."