The Narendra Modi government is acutely aware that its rhetoric is losing its sheen. Voters want action. So, ministers have been asked not to speak out of turn. Modi himself promised that the perpetrators of the Uri attack would not go unpunished. After failed attempts at cozying up to Islamabad, the Centre is now keen to have Pakistan declared a terrorist state. 
And, it is quietly dropping the traditional differentiation of "state actors" and "non-state actors" in Pakistan. Jitender Singh, minister of state in Prime Minister's Office, told THE WEEK: "There are no state and non-state actors in Pakistan. If that country gives shelter to terrorists, it is a terrorist state and must be exposed before the world community as such." 
As Pakistan resorts to sub-conventional warfare, the spotlight is firmly on National Security Adviser Ajit Doval. Before he took over as NSA in 2014, Doval made his doctrine clear—a shift from "defensive" to "offensive defensive". And, it was enforced from Manipur to Kashmir. In June last year, 18 soldiers of the 6 Dogra Regiment were killed in an ambush in Manipur's Chandel district. The ultras then crossed the border into Myanmar. Five days after the attack, Indian special forces and paratroopers crossed the border and carried out surgical strikes on militant camps. Sure, the theatre is completely different this time, but the aggression requires no prodding.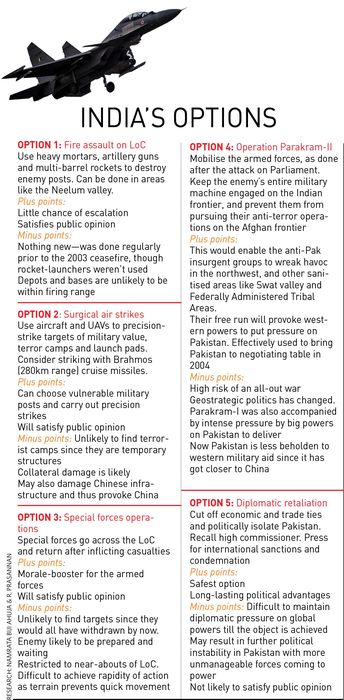 Experts feel that the NDA government's diplomatic and security response to Pakistan has been inconsistent. "Too much, too soon" has brought India to a face-off with an unstable, nuclear-armed neighbour, they say. The prime minister and his high-powered cabinet committee on security (ministers of home, defence, finance and external affairs) did not realise that they were shutting the door behind them when they blocked Pakistani NSA Sartaj Aziz from meeting the Hurriyat last year. Who will take responsibility for bringing India to these crossroads? And, does it help India's case, security analysts ask.
Home Minister Rajnath Singh's statement after every attack was: "Hum iska muh tod jawab denge (We will give a befitting reply)." And, when Pakistan provoked India by raising its pitch on Kashmir, India raised the Balochistan issue. Ram Madhav, BJP general secretary and party's point man for Kashmir, said the nation would claim a "complete jaw for a tooth". The words are out there, but where is the action? 
Jitendra Singh said "the ministries of home and defence will decide the strategy and implement it at the right time". He also stressed that the rhetoric used by the government over the last few months was "part of the action". 
Top home ministry sources disclosed that action had already begun. Union Home Secretary Rajiv Mehrishi was supposed to leave for Srinagar on September 19, but was asked by the PMO to stay back. North Block atop Raisina Hill became the hub of action as Rajnath chaired the first round of meetings to identify options for response. Doval, Defence Minister Manohar Parrikar, Army chief General Dalbir Singh, Director General of Military Operations Lt General Ranbir Singh, chiefs of Central paramilitary forces and secretaries for home and defence joined Rajnath. The decision was to have a graded response—put pressure on Pakistan from multiple fronts.
The action then moved to the prime minister's residence at 7 Race Course Road. A top government functionary told THE WEEK that after the briefing Modi said he would clear the proposal at an appropriate time. Later, he met President Pranab Mukherjee and briefed him.
On September 20, Rajnath was back in office at 10am to meet the top security brass, followed by a private meeting with Doval. Rajnath, who has been anchoring the government's response to the unrest in Kashmir, said he was not going to take any chances as far as peace in the valley was concerned. 
Meanwhile, forces on the Line of Control and on the international border were given a free hand to step up the offensive. Sources said incidents of shelling Pakistani posts and military targets might be reported in the coming days. The curfew-bound valley will see more boots on the ground with the deployment of the Central Reserve Police Force inside Srinagar. In addition to the existing 47 battalions, 15,000 additional troops have been stationed in Kashmir. The hot pursuit of Jaish-e-Mohammed and Lashkar-e-Toiba militants resulted in seven terrorists being shot dead. Larger operations like aerial strikes and special forces operations may not see the light of day, given the risk of high collateral damage. But the option is available to the prime minister.
Vikram Sood, former R&AW chief, said, "While you have to make Pakistan pay a price, you do not have to respond within 24 hours. You have to choose your timing and play. A message has to go to the rest of the world, that we are prepared to do it. Pakistan does not want a solution, because it has a plan for the long term. And, terror attacks will take place despite efforts at prevention. America spent trillions of dollars after 9/11, but the Manhattan bombing took place this week. So, what do we expect from Pakistan, which has developed such capacities over 20-25 years?"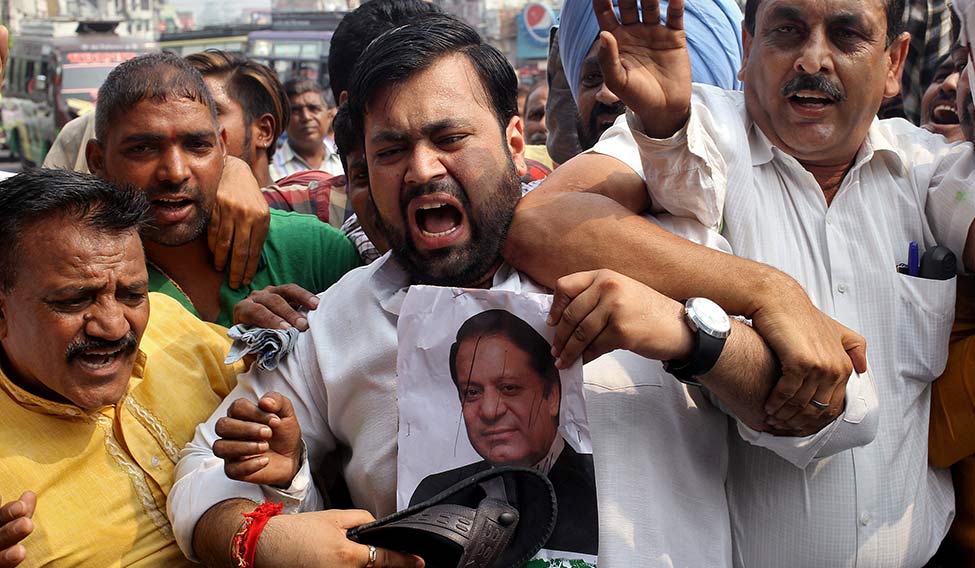 Sources say that government is wary about ordering a military build-up, because your best teacher is often your last mistake. Operation Parakram, the 2001-02 military stand-off with Pakistan, happened during the NDA regime under prime minister A.B. Vajpayee. "Operation Parakram was a disaster," said G. Parthasarathy, former high commissioner to Pakistan. Major general (retd) Ravi Arora quipped, "It was supposed to act as a deterrent for Pakistan. But, in our internal assessment, it turned out to be our own deterrent." Arora recalled how Lt General Kapil Vij, then commander of 2 Corps, was removed from his post "over concerns about the forward deployment of strike formations under his command".
In the graded response, one front is cessation of trade relations. Home ministry officials said it would mean stopping the 400-odd trucks that pass through Wagah border carrying dry fruit, cement, gypsum, garlic, ginger and black pepper. A complete ban on trade may not be viable as local traders would be hit, the officials said, leaving scope for only partial sanctions. The cross-border movement of trucks resumed in 2007, after a gap of six years, bringing relief to traders on both sides. But, the volume of trade is not big enough to upset either side.
Diplomatic pressure is being upped at the United Nations General Assembly by External Affairs Minister Sushma Swaraj. She has been instrumental in ratcheting up the government's response to Pakistan by backing the offensive strategy and bringing Balochistan to centre stage. Should India recall its high commissioner and politically isolate Pakistan? The option would depend heavily on Swaraj's experience at the UN, where Sharif tried to garner support.
Shyam Saran, former foreign secretary and special envoy on nuclear affairs, cautioned against a knee-jerk reaction. "Any escalation has its downside, as it helps Pakistan draw international attention on India-Pakistan relations and Kashmir," he said. India has not been successful in isolating Pakistan internationally, Saran said. "If that was the objective, then we have not achieved it," he said. "We need to achieve it now. The global community has to stand with India saying state-sponsored terrorism by Pakistan is unacceptable."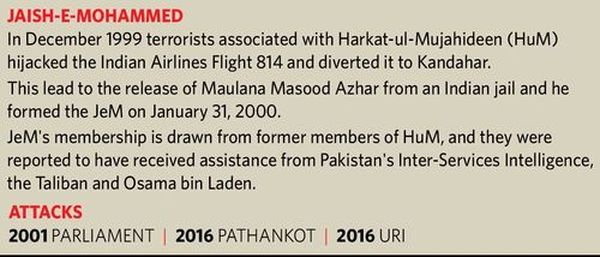 Countries like Bangladesh and Afghanistan are India's close allies and are likely to join hands in approaching the world community against Pakistan. And, in the US, Republican Congressmen Ted Poe and Dana Rohrabacher have moved a bill to designate Pakistan a state sponsor of terrorism. 
Former R&AW chief A.S. Dulat said the problem was "too much rhetoric". "The lesson is that talks should never break down," he said. "You should not call off talks with Pakistan even when the ties dip to the nadir. The NSAs must keep talking. I hope they are still talking. The back channel talks should continue. Because, if you don't talk, then New Delhi gets quoted by Pakistan attributing things it did not say. So, even what you are not doing gets attributed to you. If we have to do something, we don't need to speak about it. Just do it." Dulat had led the Track-II dialogue with Pakistan for several years and had served in the Intelligence Bureau, too.
Dulat was also critical about fingers being pointed at the Army. Analysts had said that in Pathankot and Uri, the Army had ignored intelligence alerts and committed security lapses. Officers currently commanding troops on the border said troops shedding blood is both a national security issue and a national policy issue. And, the political leadership must address the policy segment.
"A political resolution of the Kashmir issue, rather than military options, is the only way to minimise insurgency and militancy in Kashmir," said M.M. Ansari, a former Jammu and Kashmir interlocutor. "The Army has always delivered. It is for the political leadership to evolve consensus to resolve all contentious issues." 
The political leadership under Modi has had two years to shake hands, hug, rattle sabres and attend Prime Minister Nawaz Sharif's granddaughter's wedding. Now, it is time to put money where their mouth is.