The shutters go up at 5am sharp. It is humid, the air sticky as treacle. But at Power Gym, the only one of its kind in Rai, a small town in Haryana, no one seems to care. Rahul has been circling the gym on his motorbike, waiting for it to open. Every morning the 17-year-old makes the trip to the gym without fail. "I am working on my biceps. This is the only gym in a few kilometres," he says.
His village does have an akhara. "But the mitti (mud) doesn't suit me,'' he says. So his only option is Power Gym, run by Amit Kaushik and his partner Atul Tyagi. Atul also owns a company that tests soil for construction companies, an enterprise which is the result of the construction boom. But most of the time he gets to do what he loves the most—building his body and helping the youth of Rai to stay fit. The idea of exercising indoors and with machines is still new in Rai, but the trend is catching on.
In the past, Rai's only claim to fame was a sports complex, but it is now poised to become a census town by Census 2021. "By 2050, India will be split equally into panchayats and municipalities. Urbanisation will have a huge impact," says E.F.N. Ribeiro, a town planner who worked for the Town and Country Planning Organisation.
Such bustling small towns like Rai can be seen across India, especially in the north and a loop across the southern coast. In Census 2011, their number stood at 3,894, up from 1,362 in 2001. It is expected that by the next census, there will be 2,000 more census towns, according to Centre for Policy Research. These census towns will determine the urban experience of India in the next decade. By 2050, India is expected to add 300 million new urban residents and the success of this experiment in urbanisation hinges on proper planning.
Transport, sanitation, land use, pollution, housing and even the maintenance of green space require planning. But the transition from rural to urban, at least in terms of landscape, brings to the fore the challenges of building fast. Rai, for instance, has witnessed a construction spree. The ideas and customs of the big town have slowly crept in. There is a department store right around the corner. Even as Rai reels under a power cut, Naresh Kumar sits inside his shop in the comfort of a whirring fan powered by solar panels. Kumar comes from entrepreneurial stock. His father, who ran a mill in the area, was the first in Rai to own a television set and a Maruti 800 car. Inside the store, Patanjali merchandise is scattered around, there are instant noodles and hot-selling cosmetics. "People want branded items,'' says Kumar.
The store is filled with deodorants, the product that is the first to fly off the shelf, another marker of changing times and prosperity. Young men spending hours to select their deos is perhaps the first sign of the creation of a market. The industries in the area have been providing employment. Most Raiwallahs have grabbed on to the opportunity by building flats for renting out.
Kumar doesn't own any flats, but he owns more than one shop. His house, located above his store, is the perfect example of what a 7 per cent GDP growth can do to an ordinary Indian living in an upcoming town. Straight out of a glossy catalogue, the house has an open-plan kitchen with bright red tiles. "I have planned this all by myself,'' he says. His daughter has her own room, the walls of which would make Shah Rukh Khan proud. They are painted bright gold and look straight out of an Asian Paints advertisement. "People in Rai spend a lot of money on their houses. We don't want it to look like a village,'' says Kumar. He owns a plasma television, his terrace is paved with marble and he has a little gazebo for small family functions.
Yet, as the cliché goes, Rai is a land of contrasts, just like India. Next to Kumar's store-cum-home lies a pond—stinky and as black as night. Untreated water from a nearby factory drains into it. Vegetable vendors sit around the pond selling brinjal, spinach and tomato, blithely unconcerned about the dirty pond. It is this gap that makes urbanisation a daunting challenge.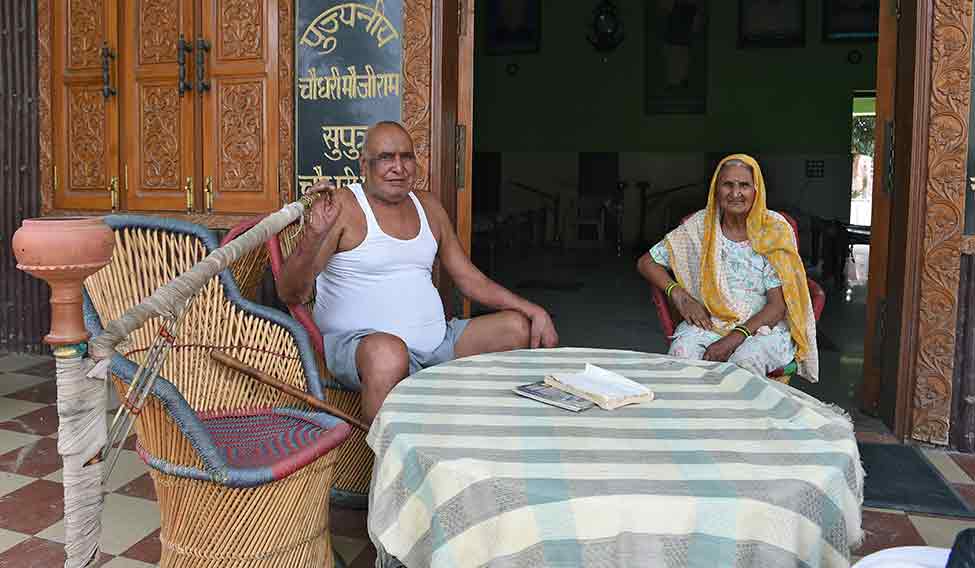 Ten minutes from Rai is Rathana, another experiment in urbanisation. Herons—like dabs of white paint on a watercolour of green and brown—sit lazily picking out worms. Puran Singh, a former national-level volleyball player, looks out at the fields wistfully. With his hookah and a glass of reverse osmosis treated water beside him, Puran says the village he grew up in has changed drastically. In the past five years, the fields have been replaced by sprawling farmhouses, some with generators and all of them with reverse osmosis water purification systems. Televisions, mobile phones and all-wheel drives are way too common.
At the edge of the village are large housing societies. The campus of a private university with a giant national flag is visible from a distance. A survey held in 2007 ranked Rathana the richest village in Asia. But the money seems to be vanishing as fast as it came.
Bittu Master is the veritable power broker of the village. His name and contact numbers can be seen on boards that dot the village. Bittu is one of the first few millionaires of the village, who made a fortune by selling off their land at the first flush of the real estate boom. He has built a mansion and his kids go to a private school. "You have to spend more money now. Most people sold their land, upgraded their homes, bought cars and invested their money in cheaper plots elsewhere,'' he says. "Now you have to spend more money to keep these farms. The cost has gone up. Besides, you need to have money to run the cars and the generators."
The Gurugram model of boom and subsequent bust hasn't been replicated here but the money has changed Rathana. Singh's assistant Nandu, a young boy from Bihar, owns a mobile phone worth Rs 15,000. It is his pride and joy and he spends a lot of time downloading and playing games on it. Songs are his next favourite. But what really delights Nandu is an app with which he can turn his grandparents into zombies. He giggles uncontrollably showing their morphed images with fangs dripping blood. It is this lifestyle fuelled by money that has changed Rathana. It has brought with it brashness and an end to simplicity. The spiralling land prices have led to bitter family feuds. "Some of the women who had been married off came back for their share of land,'' says Ram Bhajan, a villager. "Brothers and sisters sometimes don't speak to each other."
"We used to stay fit by farming,'' says Suraj Bhan. "Now you have to hit the gym for that. Young people drive cars and spend their parents' money,'' says Bhajan. Their fathers who worked hard every day now have very little to do. "We spend most of our time playing cards,'' he says. "By the end of my generation, my kid will have to do manual labour to survive."
Rathana and Rai are the twin faces of modern India. One developed systematically, supported by investments in factories, while the other grew on instant money driven by the real estate boom. The Rathana millionaires made money as the price of land went up from Rs 10 lakh a kila (one kila is approximately one acre) to Rs 1.3 crore within a few years, altering the lifestyle of the farmers beyond recognition. "We used to drink desi (country liquor), now we drink angrezi (foreign),'' says Pramod, a young policeman, summing up the change. However, despite having all the classic ingredients of a town, there has been no electricity for the past three days in Rathana.
The difference between being urbanised and being an urban town is huge. The question is whether India will be able to bridge the gap, and in more ways than just infrastructure. It is about finding a middle ground between Rai and Rathana. And it is not going to be easy.