While many states had schemes to protect the girl child, Modi government decided to cover the nation with Beti Bachao, Beti Padhao scheme
Seeds have been sown for agricultural transformation and for attracting and retaining youth in farming. The dawn of a new era in farming is in sight.
So wrote Dr M.S. Swaminathan, father of India's Green Revolution, to Prime Minister Narendra Modi. It seems it is an acknowledgement Modi cherishes—he read it out at the prestigious Bloomberg India Economic Forum in Delhi recently.
There is, however, an impression on the ground that the Modi government's popularity is diminishing as people eager to live the promised 'achche din' are becoming impatient. The stock market is not booming; the industry bodies and associations are not gung-ho; job seekers are getting restless; and, government statistics notwithstanding, prices of quite a few food items have gone up.
Modi, of course, waves aside such negative views. "Obviously there are some who find that [the high growth rate, low inflation and the low current account deficit] difficult to digest and come up with imaginative and fanciful ideas to belittle that achievement," said a combative prime minister at the Bloomberg India Economic Forum. "There are some who remain confused and have said that the growth rate does not feel right." He even offered to help such people "in reducing the confusion by stating facts in place of feelings".
An appraisal of the two years of the Modi government by the Centre for Media Studies says 62 per cent people liked the performance of the prime minister. A whopping 70 per cent wanted him even after 2019. While less than a third felt that he failed to fulfil his promises, 48 per cent said the promises had been partially fulfilled. Nearly half the people surveyed saw no change in the quality of life of people, while 15 per cent said the situation had worsened. Significantly, 43 per cent felt that poor were not benefiting from the programmes and schemes of the government.
Sunil Kanoria, president of the Associated Chambers of Commerce and Industry of India, said Modi's leadership clearly stood out in critical areas like the foreign policy and infrastructure. Industry, however, has huge expectations that have yet to be met, especially the Goods and Services Tax. The industry leaders describe the government as a work in progress, and give it a rating of 7 out of 10.

Senior ministers in the Modi cabinet have been rubbishing all suggestions of disenchantment. And the assembly election results on May 19 have assured them that there was no let up in the popular support to the prime minister. The BJP and the government are projecting it, especially the victory in Assam, as an endorsement of Modi's style of governance.
In the summer of 2014, Modi had gone around the country promising he would bring down inflation, improve growth rate, implement one rank one pension for retired soldiers and bring home the black money stashed abroad. Substantial achievement on those scores is something the party and the government are happy about. The Make in India and Startup India initiatives have become for this government what the National Rural Employment Guarantee Scheme was for the United Progressive Alliance government.
Political sources close to Modi say the prime minister has started seeing not just seeds of transformation, but roots and shoots as well—both in the economy and society. For instance, the Jan-Dhan Yojana scheme is something which gives the government a tremendous sense of achievement. In the CMS survey, it topped the list of achievements of the government, with 36 per cent identifying it as the best thing Modi had done.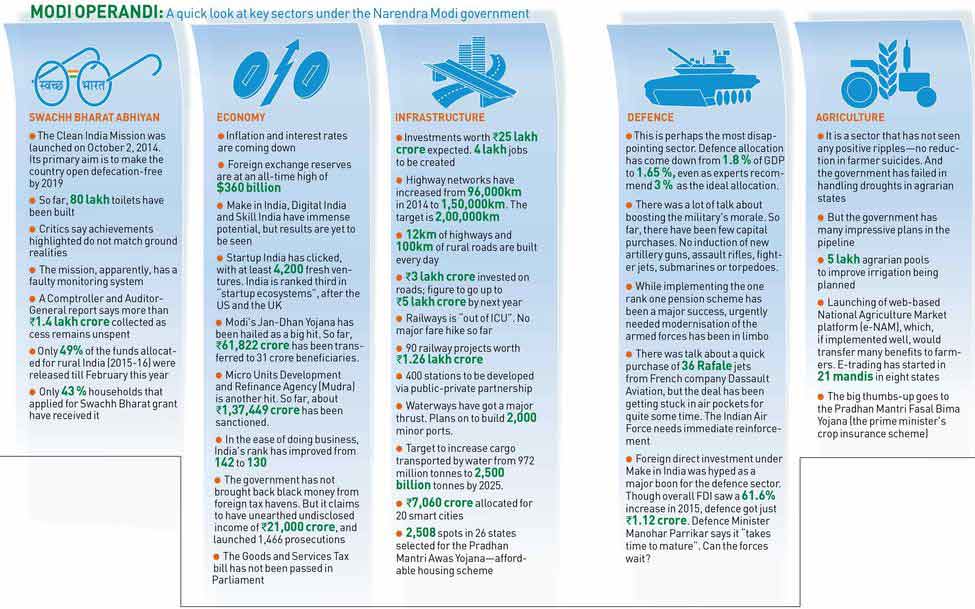 While the idea of financial inclusion had been talked about in the past, it never materialised on the ground at a scale the Modi government implemented the scheme. "Initially, people in the government and the party were sceptical that much of such a large number of zero-balance accounts would become inactive or banks would not find them feasible. But Modi differed, saying that the poor and the deprived had to be connected to the formal banking system," said a source in the finance ministry. "He reasoned that the government could use it to transfer subsidies as well." With about 22 crore zero-balance Jan-Dhan accounts and deposits exceeding Rs 33,000 crore in them, the prime minister is said to be happy that his confidence had paid off. Jan-Dhan accounts have now become a platform for direct benefits transfer and the government now intends to merge them with Aadhaar and mobile phones (JAM).
Modi's innovative campaign asking well-off people to give up LPG subsidy, too, had met with similar scepticism. After all, why would anyone voluntarily give up subsidy? By May 15, however, more than 1.2 crore consumers had given up their subsidies, saving the government some Rs 4,660 crore. The government says this was because Modi asked them to give up the subsidy so that he could improve the lives of poor people—the Pradhan Mantri Ujjwala Yojana, which gives free cooking gas to families below poverty line, is funded by the saved LPG subsidy.
At a meeting of the BJP national executive, Modi shared with the party leaders his thought on why Mahatma Gandhi could sustain the freedom movement for several decades. "Gandhiji dovetailed people's concerns into his freedom movement efficiently—be it the problems of farmers, sanitation or untouchability... All these ideas connected him with people," he said. With that connect, he said, the community could be made change agents.
Modi's cleanliness drive—Swachh Bharat Abhiyan—is gathering good momentum for the same reason. Young Indians gave their thumbs up to a leader who addressed open defecation, something that people were embarrassed to talk about in public, even as many people continued to suffer for want of toilets. Many cities have made quite a few public toilets, and there is an awareness that it is necessary to make them, said a leader.
Making innovation and new ideas the cornerstone of governance, and having faith in new ideas and motivating those tasked to implement them, are bringing about the transformation for Modi. One such idea was to neem-coat urea so that it becomes good for nothing other than agriculture. It was at one of his many meetings with agricultural scientists that the idea came up and the prime minister lapped it up. Earlier, a large amount of urea got diverted to non-agricultural purposes, leading to shortages during the season and protests by farmers. Chief ministers used to visit Delhi to lobby for higher allocation. One good idea fixed all these problems.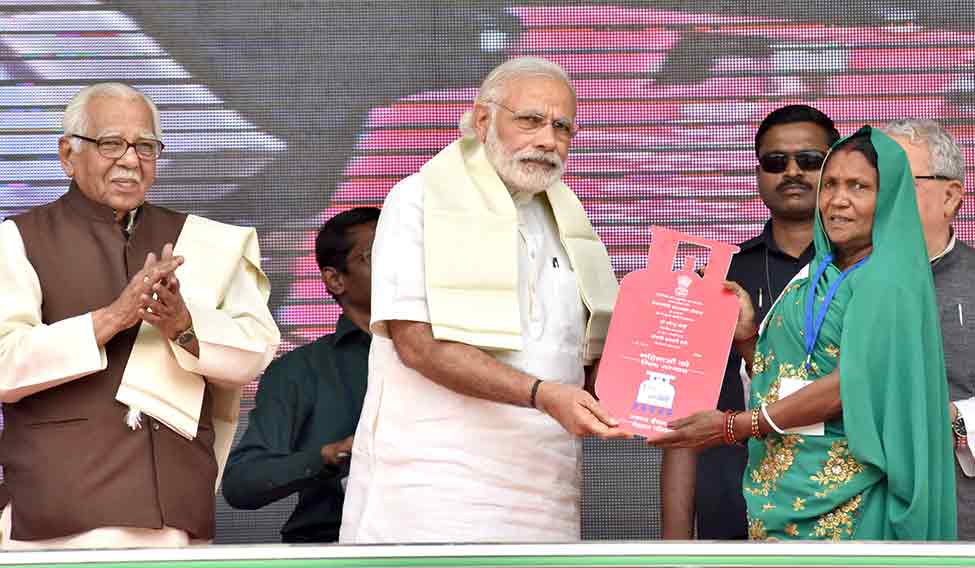 While many states had schemes to protect the girl child and educate her, the Modi government decided to cover the nation with its Beti Bachao, Beti Padhao scheme. And with the insurance programme Atal Bima Yojana in place, people got social security that went beyond small doles. The minimum pension in the organised sector has been raised to Rs 1,000 under the Employees' Pension Scheme—earlier it was Rs 100—and the ceiling for bonus payments has been raised from Rs 7,000 to Rs 21,000.
Alive to the reality that irrigation facilities cannot be created overnight, and it is anyway a state subject, the government thinks crop insurance is a revolutionary idea to protect the interests of farmers. The Pradhan Mantri Fasal Bima Yojana offers just one premium rate for each season (2 per cent for Kharif and 1.5 per cent for Rabi). The government will bear the rest of the financial burden.
"The PM is a reservoir of ideas," said G.V.L. Narsimha Rao, the BJP's national spokesperson and national executive member. "For anything that can be done, his question is how can it be done better. He is always bubbling with ideas and is receptive to ideas. Any officer going to meet him goes with lots of ideas, explores all possibilities and he is open to accepting all of them. He wants change, not innovation for the sake of innovation. And his faith in ideas has always succeeded."
Under a programme called PRAGATI, Modi meets the chief secretaries of all the states every fortnight to review projects pending with the Centre. Fifteen of 50 projects mentioned were picked up, discussed and fast-tracked. The construction of highways has been improved from 2km a day of the UPA regime to 22km. The government claims there will be uninterrupted power supply from 2018. The Micro Units Development and Refinance Agency Bank (MUDRA Bank), which has been set up to fund non-corporate non-farm sector income generating activities of micro and small enterprises, has so far disbursed more than Rs 1,00,000 crore. According to Modi, 77 per cent of the recipient entrepreneurs are women, and 22 per cent are scheduled castes and scheduled tribes.
The prime minister, while asserting that generating employment is one of his highest priorities, counts two steps his government has taken towards this end. If companies subject to tax audit increase their work force, they will get a 30 per cent weighted tax deduction on the extra wage cost for three years, for employees with a salary cap of Rs 25,000 a month. The government will also pay for three years the pension contributions for those with wages up to Rs 15,000 a month. Modi expects this to generate lakhs of jobs.
BJP vice president Vinay Sahasrabuddhe believes that in the last two years, the atmosphere of aspirations has consolidated. "Sustaining this spirit of moving ahead collectively as people, as society in itself is a great achievement," he said. "People are assured about the intentions of this government and its leaders. They are convinced about the commitment to the agenda of Sab ka Saath, Sab ka Vikas."
The key achievements of the government, he said, were deepening of social and economic democracies, impetus to infrastructure development, advancement and consolidation of economic progress, attaining a place of prominence in global politics, unblemished and spotless governance and unveiling of a new governance culture with emphasis on delivery and result.
But, sections of the public refuse to buy the government claims. At a national conference to discuss ways to strengthen the dairy economy, Agriculture Minister Radha Mohan Singh spoke about government initiatives. Participants protested saying they were not getting the benefits of any of those schemes. The minister had to rush out citing an appointment with the prime minister.
Finance Minister Arun Jaitley said the performance of the government was very good considering the slowing global economies. And, there was the issue of stressed banks and over-leveraged companies "The very people who spoke about policy paralysis in India are now saying it is the fastest growing economy," said Jaitley. "There is a change in work culture and there is ethics in governance. And, it has become a tradition to consider those who joined politics two years ago [read Delhi chief minister Arvind Kejriwal] as an insider [in Lutyens Delhi] and someone who has been a chief minister for 14 years [read Modi] an outsider."

Modi has clearly a long way to go before he becomes a statesman in the eyes of his peers, especially leaders of other parties. At an election rally in Kerala, Bihar Chief Minister Nitish Kumar referred to Modi's poll promises. The prime minister did not care to follow up on the promises he had made during the Bihar assembly elections last year, he said. "What all promises the BJP made during the Lok Sabha elections! Modi promised to bring black money back to the country, to give jobs to the youth and give support price for crops. Everything was promised to be done within 100 days of coming to power. Two years have gone and Modi is hitting the campaign trail with promises that are not going to materialise," he said.
And, it is not like everything has suddenly become super efficient. Union Transport Minister Nitin Gadkari admitted as much while laying the foundation stone for the first automated multilevel parking lot on the premises of the Transport Bhawan on Parliament Street on May 9. "The prime minister was interested in the project," he said. "When he asked me how it was progressing, I felt ashamed to tell him that we were not able to get clearances." His own government and ministry had to wait for nine months to get approvals for the project from various ministries. Urban Development Minister Venkaiah Naidu tried to assuage Gadkari saying they were looking into "ease of approvals". Naidu promised that by June everything would be streamlined.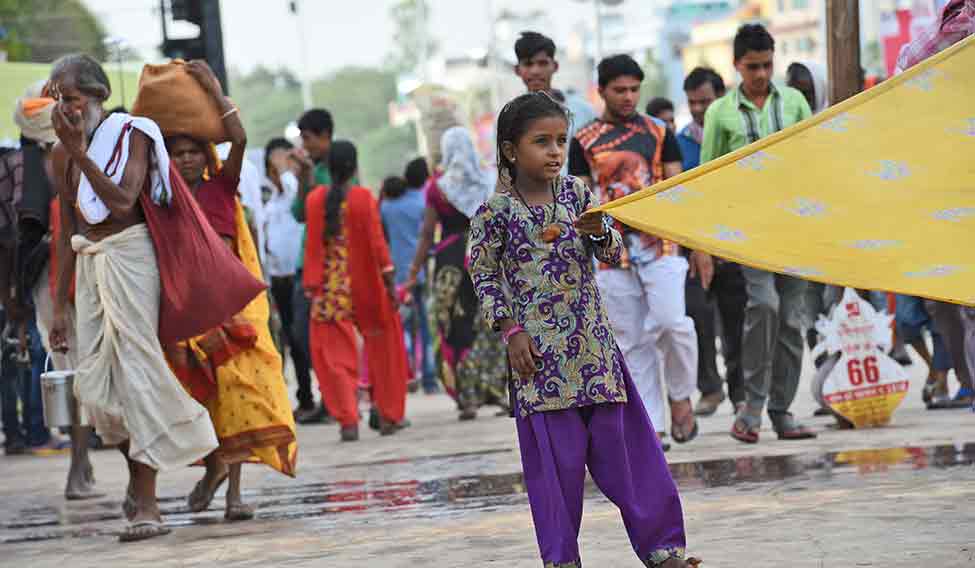 Also, the expectations were unreasonable. "Modi came as a ray of hope after decades of darkness," said former Lok Sabha secretary Subhash C. Kashyap at a meeting. "People expected great things, and great things were promised. The one mistake of the NDA policymakers is they promised the moon. Given the state of the nation, the leaders had to tell the people that things were bad, that time would be required, that they would have to make sacrifices. The sacrifices had to begin at the top, with some of their salaries and perks."
Kashyap said while the direction of the government was good, public perception was not better than it was ten years ago. "Administration regards itself as the ruler, we the people are subject. In two years, little has been done to change this. In terms of elections, too, little was done to change this." He, however, wants the government to succeed because he fears a backlash if a government with such a massive mandate fails. "So, failure is not an option for this government," he said.
Sudheendra Kulkarni, head of the think tank Observer Research Foundation, agreed. "There are clear signs that the Modi government has so far failed to meet the enormous expectations it created in 2014," he said. "These expectations were a major contributor to the massive mandate that the BJP won in the elections to the 16th Lok Sabha." According to him, Modi carried the double burden of fulfilling both pre- and post-election expectations of the people.

Kulkarni, however, said some of the initiatives would show better result in the years to come. "Corruption at ministerial and top bureaucratic levels has come down. Some of the novel initiatives such as Swachh Bharat Abhiyan and Make in India, coupled with the remarkable progress in the road, port and coal sectors, should be welcomed. These will yield more visible results in the years to come. Modi has brought more dynamism to bear on India's foreign policy. Even though I would like him to show greater clarity, consistency and political will in India's efforts to normalise relations with Pakistan—the single-most important foreign policy challenge before any government in New Delhi—he has exhibited much-needed pragmatism on this front in the past one year," he said.
But in Kulkarni's opinion, the negatives outweigh the positives. The economy is not picking up fast enough to generate adequate number of jobs. After initially creating hopes of harmonious Centre-state relations, the prime minister has not persevered with his promise. Also, he has needlessly adopted a confrontationist approach towards the opposition, especially the Congress, as a result of which key legislative initiatives are stalled in Parliament. This has also vitiated the political atmosphere in the country.
The BJP's misadventure in imposing President's rule in Uttarakhand has turned out to be an ethical fiasco and a political self goal. The government and the BJP have made matters worse for themselves by allowing non-issues such as beef ban and ultranationalism divert their own attention from the stated agenda of good governance.
Clearly, #2SaalBemisaal—the BJP's hashtag for its 'unmatched two years'—is a time for introspection, the recent election results notwithstanding. But what he has achieved so far gives Modi the confidence to believe that India can be transformed.