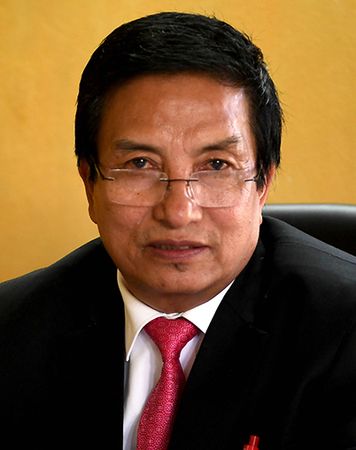 What is the framework agreement you have signed with the Indian government?
It talks of the existence of two entities without us forgoing our rights. It recognises the identity, history and territory of the Nagas.
Does it recognise your territorial claim of a greater Nagalim?
Naga territory belongs to the Nagas and we are the owners. There has to be coexistence on the basis of mutual recognition of each other's identity, sovereignty and so on. If that happens, we will not part ways with India. We are saying that the Naga hills can act as the defence bunkers of the Indian armed forces. We will be India's partner in defence, commerce and in many other ways. But, if India wants to put the Nagas under its Constitution, the Naga struggle will continue.
Have you given up the demand for independence?
As of now, it is our understanding that both the parties, India and the Nagas, have agreed to coexist. So, we have no reason to reject it.
So, you are moving towards shared sovereignty?
How would you define shared sovereignty? I would say joint defence is a kind of shared sovereignty and even using Indian currency is shared sovereignty.
How important is it for India to find an early solution to the problem?
India will never allow us to go away because they know where we will be going. We are biologically closer to China. But politically, the Chinese are communists. Indian authorities are scared that if the Nagas are set free, they will go that side and that will be a huge security problem for India. Therefore, an early settlement can be beneficial for India.
Do you think states like Manipur, Arunachal Pradesh and Assam would redraw their boundaries?
Redrawing of the political map is a continuous process. We don't accept the so-called international boundary with Burma.
There was a revolution when Andhra Pradesh was divided. Who can stop a revolution? A people's movement is like a hurricane or a tsunami that can't be stopped.
Are you in touch with the Myanmar government?
As a young army officer, I was deployed there and I fought the Indian Army for six years. In 1981, I was arrested by the Indian Army and put in jail for eight years under the National Security Act. There are 300 villages of the Tangkhul tribe [to which a vast majority of the NSCN(IM) belongs], of which 30 are in Burma. We have nearly six or seven tribes in areas that are under Burmese occupation. That in itself is a million plus population. After a solution is reached here, the Indian government will have to take it up.
The NSCN(Khaplang) faction is operating from Myanmar. Shouldn't it be consulted?
The NSCN(K) is collaborating with the enemies. Ever since Khaplang staged a military coup and tried to capture power, the people are not with him. Only the NSCN(IM) has been mandated by the people to represent their voice. When Khaplang broke away, Khole Konyak [vice president of NSCN(IM)] got swayed, but soon realised that they were not working in the interest of the Nagas and came back. More cadres are coming back. The NSCN(K) carries drugs, cocaine, illegal contraband and even arms from across the border.
How does your government function? Can you explain?
Nagalim is divided into 26 regions and each region has a number of districts. These are governed by administrative units and each unit has a Central Administrative Officer. They are autonomous bodies and function under the powers granted to them. Hebron is their civilian and military headquarters.
Aren't the people fed up with paying taxes? They are paying tax to your government, the Nagaland government and other factions.
The Nagaland government will go soon. It is running on the charity extended by New Delhi.