Allegations of corruption in medical college admissions are not new to Madhya Pradesh. It began as early as in 1970 when Umashankar Dikshit, the powerful treasurer of the Congress party, sent a medical college aspirant close to him to meet Madhya Pradesh chief minister Shyama Charan Shukla. Armed with a letter from Dikshit, the young man arrived at Shukla's Shyamala Hills residence in Bhopal, seeking help. Shukla directed him to an official, who, in turn, sent him to someone who demanded Rs15,000 for a medical seat. He went back to his hometown Kanpur, sold his property, and paid the bribe. When Dikshit heard about what happened, he was furious and summoned Shukla to Delhi. The issue became such a talking point that Shukla decided to scrap the existing system of medical seats allotment and set up a pre-medical test board. Still, the chief minister lost his post after a while. Among other things, the admission controversy, too, played a role in his ouster.
Four decades later, another admission controversy, which is far more sweeping and sinister than the one which cost Shukla his job, is haunting Madhya Pradesh Chief Minister Shivraj Singh Chouhan. This time, besides medical admissions, it involves recruitment to non-gazetted posts in 36 government departments through tests conducted by the Madhya Pradesh Vyavasayik Pariksha Mandal (Vyapam). Following a spate of deaths of people linked to the scam as accused, witnesses and victims, the Supreme Court on July 9 ordered a probe by the Central Bureau of Investigation into all Vyapam scam cases and deaths linked to them.
Abhishek Mishra, 31, always dreamed of a government job. A brilliant student, he appeared in a number of examinations conducted by Vyapam in pursuit of his dream. Abhishek failed to clear the weights and measures inspectors' exam by a few marks. He then appeared in the transport inspectors exam, but missed again. Finally, he gave up Vyapam and tried his luck with the Railways and was selected as assistant station master. When the Vyapam scam broke, Abhishek said he would have got a job close to home, had the system been honest. Today, as he waves flags at passing trains in an obscure station, Abhishek continues to curse Vyapam.
Dr Saurabh Purohit, a medical officer in the MP government service, however, thanks his stars for shunning Vyapam and opting to join a foreign university for his medical degree. Born in a family of doctors, Saurabh, 32, always wanted to be a doctor. Although he appeared for the medical entrance exam conducted by Vyapam, he could not clear it. Some people then approached him and offered a medical seat for Rs25 lakh. His father, an honest surgeon, was not interested and chose to send Saurabh to Ukraine, where he did his six-year medical degree programme from Odessa Medical College. After coming back, he cleared the eligibility exam conducted by the National Board of Examination and got registered with the Medical Council of India, landing a government job.
Vyapam, which was once famous for its efficiency and probity, fell prey to the greed of a set of crooks, who used loopholes in the system and devised a plan that was not easily detectable (see graphics). The scam worked well, as a number of officers, ranging from lowly peons to senior-most bureaucrats, and their political masters, were part of it. It came to light in July 2013, when a dozen impersonators were arrested in Indore as they appeared in a pre-medical examination as proxies for other candidates. A few days later, Jagdish Sagar, said to be among the masterminds of the scam, was arrested from a Mumbai hotel following a tip-off from whistleblower Anand Rai.
Soon after the scam broke, Chouhan said in the state assembly that more than 1,000 fake recruitments and admissions had been made by the mafia and handed over the case to the crime branch of the Indore police. After charges of corruption against the Indore crime branch, the case was transferred to a Special Task Force. Although there were allegations that Chouhan handed over the case to the STF to contain its likely political fallout ahead of the 2013 assembly elections, the task force arrested several key officials and politicians accused in the case, including Sudhir Sharma, a BJP leader close to the RSS, and former minister Laxmikant Sharma, who had lost the election.
The Congress, meanwhile, approached the Madhya Pradesh High Court for a CBI inquiry into the case, but the court set up a Special Investigation Team headed by retired High Court judge Chandresh Bhushan to monitor the STF probe. With a dramatic increase in the deaths of people linked to the scam, the case has started dominating national headlines. Increasing pressure from his detractors and the lack of support from within the BJP have forced Chouhan to drop his objections to a CBI probe into the case, following which the Supreme Court ordered the CBI to take it up.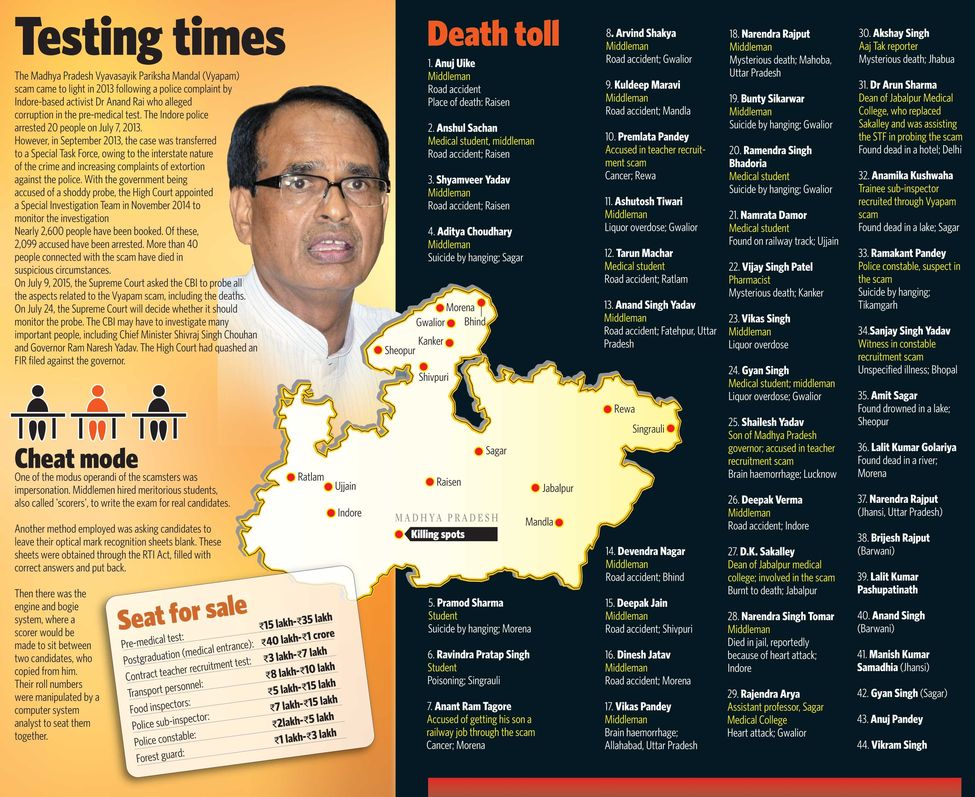 Even as the CBI takes over the investigation of the Vyapam scam, the politically connected among the accused continue to evade jail. For instance, Prem Chand Prasad, former personal assistant to Chouhan, and his daughter, Anita, are out on bail as their bail petitions were not opposed by the STF. Vyapam's controller of examinations, Pankaj Trivedi, who was allegedly one of the brains behind the scam, had mentioned the name of senior RSS leader Suresh Soni as a beneficiary. In his signed statement, Trivedi alleged that the name of one Mihir Kumar Choudhry was given by Laxmikant Sharma for recruitment as inspector in the weights and measures department. Sharma told Trivedi that Choudhry was a "special person" and that his name had been recommended by Soni.
When Choudhry was arrested by the STF on November 22, 2013, he testified that he was the personal steward of former RSS chief K.S. Sudarshan, when he lived in Bhopal after relinquishing his post. Choudhry said Sudarshan had instructed him to leave his optical mark recognition sheets blank and his job would be done. The STF did not oppose Choudhry's bail plea either. The Madhya Pradesh Police, in fact, issued a press release saying Sudarshan and Soni had no involvement in the scam. Soni, who was the RSS point person to the BJP till last year, was not even summoned by the STF for recording his statement.
Union Minister Uma Bharti, too, was treated with kid gloves by the STF. When local newspapers mentioned in December 2013 that her name figured in statements given by the accused, she came down to Bhopal and met Chouhan. Subsequently, the director-general of police Nandan Dubey, perceived to be an upright officer, went to her house to reassure her. Bharti, who had then just returned to the BJP after spending six years in exile, felt that she was being maligned by selective leaks to the media by the police. To ensure that her chances in the Lok Sabha elections were not affected, she also paid a visit to the RSS headquarters in Nagpur and complained to sarsanghchalak Mohan Bhagwat that she was being targeted. When her name appeared in the status of inquiry details submitted to the High Court by the SIT, she said it was being done to divert attention from certain people.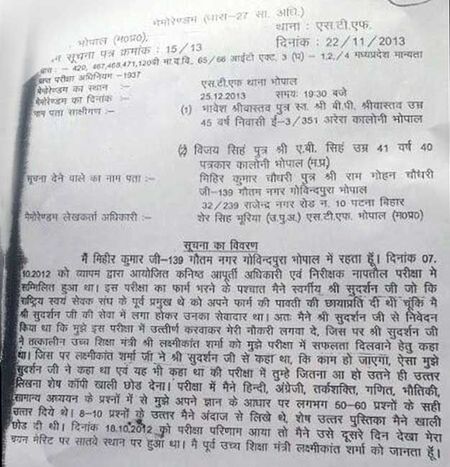 Another key accused who stays free is Governor Ram Naresh Yadav. A former chief minister of Uttar Pradesh, he was appointed governor in August 2011 by the Manmohan Singh government. Yadav, 87, lived in the Raj Bhavan with his two sons. His officer on special duty, Dhanraj Yadav, came into contact with Trivedi, Vyapam's controller of exams. With Trivedi's help, Dhanraj got several candidates from Uttar Pradesh recruited to various posts through Vyapam. "He converted the Raj Bhavan into a virtual recruitment centre," said Congress spokesperson Pankaj Chaturvedi. During the investigation, it was revealed that Dhanraj and the governor's son Shailesh Yadav had taken bribes in the recruitment of teachers. On February 24, 2015, a first information report was filed with the permission of the High Court against the governor for irregularities in the recruitment of forest guards. A month later, his son was found dead in Yadav's residence in Lucknow.
As pressure mounted on the governor to resign, eminent lawyer Ram Jethmalani was flown down to Jabalpur in a chartered plane, to appear before the High Court, seeking a stay on the proceedings against him. The court ruled that the governor could not be tried because of his constitutional position and that proceedings could be initiated against him only after he left the office. "Why can't the prime minister remove a governor who is accused in a scam?" asked state Congress president Arun Yadav. He said while people in high places remained untouched by the STF, small fry were getting caught. Political commentator Rajesh Sirothia said the BJP and the state government wanted to save Yadav because his arrest would have "opened a Pandora's box".
Four IAS officers who headed Vyapam during the scam period, too, remain untouched. "This smacks of a design to protect them," said Arun Yadav. In a signed statement, Trivedi alleged that he had given Rs42 lakh to Ranjana Chowdhary, one of the IAS officers, who is currently a member of the Hyderabad bench of the Central Administrative Tribunal. The STF, which questioned Ranjana for over 48 hours, decided to make her a government approver.
Gulab Singh Kirar, who was a member of the Backward Classes Commission of Madhya Pradesh, got his son, Shakti, admitted to a post-graduate medical course, allegedly by illegal means. A relative of Chouhan, Kirar is listed as absconding in police records. The police have even announced a reward for information leading to his arrest. Yet, Kirar can be seen attending public functions and sharing dais with Chouhan.
Chouhan's kin have been named in another scam related to the appointment of gazetted officers by the Madhya Pradesh Public Service Commission. The leader of opposition in the Madhya Pradesh assembly, Satyadev Katare, said Chouhan's niece, Ritu, was selected as deputy collector flouting norms. However, no action has yet been taken in the case.
The Congress has alleged that large-scale corruption took place in the recruitment of transport constables when Jagdish Devda was the transport minister. It was alleged that several constables got their jobs after paying huge sums to Sadhna Chouhan, the chief minister's wife. Congress leader K.K. Mishra made public in a news conference documents and call records of some members of the CM's staff in connection with the scam. Chouhan has filed a defamation suit against Mishra. The STF has arrested over 50 people in the case so far. A personal assistant of Devda, Rajendra Gurjar, surrendered before the STF, but the former minister was spared.
Sudhir Singh Bhadoria, who was Vyapam's controller of examinations between 2006 and 2011, is another senior official who has absconded. An accused in the 2011 postgraduate medical entrance examination scam, Bhadoria is said to be close to Union Minister Narendra Singh Tomar. "If the matter was handed over to the CBI in the very beginning, the innocent children and parents would not have gone to jail," said Arun Yadav. "Today, the real culprits are roaming outside. The children who were really the victims of the system should have been made approvers, sending the officials and politicians to jail."
TEXTING TIMES
Number games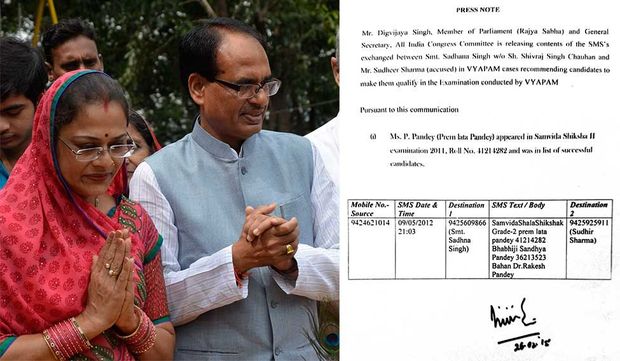 On February 26 this year, Congress leader and former Madhya Pradesh chief minister Digvijaya Singh released the details of an SMS, allegedly sent from the phone number of Sadhana Singh, wife of Shivraj Singh Chouhan.
The text of the SMS read, "SamvidaShalaShikshak Grade-2 prem lata pandey 41414282 Bhabhiji Sandhya Pandey 36213523 Bahan Dr Rakesh Pandey." The SMS was sent from phone number 9424621014 to Sadhana's phone (number 9425609866). From Sadhna's number, it was forwarded to phone number 9425925911, which belonged to Sudhir Sharma. The name of Prem Lata Pandey (roll number 41214282) figured in the list of successful candidates of Samvida Shiksha II examination, 2011.
Digvijaya Singh alleged that Sadhana was in touch with Sudhir Sharma, a kingpin of the Vyapam scam. He said several members of the CM's office were in touch with Vyapam kingpins. He had given a list of phone numbers to the SIT chairman for further investigation. The SIT, however, did not take up the matter as the High Court said it was a watchdog, not an investigating agency.