When Anirudh Pandita and Ashwin Suresh launched their digital entertainment startup, Pocket Aces, in 2013 in Mumbai, they were clear about the kind of office they wanted—a space where talented creators could collaborate to produce intelligent, differentiated content. "Of the writers and directors I have interacted with, the lucky few worked in plush production offices and they were the kind of guys who were writing scripts that were going to get made," says Suresh. "But, the bottom of the pyramid accounts for maybe 99 per cent of the content creators here. They are either not from Bombay or don't have plush places to stay in. They were working out of coffee shops and homes, and the basic requirements seemed to be an active WiFi connection and a steady supply of coffee or tea."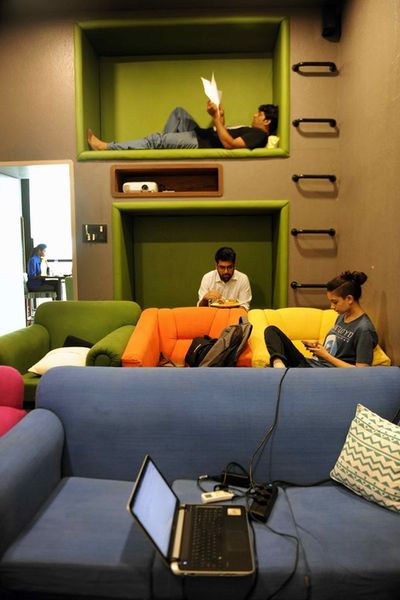 Added to that was the amount of time they spent pitching their scripts to anyone who would listen and the uncertainty that it brought. Pocket Aces decided to take care of all three things and built an office where people have no fixed addresses. Their office is a fluid zone where people move around, rest, collaborate and work, in keeping with what the 'creative types' expect. "They are suspicious of anything that remotely resembles a corporate entity because they have all been screwed over several times by corporate entities," says Suresh.
Both Suresh and Pandita have worked in the US as investment bankers and they were there when Google, Facebook and YouTube were created. "We saw the environments in which innovation happens. It happens when ideas get exchanged and that cannot happen in cubicles. In fact, I remember one writer told me most of these TV production houses and other such setups in town looked like hospitals," says Pandita. "The question was, what does a creative space look like? This is the first attempt at that." He admits that the design of the office has had the inadvertent effect of becoming a recruiting tool.
Having taken care of the creators' comfort, Suresh and Pandita have been careful about what not to have in the office. There is no shower or blankets, hinting that there are distinctions to be made between home and workplace.
Fifteen people work full time at Pocket Aces. "There is no typical day because sometimes people are out shooting. The constant is generally the article-writing team because they ideate together," says Suresh.
A growing team has meant that some of the spaces in the office had to be repurposed. What was supposed to be a wallpaper-lined studio for employees to take pictures has now become an edit room. What was originally built as a viewing room is now used also for creators to collaborate. And, of course, there is a homely little pantry to keep the promise of a steady supply of tea and coffee.