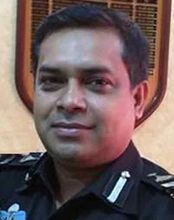 Colonel K.M. Azad, director of operations, planned and executed the anti-terrorist operation by the Rapid Action Battalion, Bangladesh's premier counterinsurgency force. In an exclusive interview with THE WEEK, Azad explains how he and his team went about their mission.
How did you conduct the operation?
When the government told us about the attack, we were stunned. To be frank, we had not anticipated it. But then, the RAB is very professional and could deal with any kind of situation with urgency. We planned, organised and took action.
Six terrorists were killed. Do they belong to Islamic State?
Islamic State is a terrorist organisation operating in Syria and Iraq and active in other Middle Eastern countries. We have not found any evidence that Islamic State was part of the Dhaka attack. We are, however, not sure about an indirect link. The investigation is still going on.
Who is handling the investigation?
It is a joint investigation by the RAB, the army and the police. We have identified the people and the group behind the attack. Obviously, it is our home-grown terrorist group, the Jamaat-ul-Mujahideen Bangladesh. We are now trying to find out whether there was any foreign involvement.
Will the multi-agency investigation turn out to be a disadvantage?
The RAB is giving inputs to the police and the army. The army is conducting raids across the country, along with the police. There is no tussle between us.
Experts say a lot of time was wasted before the RAB moved in.
Not at all. To say that would be a great injustice to our force. We had no prior information about the attack. And we had to think about the casualties. Any drastic step would have caused a huge loss of lives. It takes time to plan and organise such an operation.
Could you not have saved more lives?
We could have attempted to do that, but the militants could see what we were doing. We tried our best. We showed maximum patience to minimise fatalities. We feel sorry that so many foreign nationals were killed, but we had no option as any desperate move would have taken more lives.
How did the two policemen die?
Something went wrong. We are investigating that. Some of the policemen took hasty decisions perhaps. But we will have to see.
How can such attacks be prevented?
Extensive counterinsurgency raids are needed. We will have to find out and finish terrorist modules and cells wherever they exist. We have to be more ruthless and should not tolerate any kind of terrorist activity. We will do that more efficiently in future.