With farmlands yielding little and the cost of farming steadily increasing, farmers have been the most hurt in the past few years
For a first-generation city dweller, Pratibha is quite confident; she even speaks English. She moved from a coastal Karnataka village with her husband and children to Bengaluru a few years ago and has been working in a textile mill for the past two years, earning Rs 8,000 a month. But she has little savings. "Provident fund is the only safety valve," she said. "In garment industry, owners ensure that no one works for five years to avoid paying gratuity." She is planning to leave her job in the next few years and start a tailoring shop with the PF amount.
Pratibha was among the women textile mill workers who took to the streets of Bengaluru on April 18, protesting a notification of the Union government which capped interim PF withdrawals at 50 per cent. "We work to educate our children so that tomorrow they can be someone. This is life security for us," she said.
Life is more or less secure for Yogita Yadav. She is a cardiologist and her husband also is a busy medical professional. Their daughter studies in a prestigious school in Delhi. They have two houses in Delhi NCR. "Still, we are just middle class," she said. "Not only in our values but also in our lifestyle." What worries her the most is the safety of her daughter who is often alone at home.
What made Ravinder Yadav leave the safety of his home was his dreams. He persuaded his father to sell his five acres near Alwar in Rajasthan to a builder. Then he took a loan from his father to buy a cab and started driving it in Gurgaon. "We are middle class people," he said. "What would we get out of farming?" His said his father made a few thousands from the land in a year. "Here, with overtime, I make Rs 30,000 in a month." He is planning to bring his wife to the city. His middle class dreams are fuelled by his recent acquisitions—an LCD television, a fridge and a new car.
Ravinder, however, knows things are not going to be so good forever. "For now it is all right, but every driver tells me we cannot do this for very long," he said.
In a way Pratibha, Yogita and Ravinder are on the same tree, even if on different branches. They all have their achievements and insecurities. And their concerns have grown in the past few years of economic and political uncertainties and cutbacks on social sector spending.
The rural middle class has bigger problems. With farmlands yielding little and the cost of farming steadily increasing, farmers have been the most hurt in the past few years. The Khanouri canal on the southern border of Punjab and Haryana has stood witness to the stark agrarian crisis across the country. Bodies of farmers who commit suicide have often got stuck at the sluice gates of the canal. In April, the superintendent of police intervened for speedy removal of dead bodies.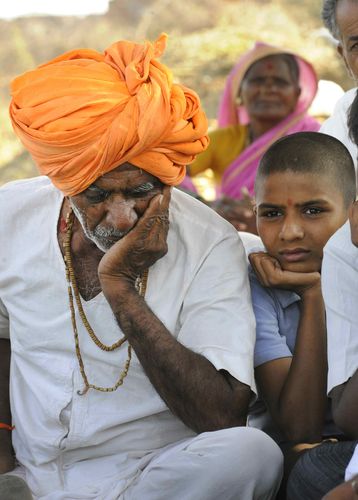 Mohanbhai Kundaria, minister of state for agriculture, said in Parliament that 1,841 farmers killed themselves in Maharashtra last year, 449 did so in Punjab, 342 in Telangana, 107 in Karnataka and 58 in Andhra Pradesh. "Most of these men were not from poor families. They were middle class and they needed loan to buy submersible pumps every year because water level keept dipping," said Indrejit Singh Jaijee, human rights activist and convener of Movement Against State Oppression.
In 2007, a report by McKinsey Global Institute suggested that more than 300 million Indians would move out of poverty (earning less than Rs 90,000 a year in 2007). That meant they were about to join the 'middle class'. Called consumerist class, this section of society was expected to control the largest block of income in the country—about 44 per cent of total income. "This middle class will spend $407 billion by 2015, and by 2025 it would need consumption worth $1.2 trillion," said the report.
In reality, however, it turned out to be quite different. "India is middle class not just because it consumes," said Himanshu, associate professor at Jawaharlal Nehru University, Delhi. "Our income levels are nowhere close to what the middle class in developed nations has; the sociological capital and other well-being they enjoy. On a per capita basis we will still be a developing nation."
The McKinsey Global Institute, too, has changed its position on India's consumer-centric economic development projection. "Despite the immense progress that India has made, the public sector—in particular, health, education and infrastructure such as roads and power—is in a desperate condition. Thus many Indians will spend their rising incomes to opt out of public services and go private unless those services improve," said a recent report.
With Finance Minister Arun Jaitley insistent on his fiscal deficit target, the government's spending on public health has slowed. Though the money allotted to the ministry of health and family welfare increased 3 per cent, from Rs 31,982 crore last year to Rs 33,282 crore this year, expenditure on health as a percentage of GDP remained unchanged at 1.2 per cent, which is among the lowest in the world.
According to data from the National Rural Health Mission quarterly report, there was an 8 per cent decrease in NRHM allocations in 2014-15, from Rs 18,229 crore in 2013-14 to Rs 16,809 crore. This was the first time that total allocations for the scheme had fallen since its inception in December 2005. Funds released for health schemes under the National Health Mission are based on proposals submitted by state governments and the resources available with the government. During 2014-15, the government approved just about 69 per cent of the total funds proposed.
Government spending is said to have been tightened by the Modi administration, especially after accepting the recommendations of the 14th finance commission to give states more autonomy on taxing. "Centrally sponsored schemes (CSS) suffered from cuts and change in modalities for funds transferred to states. They are important as these are the primary vehicle for social investment for the Union government in the states," said Avani Kapur, senior researcher at the Centre for Policy Research.
Education has been the first casualty of this cut. Budget allocation for Sarva Shiksha Abhiyan in the Union budget 2016-17 was Rs 22,500 crore. It was Rs 26,608 in budget 2013-14. Per student allocation under SSA, however, increased from Rs 4,431 to Rs 5,331, as enrolment under the programme dropped 2 per cent. A fund tracking survey by the Centre for Policy Research found that school infrastructure suffered because of the reduction in CSS.
The most disturbing challenge before the middle class could be environment degradation and dwindling natural resources. "A water crisis is playing out in India," said Shashi Shekhar, secretary for water resources, river development and Ganga rejuvenation, at a seminar in Delhi. In 2000, water available per person was 2,000 cubic metres. "Today, we have already crossed the tipping point to crisis at about 1,500 cubic metres. In the next 15 years it will go to 1,100 cubic metres," he said.
The middle class is well aware of the challenge and is ready to face it. For instance, in Mumbai some 10,000 people recently stood up against a government order to save 3,000 acres of Aarey forests, home to 27 tribal communities and many animals. The government had okayed cutting of trees by the Brihanmumbai Municipal Corporation to make space for a new bus terminus. "This was despite having five other options suggested by various citizens' forums. The real intention was also to trigger a real estate boom around the place," said Meenakshi Menon, a former media executive who lives in Goregaon.
Aarey Conservation Group, consisting mostly of middle class residents from Goregaon, is one of the many environmental protection groups in the city that have taken a pledge to support the tribals and not allow sale of the land. "It is a perception that market punishes misallocation of capital. In fact, it rewards," said Pavan Sukhdev, economist, author and financial markets expert. "Markets do not solve the problem of inequality. Has the middle class benefited from the stock market boom? This syndrome of private profits and public losses is at the hand of corporations. They are having a free lunch as the government fails to recognise the benefits of natural capital and the value of human life which is very low in India."
According to Himanshu, it is a vicious cycle, where poverty creates more poverty. "Demand in domestic markets will not take off and wages will not go up. This will make everything expensive for everyone," he said.
As a way out, he said, the government should ensure more economic demand by taking up infrastructure projects and creating employment on its own. "A mere 4 per cent of India's population is paying tax as most middle class people are working in the unorganised sectors. In the last two budgets nothing was there to increase the tax to GDP ratio. The government should collect more tax from more people and definitely spend more," he said.
More than 93 per cent of India's labour is engaged in the unorganised sector and it is out of the tax net as well as labour laws. Companies get away with paying as low a wage as Rs 5,000 a month for 12-hour shifts. "There are no unions in the IT and services sectors. We represent only 40 per cent of the organised sector workers. These are the middle class to us," said trade union leader Gurudas Dasgupta, MP.
In the guise of being industrially progressive, many states have been amending land acquisition laws. While industries gain from this, middle class farmers are often forced to part with their land. Gujarat, for instance, has passed such a law. "The chief minister has claimed that it did not interfere with the rights of the persons whose lands are acquired; but it has virtually taken away all the rights of the farmers who refuse sale of land or dispute over the payment of compensation. These are middle class farmers who are now being told that they are no longer wanted in the development pace of the state," said social activist Rohit Prajapati.
Yogendra Yadav, psephologist and convener of the political outfit Swaraj Abhiyan, blames skewed development for such developments. "Layoffs have increased with increased mechanisation. The laws also make it easier for any company to hire and fire. This leads to a sense of being deprived, cheated, which leads to industrial unrest. We have only created different bubbles to live in, something like the different universe for the whites in Africa. In the name of development we are creating another apartheid," he said.
According to him, very few of us are middle class. "The middle class is a tiny well-to-do, English-speaking, small, little bubble in our society. A society where sociological gap between rural and urban is increasing; more cultural barriers of gated societies are created," he said.
Yadav is concerned that the urban middle class continues to live without worries for a tomorrow. What would they do when the "service providers, the real middle class," run out of support?