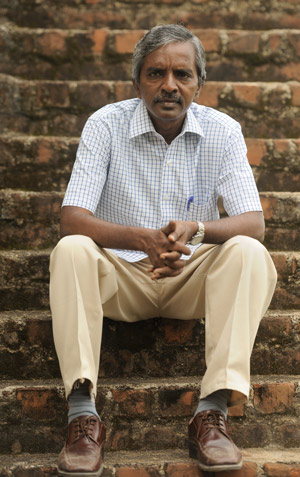 Rangasamy Elango has a blueprint for gram swaraj: start small, identify problems, provide basic amenities, empower people economically and transform one village at a time. Excerpts from an interview with him:
Can you define rural development for us?
Rural development is completely technical and my aim is not rural development. I aim for and love only village development. Village is a community which is self-reliant and is based on food, agriculture, water and land. It is where there is enough manpower, with the drive to work. Village development is how we can ensure growth from the bottom level, which was Gandhi's dream.
Is gram swaraj the most successful model for India?
When I started, like other panchayat leaders I also thought providing basic amenities is village development. But later I understood that social issues need to be solved: poverty, illicit arrack breweries, health, hygiene and caste rivalry. I understood the power of the gram sabha only when I visited the model villages in Kerala. This gave me the idea of how gram swaraj had always worked in transforming the village economy.
Why did you decide to work for your village?
I thought I should work for my village I am not for rural development with the available knowledge, instead of handing it over to some politician. I decided that this place could be a good experimental ground. Certainly, I enjoyed the ownership. In 1996, I won the panchayat election contesting as an independent.
How did the idea of model villages germinate?
I had decided to work within the system of panchayati raj, so my village became one of the components of the system. When it is possible in Kuthambakkam, why not in other panchayats? To create democratic pressure, I established the panchayat academy to train like-minded panchayat presidents countrywide. The academy shares good practices on building a sustainable, land-based village economy with the involvement of panchayat leaders, women self-help groups and youth.
What was your primary approach for making the village self-sufficient?
My primary approach was planning with the people. Then, mobilising the resources through people's participation and executing all the developmental programmes with the people's committee. It was completely people-centred.
How challenging was the task initially?
Small personal sacrifices and assured people participation with transparent administration helped me go ahead. There were instances when the district administration was against me and it even suspended me. I fell sick and this was when my wife introduced Gandhi to me. I studied Gandhi's vision for gram swaraj, and his principles actually showed me the way to success.
You have faced troubles, including physical violence.
I followed Gandhi's non-violence and satyagraha practices always.
Are you a Gandhian?
I am not 100 per cent Gandhian. I follow Gandhian principles, especially with regard to village development. I like the self-strengthening process of Gandhi. He says if you are committed and honest to the core, and practise dharma, miracles keep happening in your life. I actually witnessed this as I started following Gandhi.
You were invited to the UK, the US and Germany to discuss local self-government.
These trips created wide networks of people worldwide. We share problems and seek solutions from one another.
Why did you form self-help groups and the panchayat academy?
SHGs strengthen women and bring them to the front. The panchayat academy has been instrumental in providing trained leadership in villages. Every month, 25 to 30 panchayat presidents are trained here. The academy has created the network of panchayats, through which we are strengthening the panchayat movement and the local economy. Today, there are around 150 panchayat presidents, 600 women SHGs and 140 youth who have been trained by the academy.
How has Kuthambakkam changed?
It is a hut-free village now: reduced alcoholism, empowered villagers, the health centres, low-cost and eco-friendly housing, good roads and drains, solar-powered street lights and rainwater harvesting structures. Kuthambakkam turned into a model village and became self-reliant when I was elected to the panchayat for a second term in 2001.
Future projects?
A low-cost solar energy project, where we can provide a kit of two lights and one fan with a solar panel. All this for ₹15,000. Villages are suffering because of unprecedented power cuts.
What drives you?
I believe in leading a simple life like Gandhi. I have had a heart attack and had to undergo three cardiac surgeries, but the desire to transform villages with Gandhian principles drives me.