The BJP is making this a high-stake election, a matter of life and death for their party, and personal in their choice of language against us.
Interview/ Nitish Kumar, chief minister, Bihar
What made you join hands with Lalu Prasad, when your political growth is based on defeating his brand of politics?
Going with the RJD and Lalu Prasad is not a personal issue. It was a conscious decision to build a strong political force against the BJP politics playing out across the country. It depends on the prevailing political situation—this new avatar of the BJP. The question is, should we have democracy in the country? [Just] because they have got power, does it mean we should stay home and watch what is happening? A strong opposition is not possible unless we get together.
Bihar is the playing ground now. It is not a question of my likes and dislikes. It is a national issue, a national thinking. People in Bihar and outside are telling me to lead a broad unity against the BJP's politics. They want me to be a national symbol of opposition unity. The grand alliance is our effort to unite opposition even though we have differences. If I begin to think about the past, there will be no opposition to the BJP.
You have criticised Lalu a lot.
The BJP praised me till the split. Listen to what they are saying now. I was against Lalu's style of governance, though we are all from the Janata Party and born out of the Jayaprakash Narayan-led movement.
Anyway, we have been together the last eight months. Is there a jungle raj in Bihar? Which development work has stopped? What issue has not been resolved?
The country has moved on, and so has Bihar. It is the BJP that is opposed to the grand alliance because they want us all to fight separately, so the votes will get scattered.
It looks like a personal fight between you and Prime Minister Narendra Modi. Please comment.
On my part, it is purely political. I am opposed to his kind of politics. They are making this a high-stake election, a matter of life and death for their party, and personal in their choice of language against us.
The BJP has not projected a leader, but they have used their biggest tool, their tallest leader to address rallies and meetings. Even at government functions, there is a political tinge in their speeches. He criticises the government, says no work [has been] done. And as the chief minister, I reply. So it is not personal.
What is your main agenda?
Mine is a one-point programme for Bihar—development. But we will raise the issue of Bihar's asmita [pride]. We will talk about the development work [we did] with me as the chief minister. They are talking about land reforms, digitisation of records. We have gone beyond that with fresh survey and settlement, before digitisation of outdated records.
The BJP is wooing young voters using social media.
The young voters and first-time voters of Bihar, too, understand that these people are trying to mislead them. There will be no impact of their social media campaign targeting them. They are dividing the community, playing the caste card, all wearing the mask of development. And, the youth of Bihar are aware of this.
Why is this assembly election the focus of national attention?
Because it will decide whether democracy will continue in the country or not. This alliance is not an ordinary trend, it will happen all over the country.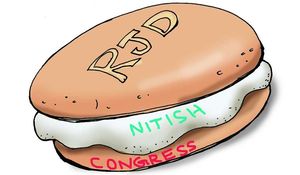 Spitting imagery
Nitish Kumar's meeting with Delhi Chief Minister Arvind Kejriwal set the tongues wagging at the BJP offices, with many of its leaders wondering whether Kejriwal would also support the "corrupt" Congress and the RJD. But Kejriwal said that he would be in the company of an untainted Nitish alone. "Meetha, meetha, gup, gup. Karwa, Karwa, thoo, thoo.... It is not possible," said Sanjay Mayukh, BJP's Bihar unit vice president. Loosely translated, it means while chewing something, one can't swallow the sweet and spit out the bitter.