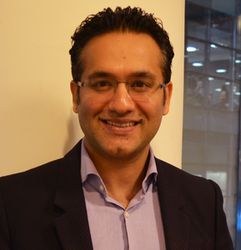 Sushila, a student living in Rajkot, was determined to become an equity research analyst. Her inspiration was her father, also a trader. Hers was an understandable ambition since Rajkot is one of the largest capital market trading centers in the country. She had just completed her bachelor's degree in commerce at a well-regarded local college and was pursuing an MBA at the same institute, but she was worried about the exposure she was getting and had decided to attend an education fair in hopes of getting ahead in her career.
The most interesting part of her story was that she didn't want to move to Mumbai. She wanted to stay in Rajkot and begin trading, but her father believed she needed to learn a lot more about how equity capital markets worked and thought it best to send her to the financial capital of India. Besides, there was nothing in Rajkot that catered to her requirements and she bemoaned the fact that she might have to leave her family business, move to Mumbai to study and potentially give up a job opportunity there only to struggle for one in the maximum city. Why couldn't she go back to Rajkot is definitely the question that's popping up in your mind now. That's because she would have had to take a loan to fund a second MBA which she would only be able to pay off with a larger salary package that she could hope to get only in Mumbai.
This is a familiar story of a vicious cycle that doesn't stop. Lack of quality education in tier 2 cities in India is becoming detrimental to the future of the youth. They regularly scramble to tier 1 cities and end up unemployed once they finish their, often, abysmal education. The capital infrastructure required to set up a quality educational centre in Rajkot, which can offer a match to the institutions of the likes in Mumbai and Delhi, simply isn't feasible due to the levels of demand. And therefore, the case for online education is self-explanatory.
Seamless physical classroom to virtual transition
If an institute can deliver professional degrees seamlessly through a virtual environment, then millions, almost thirty per cent of our population, will benefit. What does seamless mean? What Sushila, from the above example, was looking for was two fold—education and exposure. There is nothing to be gained from watching pre-recorded videos in the isolation of four walls. That is simply an internet equivalent for the old and outmoded correspondence courses. Today, online programs comprise real-time teaching webinars, which ensure not just two-way education, but a classroom experience since students can talk to both each other and the trainer. State-of-the-art learning management systems allow students to attend virtual meeting rooms for group study and case studies to ensure experiential learning in the comfort of their own surroundings.
The quality of exposure and training that online programs offer becomes apparent with one look at the student profile of these courses. Students comprise working professionals who attend part-time online MBA programs during their lunch break, students in tier 1, 2 and 3 towns who are completing their professional certifications while ensuring they understand business writing, and even senior executives who want to kick-start a lagging career and move laterally. They are all part of the same vibrant community that stretches across, not just the country, but also across the globe.
The time-consuming aspect of online program delivery
While the seamless technology-enabled online programs are perfect for the student, they are inherently more difficult to create and deliver for the institute and therein lies the question about their viability. A recent study by a leading Australian University found that it took academics 10 hours to plan an hour's lecture for online students compared with eight hours for a traditional hour-long lecture. These results are in line with the experiences of players in this domain in India.
Any lesson is only as good as its content and its trainer, but in the online platform, creating, reviewing and planning a program takes longer because of the medium. While it takes less trainer time, trainers have to ensure their content is perfect before hand so that it translates seamlessly. Universities and colleges who decide to embark on providing education through this platform also need to ensure that their educators, often experienced senior academicians, are trained on being as effective in an online environment. This is because the trainer has to be more vocal, expressive and stimulating so as to recreate the classroom feel on a virtual platform. Current workload models in established universities do not take into account the amount of time it takes to actually create online content; it is not a simple case of dumping your classroom decks on the web.
Nevertheless, there is no doubt online learning has created a paradigm shift in the realm of Indian education. Today, Sushila just completed the online Financial Analysis ProDegree, while she worked with her father in Rajkot. She just submitted her first equity research report and built a financial model in tandem with a student based in South Africa. And, she did all of it in the comfort of her cubicle in a company she hopes to make the biggest brokerage firm in the country one day. If that doesn't make online education a real game-changer, we can't say what will!  
Nikhil Barshikar is the managing director of Imarticus Learning Private limited.