For corporations to process data and come to definite conclusions, analytics professionals have an increasingly significant role to play.
With the ongoing march of the digital revolution, a number of new job profiles, which were unheard of just a few years ago, have become the toast of the job market. Many of these are being created by companies that have spotted an opportunity in the spread of digital transactions. The increased digital presence of Indians is today throwing up large amounts of data which, while easy to track, are often difficult to make sense of. For corporations to process this data and come to definite conclusions, analytics professionals have an increasingly significant role to play.
"Data and analytics are becoming a high priority for business strategy today, whether it is a B2B [business-to-business] or a B2C [business-to-consumer] organisation. This need for professionals skilled in data and analytics is even pushing companies to incubate with management schools to prepare relevant skills and competencies for their businesses. By 2020, data and analytics-driven jobs are going to be key drivers of change for organisations," says Arpita Dutta, strategic people director at Hansa Cequity, a customer marketing and strategy firm. The company relies heavily on analytics professionals, and while hiring, it looks for problem-solving skills, good communication skills, a decent understanding of the business, and "learnability instead of capability".
About half of the advertisement expenditure in digital media today is devoted to social media management; the figure goes up to as much as 75 per cent in some cases. As a result, handling brands' social media presence has emerged as a great opportunity. The function primarily involves analysing social media platforms, responding to customer queries and complaints, and identifying new opportunities for business arising out of these platforms. People who typically qualify for this function have a flair for writing and a strong sense of design. There are some cultural requirements as well. "The way it is structured is that the social media presence of the brand has come to be synonymous with the personality of the brand and the corporate, and the first thing we are looking at [while hiring] is that the person forms a fit in terms of the personality with the personality of the brand," says Harshil Karia, managing director, Schbang, a digital marketing agency.
Differentiation in roles in the digital space has thrown up its own set of opportunities. One of these is the job of the user experience manager, whose responsibilities include monitoring user reactions to mobile apps and improving the quality of the app's interface. "We take requirements for the product and build a prototype. Then we ask the user to test the product. Based on their feedback, we come to know the loopholes in the prototype and we improve it accordingly. It goes into many iterations and after that, we come to the final product. So user experience entails designing as per user needs and to keep evolving the product as the user wants," says Yogesh Bhusara, a user experience professional. "We give the product to the user without telling them what to do with it. We observe their interaction with the product. The best product is one which needs no explanation."
The role offers opportunities to people from a diverse set of backgrounds. While Bhusara studied engineering, he started his professional career as a developer, and his growing interest in design brought him to user experience.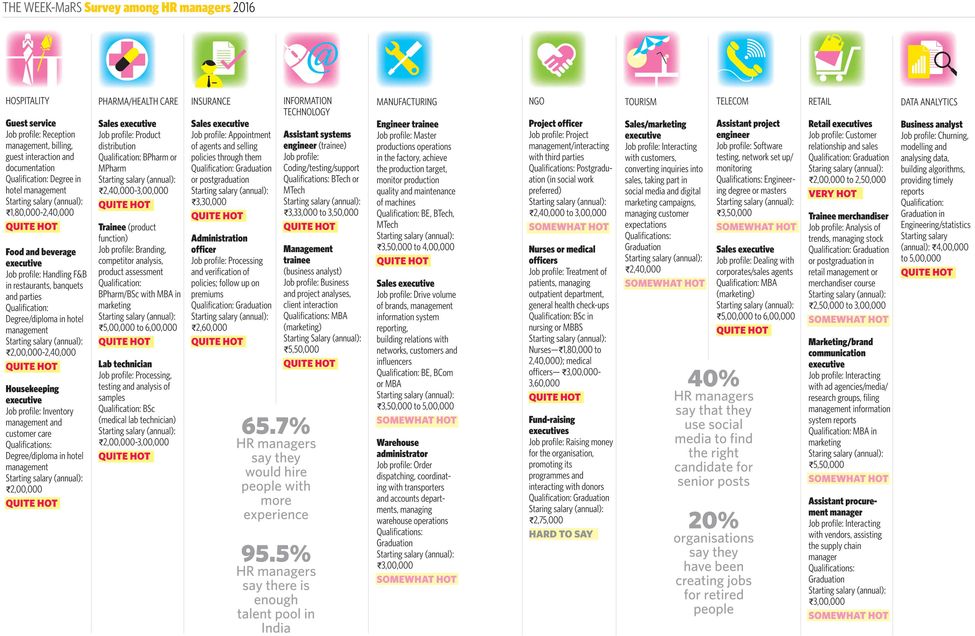 The new-age ventures are opening up avenues not just for people in the early part of their career. Arif Peerbhoy, for instance, managed supply chain and operations for various multinational companies for 35 years, and now mentors a startup. He came to be associated with XSTOK, a Mumbai-based business-to-business marketplace for textiles, through his son's friend, who is one of the co-founders of the company. "I do a little bit of mentoring for the staff. When they come up with ideas, I go around, talk to them, talk to the younger staff when they join. When they are down, I try to perk them up a bit," he says. He looks forward to a growth in volumes for the startup when operations will have to be streamlined further and his role will become all the more crucial.
Not just professionals, but businesses are also embracing changes being brought about by a constantly evolving business environment. While many of India's corporations have long had a sustainability practice as part of corporate social responsibility, now the there is a renewed focus on it. As a result, sustainability professionals are drawn from a broad pool of individuals with expertise in the areas of energy efficiency, renewable energy, water security, waste management, biodiversity and environmental engineering. "We expect to see it [the sustainability function] increasing in importance, become a key perspective in regular business and a key element for consideration when getting into new businesses," says Anirban Ghosh, vice president for group sustainability, Mahindra & Mahindra.
The rise in the disposable incomes of the middle class has opened up many opportunities in the area of food and beverages curation. The startup Holachef, for instance, has an entire function dedicated to sampling diverse cuisines and hiring chefs who meet the criteria. Many others are operating in more specialised markets and recruiting trained professionals for their tasting and curating functions.