"Real-time navigators and intraoperative monitors help us in conducting complex surgeries" - Dr Vikas Gupta, director, neurosurgery, BLK Super Speciality Hospital, New Delhi
Inderpreet, a class eleven student and state-level badminton player, slipped and fell in his hostel's kitchen, dislocating two of his vertebrae. He had a surgery to fix the vertebrae, but his condition deteriorated after four months. This year, after eight months of his being bed-ridden, Inderpreet's parents contacted Dr Deepak Joshi at Fortis Hospital, Mohali.
The challenge before Joshi was to remove the plate fixed in the earlier surgery, bring the dislocated bone to its original place and fix it with screws—all without touching the spinal cord. Joshi managed to fix it all with precision, and within two days of the surgery, Inderpreet was able to take his first steps.
But what allows doctors to undertake such complicated surgeries? "It is the understanding of the complication and the ability to predict the outcome of the surgery that is changing neurosurgery in India," says Joshi, while explaining the case with the help of 3D images of the patient's vertebrae. "The minimal invasive surgery of the spine has changed the outcome of many surgeries."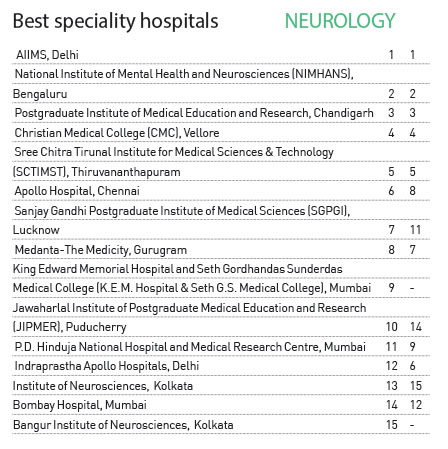 Last month, Dr Mukesh Pandey of Asian Institute of Medical Sciences in Faridabad treated a 22-year-old man from the Middle East who had 17 worm eggs, 3-4cm in diameter, in his brain. Generally, people get such infections from dogs. Worms enter the gut and their eggs may then spread to liver, lung and brain. These eggs had a very delicate outer membrane and it was important to take them out without rupturing them. So, Pandey decided to do the surgery in three steps—opening the front of the brain and the sides step by step.
"As we could not use any equipment to separate the eggs, I used water to detach them from the brain tissue. Rupture of one cyst could lead to hundreds of such cysts in the brain," says Pandey. He succeeded in taking out all the eggs, and the patient, who was in a coma, started walking again in a few weeks' time.
Dr Vikas Gupta, director, neurosurgery, BLK Super Speciality Hospital, New Delhi, says, "Real-time navigators and intraoperative monitors help us in conducting complex surgeries. Technology has also revolutionised the management of stroke in the last few years. With the help of endovascular treatment, we can reverse a brain stroke at an early stage. Dedicated neurovascular cath labs are helping neurosurgeons in performing complex surgeries. There were just two labs five years ago; now there are ten."