Hindus and Muslims were both children of the soil of Hindustan. Their names were different, but they were all children of the same mother.

The charkha flag in particular may very well represent a khadi bhandar but charkha can never symbolise the spirit of the proud and ancient nation like the Hindus.

I have no quarrel with Mr Jinnah's two-nation theory. We, Hindus, are a nation by ourselves and it is a historical fact that Hindus and Muslims are two nations.
In the midnight hours of April 29, 1912, an alarm went up on the 'yard three' wing of the Cellular Jail in Port Blair. Warden Gulmir, stationed at the jail's central tower, rushed to the wing and shined a hurricane lamp through the iron-barred door of cell 82. He found the bed empty. The prisoner, a young Bengali revolutionary called Indu Bhushan Roy, who had completed two years of his ten years' rigorous imprisonment, was dead. His body hung from the window, a strand of torn kurta wound around his neck.
The jail telegraphed Calcutta, the British India capital, of the death. Bengali revolutionaries intercepted the telegram, and the following day the Amrita Bazar Patrika frontpaged the news: Kalapani (the nickname of the Cellular Jail, meaning 'black water' in Hindi) had claimed one more tortured soul. Three suicides a month had become the norm in Andaman.
Roy's death drove fellow Bengali prisoner Ullaskar Dutt to madness. For the British, Dutt was a "known troublemaker": as a student in Calcutta, he stole chemicals from the university laboratory to make bombs. One of his homemade bombs killed two British citizens—an act that landed him in Andaman. Roy's suicide had so angered him that he accused the jail's medical superintendent Dr F.A. Barker of aiding it.
At Kalapani, it was madness to accuse a jail officer of anything, let alone of killing an inmate. Dutt got the punishment of 'standing handcuffs': for seven days, he hung by his wrists from a peg hammered into the wall. On the eighth day, Barker ran a test on the prisoner. "I could feel the metal clips on my body. The electric current passed through me with a force of lightning," Dutt would write in his memoirs years later. He was transferred to the island's lunatic ward at Haddo, where he was kept for 14 years.
Both Roy and Dutt were incarcerated alongside a Marathi prisoner, a Chitpawan Brahmin from Nashik, described by a British official as "a small man with an intelligent face and a nervous manner". Vinayak Damodar Savarkar had set foot on Andaman on July 4, 1911, but his reputation had preceded him. His arrest in London in 1910, his subsequent deportation to India and his attempt to escape to Marseille while being transported on a ship had become a cause célèbre in Europe. It was said that Savarkar had slipped through a porthole, leapt into the sea and swam ashore.
He was soon recaptured in Marseille. But France protested, saying the British had not taken appropriate legal steps in apprehending Savarkar on its soil. The dispute came before the Permanent Court of Arbitration in The Hague, which ruled that, despite the "irregularity" in the arrest, the British did not have to hand its prisoner back.
Documents accessed by THE WEEK show that Savarkar was arrested in London on March 13, 1910, for aiding the murder of Nasik district collector A.M.T. Jackson. The Brownie pistol that a young revolutionary had used to kill Jackson was traced to a batch of 20 pistols that Savarkar had sent from London. Back in India, Savarkar was tried for two cases—murder and sedition—and was sentenced to two life terms of 25 years each. He was taken to Andaman aboard the S.S. Maharaja, the only steamer that had permission to dock at the island.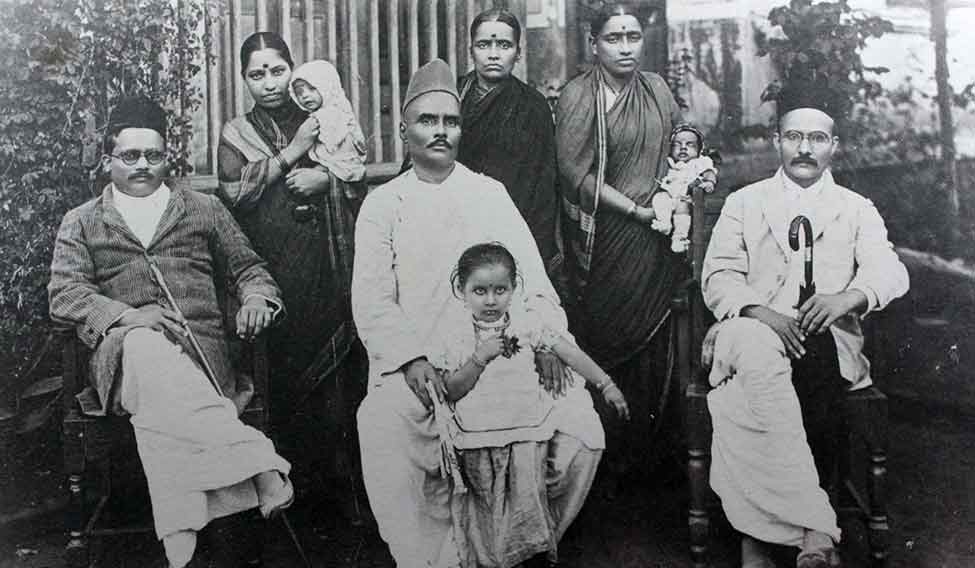 Savarkar was 28 when he reached the place that Sir Richard Carnac Temple, the chief commissioner of the Andamans, had described thus: "Here was a huge, practical reformatory to forcibly bend every arrival's rebellious nature to the yoke. Their fate would be even more dreadful than the hangman's noose."
The "architectural monstrosity" was a 698-cell jail—a massive, three-storey structure with seven wings, or yards, of unequal lengths, radiating from a central watch tower. The jail's design was 'panoptical'—all (pan) could be observed (optical) from the central tower, without the prisoners being able to see anyone. The buildings rose out of mangrove swamps on a promontory called Atlanta Point in Port Blair. The cells, measuring 13.5x7.5ft each, had tiny, iron-barred windows and wooden beds measuring 6x3ft. "I felt that I had entered the jaws of death," Savarkar wrote later. "The high wall was adorned with a festoon of manacles, and several similar instruments of torture were hanging down from it."
In Savarkar's case, it seems, Temple's vision of the Cellular Jail as a place that would crush the mutinous spirit of Indians had its intended effect. Shamsul Islam, historian and former professor at Delhi University, writes in his book Hindutva: Savarkar Unmasked: "Savarkar's nine years and ten months in the Cellular Jail did not enhance or deepen his anti-imperialistic inclinations. In fact, it ended it. The conditions in jail were indeed inhuman, but hardly any other freedom fighter in the Cellular Jail surrendered or submitted to the British [like Savarkar did]."
The latter-day saffron saint
Savarkar coined the word 'hindutva', the concept that forms the ideological core of the Bharatiya Janata Party, which leads the coalition government at the Centre. In his 1923 book Essentials of Hindutva, written under the pseudonym of A Maratha, Savarkar says India belongs to only those who have it as their holy land and fatherland. "Our Mohammedan or Christian countrymen… are not and cannot be recognised as Hindus. For, though Hindustan to them is fatherland as to any other Hindu, yet it is not to them a holy land, too. Their holy land is far off in Arabia or Palestine," he wrote.
Somewhere in the 1920s, the title veer (gallant) was bestowed on Savarkar. The person who first called him veer was, perhaps, B.B. Bhopatkar of the Marathi paper Bhala.
The founding father of hindutva politics, however, was for long a marginal figure in mainstream politics. In fact, for several decades after independence, saffron organisations were reluctant to acknowledge Savarkar's contribution in laying the basis of their politics. The process of legitimising his legacy gained momentum after the BJP became a force to reckon with in national politics. In 2003, the BJP-led National Democratic Alliance government installed a portrait of Savarkar in Parliament's central hall, right opposite Mahatma Gandhi's portrait. "This was the only function of the Indian Parliament that was boycotted by the Congress and all opposition parties," said Mani Shankar Aiyar, Congress member of the Rajya Sabha. Aiyar has long been a critic of Savarkar: As Union minister in 2004, he had removed a plaque of Savarkar from the Cellular Jail.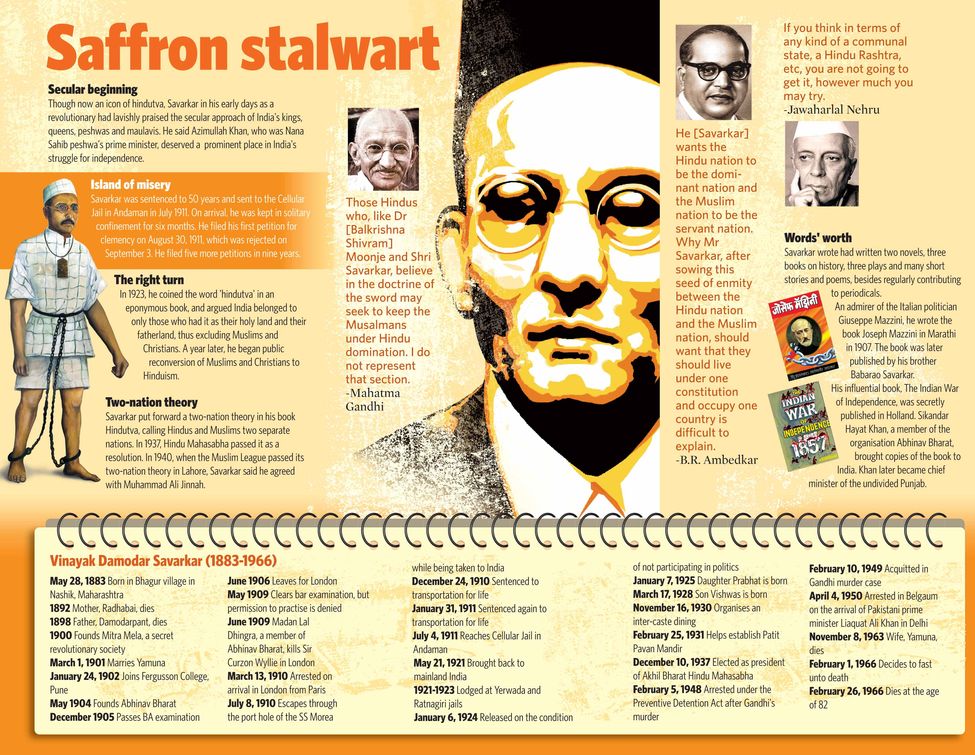 Today, Port Blair has an airport and a park named after Savarkar. Mumbai has a street and a park that bears his name. In London, a blue plaque identifies India House in Highgate, where Savarkar lived. "It is part of the process of legitimising the RSS philosophy of a Hindu nation by projecting the author of hindutva into an icon of freedom struggle, conveniently forgetting his indictment by the Justice Kapur commission in Gandhi's assassination," said Islam.
Critics say the nationalist veil that has been drawn over Savarkar in the past two decades owes a lot to a plan by the BJP and the Rashtriya Swayamsevak Sangh to 'invent' hindutva icons. Last year, BJP president Amit Shah launched his official website and dedicated his first blog to Savarkar. "He was a great patriot, unparalleled freedom fighter and social reformer, great writer, pioneering visionary and strong proponent of Hindu culture," he wrote.
The Shiv Sena, currently a member of the BJP-led coalition that rules Maharashtra, has demanded that Savarkar be awarded the Bharat Ratna, the country's highest civilian honour. Sanjay Raut, a Shiv Sena MP, recently wrote to Prime Minister Narendra Modi, asking that he undo the acts of the previous governments, which "deliberately mocked the legacy of Savarkar". Said Chander Prakash Kaushik, national president of the Hindu Mahasabha, of which Savarkar was president from 1937 to 1943: "Now we have a government of our ideology and Veer Savarkar should be honoured with Bharat Ratna."
In the background of Savarkar's posthumous transformation as a true, nationalist leader, THE WEEK decided to reexamine his role in the freedom movement. A wealth of information on him—from documents at the National Archives of India and archives of the Hindu Mahasabha to historical records, diaries, correspondences and confidential files on him—were accessed, read and studied. And the details reveal Savarkar not as a true-blue veer, but as a complex personality—one who was, at best, India's prodigal son.
The tamed firebrand
History says Savarkar's is a tragic success story of the Cellular Jail breaking a prisoner's resolve. At Kalapani, every prisoner had a 'jail history ticket' that had details about his confinement, punishments and work allotted to him. Savarker's ticket marked him as convict number 32778, lodged in cell 52, level three, yard seven. His elder brother, Ganesh, aka Babarao, was also in the jail.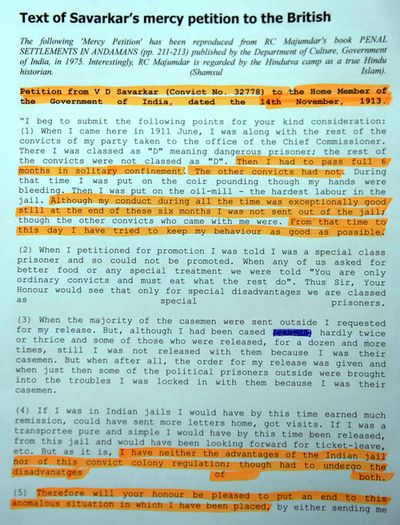 On arrival, Savarkar was put in six months' solitary confinement, which, apparently, did more than break his resolve. Writes freedom fighter Trailokya Nath Chakraborty in his memoirs Thirty Years in Prison: "The political prisoners of the Cellular Jail… were divided into two groups: moderates and extremists. The Savarkar brothers, Barin babu [Barindra Ghose, a Bengali revolutionary] and a few others, who had come earlier, had suffered much persecution and had obtained a few redresses for themselves. They were found favourites of the jailer. They were not prepared to forgo those concessions and did not join us in the proposed movement…. The Savarkar brothers used to encourage us secretly, but when asked to join us openly, they refrained."
Unbeknown to Trailokya Nath and fellow 'extremists', Savarkar had filed his first appeal for clemency on August 30, 1911, barely two months after his arrival in Andaman. In fact, the Savarkar brothers and Barindra Ghose were the only political prisoners who begged mercy. "Solitary confinement meant that he was to remain inside the cell," said Islam. "No hard or light work was allotted to him. It broke him within two months, unlike any other prisoner."
Savarkar's cell was on the top floor, overlooking the gallows that could hang three prisoners at one go. "The prisoners condemned to death were hanged every month," said Islam. "The sight of the hangings must have got on his nerves, breaking him down."
ACCORDING TO MANI Shankar Aiyar, Savarkar met with the harsh realities of the freedom struggle at the Cellular Jail. "The solitary confinement must have given him time to reflect upon those. He must have reached a conclusion of surrender and submission to the British government," he said. Savarkar's mercy petition, the first in a series he would file during his incarceration, was rejected on September 3, 1911.
The Savarkar brothers, Barindra Ghose, Ullaskar Dutt and Indu Bhushan Roy were all 'class 3C' prisoners—those who were convicted of criminal offences. All of them were assigned to work at the jail's oil mill. "Every day, from 6am, David Barry, the Irish jailor, would sit puffing on a cigar, watching them yoked to a press that they turned until they had produced 30 pounds of mustard oil," wrote Barin Ghose. "If the college boys fell sick, there was no sanctuary in the prison hospital, where a new recruit, Dr F.A. Barker, certified patients fit for flogging."
At the Cellular Jail, few could rival Barry the jailer on savagery. "He was sent to Andaman to 'reform' Indian freedom fighters and he adopted every cruel technique to do that," said Saroop Lall, 94, of Port Blair. Lall's father was a convict who was allowed to settle down on the island. He remembers Barry from his father's descriptions. "He [Barry] used to wear a khaki uniform the way we see Subhas Chandra Bose in his INA [Indian National Army] uniform," said Lall. "But Barry had a big belly and an arrogant face."
Barry forced each prisoner in the mill to produce 30 pounds of oil every day. Punishments for failing to do so ranged from caning to being put in iron fetters. Interestingly, Savarkar's jail history ticket has no mention of him actually working on the oil mill. For many months, he worked in the jail's rope-making unit, the lightest work a prisoner could hope for at Kalapani.
Like all prisoners, Savarkar got his share of punishments for breaking jail rules. His history ticket shows a one-month confinement for writing letters without sanction, standing handcuffs for seven days for having in possession a letter written to another convict and a four-month relegation to the 'chain gang' (prisoners with neck-ring shackles and cross-bar iron fetters who were forced to do hard labour). The ticket mentions a total of eight punishments between 1912 and 1914.
On November 2, 1916, Savarkar was promoted to a class 2 prisoner—political prisoners who had access to books, permission to meet relatives and no restriction on the number of letters to send home. "For the last five years, his behaviour has been very good. He is always suave and polite," reads a report.
By November 1913, Savarkar's 'ideological conversion' had taken concrete shape: to surrender and submit to the British government. He personally submitted a mercy petition to Sir Reginald Craddock, home member of the Government of British India, who visited the jail that month. The petition, of which THE WEEK has a copy, reads thus: "I had to pass [a] full six months in solitary confinement…. From that time to this day, I have tried to keep my behaviour as good as possible…. I have 50 years staring me in the face! How can I pull up the moral energy to pass them in close confinement?"
About the protests by other political prisoners, he wrote: "I should be held responsible only for my own faults, and not of others… It is but inevitable that every now and then, someone will be found to have contravened a regulation or two. And, if all be held responsible for that, as now it is actually done, very little chance of being left outside remains for me."
Savarkar's complete surrender to the British is evident in the concluding parts of the petition. It reads: "I am ready to serve the Government in any capacity they like…. The mighty alone can afford to be merciful, and therefore where else can the prodigal son return but to the parental doors of the Government?"
Craddock, in a note to the governor general dated November 23, 1913, wrote: "[Savarkar] affects to have changed his views, urging that the hopeless condition of Indians in 1906-07 was his 'excuse' for entering upon a conspiracy… He was willing and anxious to send an open letter to the native press explaining his change of views…. He pressed me hard to give him some promise, or to record something that would give him hope."
Despite the plea, Craddock stuck to his pragmatism. "The degree to which he was dangerous or not, depended upon circumstances outside… no one could say what those circumstances would be 10, 15 or 20 years hence," he wrote.
According to Islam, the British did not want to pardon Savarkar till they trusted him and were certain that he would be of use to them. "The ball was in Savarkar's court and he needed to prove his words by his deeds," he said.
In his memoirs, Savarkar explained why he kept aloof from the strikes in the jail. "I would have forfeited my right of sending a letter to India," he wrote. "It was a rule that a letter was allowed to be sent annually by one whose record during the year was clear of any punishment. If I were punished or went on strike, my right would go along with it, and to be deprived of my right was not only to harm the strike but more important than that, to lose the chance of working for the freedom of the political prisoners themselves."
Savarkar filed his third mercy petition on September 14, 1914, soon after World War I broke out. "I most humbly beg to offer myself as a volunteer to do any service in the present war, that the Indian government think fit to demand from me," he wrote. "I know that a Kingdom does not depend on the help of an insignificant individual like me, but then I know also that every individual, however insignificant, is duty-bound to volunteer his or her best for the defence of that Kingdom." The petition was rejected on December 1, 1914.
Savarkar submitted his fourth petition on October 2, 1917. Three more appeals for clemency were filed with the Bombay government by his wife in July 1915, October 1915 and January 1919.
Savarkar's history ticket says his behaviour and conduct in the Cellular Jail was not found offending since 1914. He twice got the rarest of privileges: he met his wife and younger brother on May 30, 1919, and May 31, 1919.
The work he was assigned to during these years was often of clerical nature. "It is evident from records available and the memoirs of fellow inmates that Savarkar was not put on any hard labour since 1914," said Islam.
Savarkar submitted his fifth mercy petition on January 24, 1920, and the sixth on March 30, 1920. In his last petition, he assured the British that "every intelligent lover of India would heartily and loyally cooperate with the British people in the interest of India herself".
"The Congress had passed a resolution asking the government to release Savarkar brothers unconditionally," said Islam. "And here he was, voluntarily willing to accept any condition for his personal freedom."
According to Islam, by 1920, Mahatma Gandhi had transformed the freedom struggle into a mass movement by connecting with people irrespective of their caste, creed, religion, gender or language. This had alienated a section of Muslim and Hindu elites. Muhammad Ali Jinnah, who would go on become the founder of Pakistan, resigned from the Congress. "It was an opportune time for the British to release Savarkar, [who] had subtly indicated his future course in his last mercy petition by stating that the common dangers from the north of Turko-Afghan fanatics have made him a sincere advocate of loyal cooperation in the interest of both our nations [India and Britain]," said Islam.
Savarkar, along with his elder brother, was finally released from the Cellular Jail on May 2, 1921. He had served nine years and ten months. J. Kuruvachira, historian and professor of philosophy, said Savarkar "forfeited" his claim to be a revolutionary freedom fighter and bartered the country's independence to obtain his personal freedom.
Author Y.D. Phadke, a staunch Savarkarite, wrote that Savarkar's mercy petitions were a ruse. According to him, Savarkar was aware of the political developments in the mainland and wanted to be a part of it. "He was a master strategist," said Ved Rahi, who directed a biopic of Savarkar in 2001. "He felt he was wasting the prime of his life in the jail…. He was entirely justified in writing those letters to get out of the wretched jail, so that he could come back to active politics and freedom struggle."
Rahi's assertion is typical of apologists for Savarkar. They point to Savarkar's contributions to the freedom struggle after his release to defend his conduct in Andaman. Hence, it becomes imperative to study and understand Savarkar's activities after his release from jail.
Playing by the (British) rules
Savarkar returned to the mainland aboard the S.S. Maharaja, the steamer that had brought him to Andaman. He was kept at Yerwada Jail in Pune as an ordinary prisoner before being released in January 1924 on two conditions: that he would not participate in any political activity, nor leave Ratnagiri district without permission of the district collector.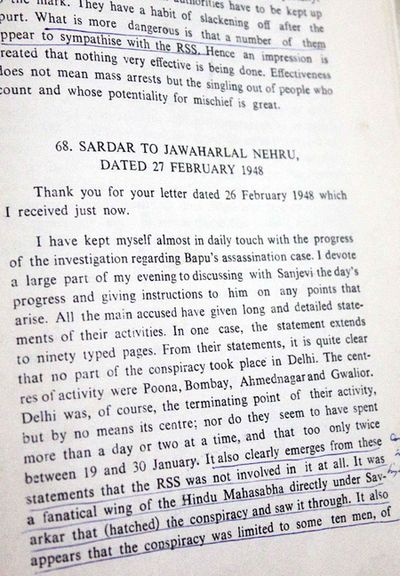 Savarkar published Essentials of Hindutva two years after his release from Andaman. "The book not only denigrated Muslims and Christians, but also justified the violent cleansing of Buddhists in the ancient past," said Islam.
Impressed with the book, K.B. Hedgewar, the founding sarsanghchalak of the RSS, and his mentor B.S. Moonje met Savarkar in Ratnagiri. "It is surprising that the British government allowed Savarkar to write the book and meet Hedgewar and Moonje, considering that he was banned to take part in any kind of political activity," said Islam. "He was even allowed to revive the Hindu Mahasabha."
Savarkar was also allowed to attend a public function organised by Moonje in Nasik. "During his stay in Nasik, he rescued some Mahar Hindus from the snare of Agha Khani Mohammedans," writes author Dhananjay Keer in his biography of Savarkar. "With the permission of the government, he visited Bhagur, Trimbak, Yeola and Nagar, and propagated his new Hindu Sanghatanist ideology."
Said Islam: "Savarkar justified Hindu communalism as righteous and Hindu separatism as nationalist. He stood in the forefront of the Hindu movement to claim right to play music outside mosques when prayers were on."
In 1924, Savarkar also started holding 'shuddhi' ceremonies, or the reconversion of non-Hindus to the Hindu fold. "This played havoc with the attempts to unite people of all religions into a composite freedom struggle," said Islam.
Savarkar regularly criticised Gandhi and his "obsession for Hindu-Muslim unity". All this, despite the ban on him against taking part in any political activity. In 1937, he was elected president of the Hindu Mahasabha. While addressing the 19th session of the Mahasabha in Ahmedabad, he declared: "There are two antagonistic nations living side by side in India. Several infantile politicians commit the serious mistake in supposing that India is already welded into a harmonious nation, or that it could be welded thus for the mere wish to do so…. India cannot be assumed today to be a unitarian and homogenous nation. On the contrary, there are two nations in the main: the Hindus and the Muslims, in India."
Thus, the theory of two nations, first proposed in Essentials of Hindutva, was passed as a resolution of the Mahasabha in 1937. Three years later, the All-India Muslim League, led by Jinnah, adopted the concept in its Lahore session. On August 15, 1943, Savarkar said in Nagpur, "I have no quarrel with Mr Jinnah's two-nation theory. We, Hindus, are a nation by ourselves and it is a historical fact that Hindus and Muslims are two nations."
On October 9, 1939, Savarkar met Lord Linlithgow, the viceroy of India, in Bombay. Linlithgow wrote a report of the meeting to Lord Zetland, the secretary of state for India. "The situation, he [Savarkar] said, was that His Majesty's government must now turn to the Hindus and work with their support…. Our interests were now the same and we must therefore work together… Our interests are so closely bound together, the essential thing is for Hinduism and Great Britain to be friends and the old antagonism was no longer necessary."
According to Islam, the 'common interest' of Savarkar and Linlithgow was to oppose the Congress and drive a wedge between it and the Muslims. "His role during the Quit India movement in 1942 was dubious and divisive. As large sections of Indians were repressed and Congress leaders were jailed, Savarkar chose to cooperate with the British," said Islam.
Addressing the 24th session of the Hindu Mahasabha in Kanpur in 1942, Savarkar justified his support to the British. "The Hindu Mahasabha holds that the leading principle of all practical politics is the policy of responsive cooperation," he said. Savarkar also declared that he was not bothered of breaking up the "so-called united front against British imperialism" and asked Hindus to cooperate with the British.
THE HINDU MAHASABHA launched 'military recruitment boards' across the country to help 'Hindus' join the British army. Documents with THE WEEK show that Savarkar was issuing circulars for the militarisation of Hindus. "This was clearly to help the British against the advances of Subhas Chandra Bose's Indian National Army," writes Kuruvachira.
Whirlwind Propaganda: Extracts from President's Diary (a book published by A.S. Bhide that has Savarkar's diary entries, speeches, articles and notes) mentions a telegram sent by Savarkar on July 18, 1841, thanking the British government for appointing two Hindu Mahasabha nominees to the government's central defence committee.
Savarkar's theory of "responsive cooperation" enabled the Mahasabha to ally with the Muslim League and form coalition governments in Bengal, Sind and North-West Frontier Province. Fazlul Huq of the Muslim League became the chief minister of Bengal, while Syama Prasad Mookerjee of the Hindu Mahasabha, the deputy chief minister. It was Huq, as public prosecutor of the British government, who sent Trailokya Nath Chakraborty to the Cellular Jail.
Supporters of Savarkar say he stood for akhand Bharat, or unified India. History, however, says otherwise. Even as he demanded a separate Hindu nation, Savarkar welcomed the possibility of Sikhs in Punjab demanding a separate "Sikhistan". He was an open supporter of princely states in India, and made it a matter of policy of the Hindu Mahasabha not to interfere in their decisions. On June 18, 1947, Sir C.P. Ramaswamy Aiyar, the dewan of Travancore, declared the state independent. Two days later, Aiyar received a cable from Savarkar, enthusiastically supporting "the farsighted, courageous determination to declare this independence of our Hindu State of Travancore".
The darkest blot
On January 30, 1948, barely six months after India got its long-cherished freedom, Gandhi was shot dead by Nathuram Godse, who had been a member of the Hindu Mahasabha. "Savarkar was one of the accused in the conspiracy to kill Gandhiji and was acquitted for lack of corroborative evidence," said Aiyar. "But he was later indicted by the Justice Kapur commission as the main conspirator."
On February 27, 1948, Vallabhbhai Patel, India's first home minister, wrote to Prime Minister Jawaharlal Nehru: "It was a fanatical wing of the Hindu Mahasabha directly under Savarkar that [hatched] the conspiracy [to kill Gandhi] and saw it through."
On March 22, 1965, a commission of inquiry was set up, with former Supreme Court judge J.L. Kapur as its chairman, to investigate the conspiracy in Gandhi's assassination. The commission found that Godse was a "frequent visitor of Savarkar" and that "people who were subsequently involved in the murder of Mahatma Gandhi were all congregating sometime or the other at Savarkar Sadan and sometimes had long interviews with Savarkar".
Kapur's findings established that Savarkar was indeed involved in the conspiracy to kill Gandhi. Gajanan Vishnu Damle, Savarkar's private secretary, and Appa Kasar, his bodyguard, deposed before the commission and accepted their knowledge of Savarkar's involvement in the conspiracy to kill Gandhi. In its report, which came out in 1969, the commission concluded: "All these facts taken together were destructive of any theory other than the conspiracy to murder by Savarkar and his group."
The report, however, came too late. Savarkar died on February 26, 1966, weeks after he stopped taking food and medicines. In an article he wrote before his death, he said his life's mission was over and that it was better to end his life rather than wait for death.
Fifty years since, Savarkar has come to occupy pride of place in the pantheon of leaders espoused by the hindutva brigade. The change in the outlook on Savarkar was clearly visible on May 28, 2014, days after the BJP came to power in Delhi. Prime Minister Narendra Modi and members of his cabinet stood, in respectful silence, before Savarkar's portrait in Parliament's central hall, right opposite Gandhi's portrait. A speech in Marathi of Savarkar played in the background as they paid their respects to their icon.
The occasion was fittingly symbolic: to face Savarkar, the leaders had all turned their backs on the father of the nation.