"There are days when it seems the whole world is intent on intimidating me" - Syed Rahath Unnisa
_"It took him one minute 
to destroy my life."_
Zakia, an acid attack victim, in Saving Face, an award-winning documentary by Sharmeen Obaid Chinoy
Sixty seconds are easy to be dismissed as inconsequential in the procession of minutes and hours. Sometimes, however, in 60 seconds, everything changes. A few seconds are all it takes to splash acid on someone. And acid takes five to 30 seconds to etch its ruin on the person.
That is what happened to Haseena Hussain, a computer operator, in 1999. She quit her job when the attention of her boss, Joseph Rodrigues, became too ardent. A spurned Rodrigues poured two litres of sulphuric acid over her. "My face became a lump of flesh,'' she would later recount. Her lips, nose and ears merged into one mass and had to be re-grafted. There is a permanent hole in her skull, one side of her neck is welded to her shoulders and she became completely blind. Haseena was only 19 years old then.
Acid attacks have their root in hatred. While there are many villains in such incidents, from spurned suitors and angry mistresses to estranged partners and irate moneylenders, the victim is almost always a woman.
The name of Aarti Thakur of Goregaon, Mumbai, was added to this long list on February 1. Pintu, her former landlord whom she spurned, hired people to splash acid on her. Today, she lies in the National Burns Hospital in Airoli, Navi Mumbai, waiting for her scars to first emerge and then heal, before the long and painful spells of surgeries. "The acid has burnt the skin around her eyelids, and one eye cannot close," says cosmetic surgeon Sunil Keswani. "As soon as she stabilises, we will have to operate on her, as the cornea might dry up, causing blindness."
For a survivor, an acid attack starts a life littered with obstacles, heartbreaks and isolation. So tough is it that many choose to shut out a world which they once dreamt of conquering. But there are also those who choose to rise like the phoenix, though never whole again, determined to be seen and heard.
"I would wear a veil before stepping out of the house. Children taunted me, neighbours shunned me. I could not share my pain even with my parents," says Jayalakshmi, whose husband attacked her with acid in 2003. She would have continued hiding in her village in Karnataka's Tumkur district, had not been for a school teacher and a doctor. "They told me that my face might be burnt but my strength was still intact. My husband took away my right to lead a normal life but not my freedom or my abilities," she says. Today, she is an active member of the state Women's Commission's rural programmes. Even if these women try and rebuild their lives, society and the legal system ensure that nothing comes easy. Shirin Juwaley, who was attacked in 1998 by her husband after she asked for a divorce, went on to do her MSc. in development and human rights. She runs an NGO, Palash, that deals with rehabilitation of people with disfigurement, and is widely regarded as a motivational speaker. Last year, however, a Mumbai college principal refused to let her address students, saying that she would dissuade them from marriage.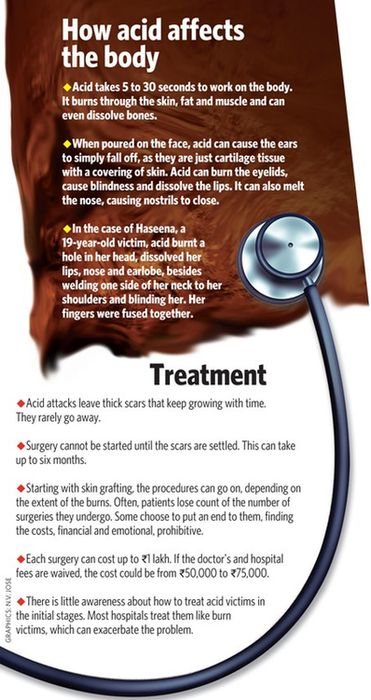 "Society's refusal to engage with victims scars them further," says clinical psychologist Dr Rajat Mitra, director, Swanchetan Society for Mental Health. Speculation about the victim's morals and harassment is par for the course. "I have abuses hurled at me when I walk down the road. There are days when it seems the whole world is intent on intimidating me," says Syeda Rahath Unnisa, an acid attack victim from Bangalore. Rahath, who runs a boutique, shakes with anger every time she describes the harassment at the hands of the local jamaat. "But I will fight till the end. No one can take away my right to live with dignity," she says. She opens the store in spite of repeated threats and intimidation by her husband, who threw acid on her and is now out on bail.
Legal apathy is the most disheartening factor in these women's struggle. Currently, there is no section in the Indian Penal Code that deals specifically with acid attacks in spite of its rampancy. Acid attack cases are dealt with by sections 320, 322, 325 and 326 of the IPC. Of these only section 326 addresses the issue of being attacked by a corrosive object but categorises it as 'grievous hurt'. Though this section allows punishment up to life imprisonment, most convicts get only a jail term of three to four years. Compensation, if ordered, is often paltry.
Dr Mahalakshmi had a flourishing practice in Mysore when she was attacked by her landlord in 2001 after she turned down his sexual advances. The accused, Chikkabasallaiah, was sentenced to three years in jail and ordered to pay her 120,000 as compensation. Today, she works in a government hospital, seeking to rebuild her life and striving for some semblance of normalcy. In Haseena's case, Rodrigues continued intimidating her throughout the trial and even threatened to douse her younger sister with acid. Her family, however, was undeterred, and fought the case. He was sentenced to five years in jail.
According to a Thomson Reuters Foundation survey last year, India was ranked fourth among the most dangerous countries in the world for women. However, even by our abysmal standards of women safety and gender equality, acid attacks remain a woefully under-investigated crime. In fact, there are no nationwide statistics available on the crime. According to a 2011 study by the Avon Global Centre for Women and Justice at Cornell Law School, New York, 153 cases of acid attacks were reported in India from January 2002 to October 2010 in different newspapers. "It is quite possible that attacks in rural areas go unreported," says activist Sushma Varma of Campaign & Struggle Against Acid Attack on Women. The organisation, which is perhaps the only one of its kind in the country, also relies on media reports to find victims in Karnataka.
Acid burns are far more severe than those induced by fire. Usually, victims are attacked with concentrated sulphuric acid, nitric acid or hydrochloric acid. All of them are easily available over the counter. This correspondent bought two litres of concentrated acid for 150 from a hardware store with no questions being asked in spite of the repeated emphasis on 'acid which will burn'.
Perpetrators aim at the face, neck and chest. The intention is not to kill but to maim for life. "The attack is as much on your femininity and identity as a woman as it is on the individual," says Dr Mitra, who has interviewed several offenders. "The message is, if I cannot have you, no one else can."
Abhinav, who attacked his classmate Arti Srivastava ten years ago in Kanpur, reportedly said more than once after the attack that he wanted to ruin her face so that she would finally agree to marry him. "The rage these men feel towards women is pathological," says Dr Mitra. "They describe them in abusive, derogatory terms. The offenders also tend to see themselves as victims who have been harmed by the women. There is rarely any remorse expressed."
For the victims, the process of recovery is arduous, both physically and mentally. Dr Mitra says it is advisable for victims not to see their reflection for some time, as the experience can be shattering. "Most victims who have been disfigured report out-of-body experiences. They are completely disassociated from their body," he says. Depression, fear, victimisation and insomnia are just some of the other troubles that come calling.
"We need a specific act to deal with acid attacks," says Supreme Court lawyer Aparna Bhat, who is pursuing a public interest litigation since 2006. "We are also asking for a ban or regulation on the sale of acid and a rehabilitation process to be put in place." Bhat is counsel for Lakshmi, an acid attack victim in Delhi.
Based on Bhat's PIL, the Supreme Court, in 2009, sought a response from state governments on banning the over-the-counter sale of acids. The governments have also been directed to look at the rehabilitation and a compensation scheme for the victims. Also, a committee constituted under the home secretary has recommended insertion of sections 326 A and 326 B, hurt by acid attack, in the draft Criminal Law (Amendment) Bill, 2011.
The Law Commission of India and the National Commission of Women have also submitted reports asking for a specific section to deal with acid attacks. Both the reports recommend life sentence for the attacker and monetary compensation for the victim. "The whole system is bad," says Rahath. Does that dishearten her? "Never," she says with a flash of fire in her eyes. "This is not a battle I chose to fight, but if you have thrust it on me, then I will emerge victorious."
Acid over the counter
On a busy Saturday afternoon, THE WEEK's Chief Photographer Sanjay Ahlawat approaches a hardware store in Delhi's Paharganj area. "I want to buy acid," he says to the proprietor. An attendant brings a plastic bottle containing a copper-coloured liquid. "Is this strong?" Sanjay asks. The attendant nods. "This is what is used for cleaning," he says. Sanjay insists that he wants something "much stronger". The proprietor looks up and asks why. Stubborn stains, says Sanjay.
Satisfied by the perfunctory explanation, the proprietor says stronger acid is available but one has to be very careful. "It will burn you," he says. "Are you sure you want it?"
Sanjay nods, and the attendant brings out a beer bottle containing a thick greenish liquid. The bottle is sealed with a plastic cap. Sanjay's attempts to open it are met with a stern reprimand. "Open it only where you intend to use it. And if there is any left, just pour it down the drain," says the proprietor.
Sanjay wants to know if this can burn a person. "Oh yes," he says, before asking for Rs50. "It will eat your skin away."
Lame laws
Acid attacks are punishable under sections 320 (causing emasculation and disfigurement), 322 and 325 (voluntarily causing grievous hurt) and 326 (causing grievous hurt by dangerous weapons or means) of the Indian Penal Code. However, none of these has been effective in dealing with acid attacks. Most perpetrators get away lightly as the case registered is for causing grievous hurt.
In 2006, lawyer Aparna Bhat filed a PIL in the Supreme Court requesting that section 326 A be introduced to deal specifically with acid attacks. She also sought a ban on the over-the-counter sale of acid. A decision on Bhat's PIL is still pending.
The Law Commission of India and the National Commission for Women have also asked for a specific section to deal with acid attacks. Both recommended compensation for victims. A committee constituted under the home secretary has recommended insertion of sections 326 A and 326 B, hurt by acid attack, in the draft Criminal Law (Amendment) Bill, 2011. In 2009, the Supreme Court sought a response from state governments on banning the sale of acid. It also asked for a rehabilitation and compensation scheme for victims. In 2007, Karnataka had announced a compensation scheme after the Bangalore-based NGO Campaign and Struggle Against Acid Attacks on Women filed a PIL. According to the scheme, victims of acid attacks will be paid between Rs20,000 and Rs2 lakh for advanced treatment. Employment, too, was promised. "However, most promises are yet to see the light of day," says Sushma of the NGO.
In 2012, Delhi announced a package of Rs3 lakh for victims whose faces were disfigured and Rs50,000 for others.
Syeda Rahath Unnisa, 34
I will never give in
Attacked by her husband of 13 years, in Bangalore, in June 2011
The morning of June 17, 2011 dawned with a lot of promise for Syeda Rahath Unnisa. Her divorce from her estranged husband had come through, her boutique was doing roaring business and she had just applied for a new passport. But Abdul Wakil, the divorced husband, had other plans. He showed up at her doorstep, offering to take their two daughters, Sophiya and Sumaiya, to school. "I protested, but he insisted. En route, he stopped at a bakery and got them goodies, the first time ever," says Rahath. After dropping the girls, Abdul came back, this time to carry out his threat of the past six years—throw acid on Rahath. "He caught hold of me by the neck. I was wearing a loose cotton nightshirt and he poured it down my torso," the soft-spoken woman recounts.
She is standing behind the counter of Sophiya's Boutique, her pride and joy, which, till the attack took place, was flourishing. "I would get orders worth Rs10,000 every day. Now business is sporadic," says Rahath. A thick mass of hair is gathered at Rahath's nape. "It used to touch my knees," she confides. In fact, it was the curtain of thick hair that saved her face from being burnt, though there is a dark patch on her right cheek left by the fumes of the acid. Her brother, a doctor, cut off her burnt hair in the ICU.
Rahath remembers running to the bathroom scared that Abdul would come after her again, determined to maim her face this time. "I called my brother after barricading myself only to find that Abdul had already dialled his number to say 'I am coming for you now'." She kept pouring water on herself till her family arrived.
All of Rahath's right shoulder, starting from her collar bone is burnt. "It is till here," she says, pointing to her navel and her legs. "The only silver lining is that my face remained unscarred." She has already undergone skin grafting and the doctor is extremely pleased with the results, she says.
"I was asked to wear tight clothes, preferably jeans and a shirt, so that the skin got stretched." Little did Rahath know that this small gesture would make life even more difficult for her. The local jamat leaders, she says, used this as a starting point for harassing her. "I was asked to wear a burkha, never mind that their daughters wear the same kind of clothes," he says. And the intimidation and harassment have not stopped. Abuses are hurled at her as she walks down the road, and then there are the propositions and threats.
The spectre of Abdul also looms large. Within a month of being arrested, he was out on bail. "He is politically connected and every time I open the boutique, a few goons show up. They threaten to throw acid again." Abdul is keen on a compromise and wants Rahath to withdraw the case and reconsider the divorce. "I will never give in. I want justice, an eye for an eye," she says with vehemence, even as her eyes well up. "I want to blast out at all those who were instrumental in giving him bail. Is a woman's life worth nothing in this country? He threw acid on me and today he roams the streets free." The next date of the hearing is still some months away.
Abdul and Rahath had a love marriage, but it turned sour soon after the birth of their first daughter. "He wanted a son. Then the dowry demands started. Once I brought home 050,000 and another time, I sold my jewellery to satisfy his demands. But it never stopped there," she says.
Rahath had been an architecture student when she got married, but gave it up. She found herself turning to designing as a means of being independent. "I love designing," she says, showing pictures of her creations on her mobile phone. There is a gown which she proudly says is similar to what Katrina Kaif wore for an appearance and a flower girl dress that she made for a wedding in the UK. Her daughters are her models, posing excitedly in their mother's creations.
Rahath has already spent 09 lakh on her treatment and is financially wiped out. She acknowledges the support of her sisters and brother and admits that she would have been completely at sea without them. "Acid victims have been promised compensation by the government, but nothing has come through till now. I have made innumerable trips to the women's commission and government offices. Each rickshaw ride costs me a few hundred rupees, money I can ill afford."
But no matter how tough the day, Rahath always finds the strength to smile. "My daughters keep me going. My younger one tells me 'Mama, tension dene ka, lene ka nahin'," she laughs.
The older one, Sophiya, she admits, has matured much before her years. "Sometimes she says let us kill ourselves, we will be free from all of this then," says Rahath. "But I am a fighter. My daughter will be one, too."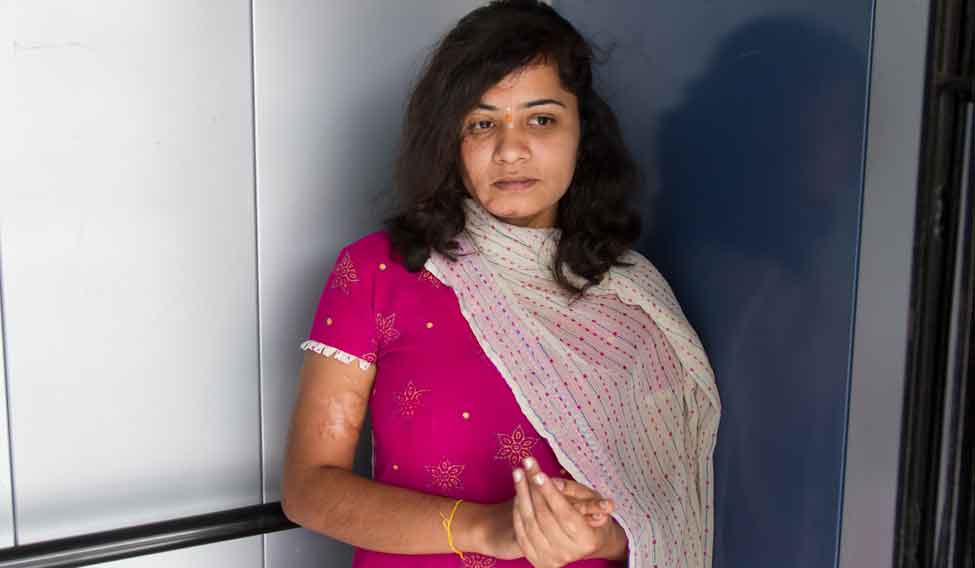 Pranitha T., 24
A new life
Attacked by the spurned lover of a friend in December 2008
By Lalita Iyer
On the evening of December 10, 2008, Pranitha T., a final-year engineering student at Kakatiya Institute of Technology and Sciences in Warangal, was returning home from class on her Scooty with friend Swapnika.
Three men on a motorbike overtook them and one of them, Sreenivas Rao, called out Swapnika's name. When Swapnika turned around, he threw acid on her face and fled. Rao was Swapnika's neighbour. As she had spurned his advances, Rao wanted revenge. Swapnika took the brunt of the attack, while Pranitha, who was wearing a helmet, took a hit on the right side of her face, neck and back. "As soon as I realised that something had been thrown at us, my first reaction was that the men had sprayed water. But with the burning sensation, I realised that it was more serious," recalls Pranitha.
Both of them fell from the vehicle and a crowd gathered. By the time they reached a nearby hospital in an autorickshaw, Swapnika had been blinded and was in unbearable pain. Pranitha called her mother and Swapnika's parents and told them what had happened.
Swapnika was shifted to Yashoda Hospital in Hyderabad, which had better facilities. But, on December 31, days after Rao and his associates were killed in an alleged encounter with the police, she succumbed to the injuries.
Pranitha had suffered 60 per cent burns and spent more than three months at Axion Hospital in Hyderabad. She tries not to think of the incident, which has left scars on her neck and the right side of her face. "Why should I blame fate? I am happy and doing well in my life," says Pranitha, who is a software developer with Infosys now. "I am alive and going around doing things other people of my age do."
Jayalakshmi, 39
Erasing the scars
Attacked by her husband of 18 years in June 2003
Jayalakshmi, a women's rights activist, has devoted her life to the empowerment of rural women in Karnataka. But, ten years ago, if anyone had told her about her future, she would have laughed, before bursting into tears.
On June 25, 2003, Jayalakshmi, then 31, was at home watching television when her husband of 18 years attacked her with acid. The scars on her neck, arms and the lower half of her face reflect his brutality and the acid's corrosiveness.
"I was a simple housewife with ordinary concerns. The biggest of them was my husband's drinking problem. One day, I put my foot down and refused to let him enter the house," she says. Her husband, a weaver, spent 10 days outside home and reportedly told villagers that he would throw acid on her to "teach her a lesson". He was convinced she had thrown him out because she was having an affair.
Ironically, when Jayalakshmi was attacked, she was watching Chandrika, a television show in which the protagonist was an acid attack victim. "I was waiting to see how Chandrika was going to react to her being disfigured when my life turned upside down," she says.
On being attacked, she almost fainted but still managed to push her husband out of the house and lock the door. "My clothes were sticking to my body," she says. "I watched my skin erupting and the pain was unbearable."
Jayalakshmi describes the days that followed—her trip to the hospital, the refusal of the staff to treat her, her father insisting that they try and save her, or consider mercy killing. "I was lucky that a doctor in the local hospital asked a specialist to come down and look at me. Dr Suresh, the surgeon who treated me, always had a kind word for me," she says.
She had several surgeries ("Five or six, I forget," she says) before she decided not to go ahead with more. "My father had taken a loan," she says. "Even though the surgeries were being done free of cost, the medication was bleeding them dry."
When talking about her recovery, her eyes well up. "I don't want to talk about those days," she says. "Do I have to?" Jayalakshmi says she would sleep on plantain leaves on the floor as the wounds hurt. In her parents' village, she wore a veil every time she stepped out. "The children would crack cruel jokes, the adults would shun me. I never considered myself beautiful but I just did not know how to live with this face," she says.
She feared her parents would believe her husband's imaginings of an extramarital affair if she discussed her troubles. It was the local school teacher who gave Jayalakshmi the strength to move on. "He told me that my body may have been disfigured but my mind is still my own," she says.
She started counselling other women and got involved in activism. "Women in rural areas have no voice," she says. "I try to give them one." Today, she is her district's representative in the State Women's Commission's rural programme. The media has lauded her and college girls tell her she is an inspiration, but Jayalakshmi still feels defined by her scars. "If I see children coming towards me on the street, I cross over. I don't want to scare them," she says.
Jayalakshmi's husband was sentenced to 10 years in jail and was released three months ago. She has not met him, even though he indicated that he wanted to get back with her. "Does he think I can forgive and forget?" she asks. Her daughter does not talk to him but her son is in touch. "He tells me, 'What has happened has happened. Forget it'," she says. "He is a married man himself. I wonder how can he even say that." Even as she stops to ponder over her own statement, her phone starts ringing. She wipes her tears, answers with a smile and is off, like a flash, trying to make the world a better place for women.
Crime and punishment
Pakistan, after the Oscar success of the film Saving Face, is seriously considering legislation against acid attacks. According to some estimates, nearly 150 women are attacked every year.
In 2002, Bangladesh passed the Acid Crime Prevention Act 2002 and the Acid Control Act 2002. These acts strengthened the criminal procedures for acid violence cases with a capital punishment provision. They provide for setting up of a rehabilitation centre for the victims and making legal and medical aid available to them.
Most importantly, these acts forbid the sale of acid over the counter, making it a licensed trade. Though the attacks continue, the frequency has come down since the enactment of these laws.