On issues like land acquisition, Sonia Gandhi and I walked together to the president. So, on issues, yes. But in terms of any political understanding, no question.
CPI(M) general secretary Sitaram Yechury is in an upbeat mood. Under his stewardship, the party is witnessing a revival in its traditional bastions of Kerala and West Bengal. In an exclusive interview with THE WEEK, Yechury says if the elections are free and fair, the left is certain to wrest power back from the Trinamool Congress in West Bengal. With the Congress, Yechury says the cooperation will only be on issues, and there will be no political understanding.
How do you view the prospects of the left in West Bengal and Kerala?
This time around, our prospects will be much better than the last round of assembly polls. In Kerala, we are fairly certain that it will be an LDF government. We have approached the elections with strong unity within the CPI(M) and the front. We are going directly to the people in the manner we campaigned in the local bodies' elections.
Is it just the pendulum factor that is favouring you? Kerala has always been swinging between the LDF and the UDF.
Apart from that, there are concrete reasons. First of all, the degree of corruption you had seen in the last five years. Kerala has always had the reputation of being a state with one of the cleanest administrations in the country. So this has come as a big surprise. Second, there have been a number of other issues: promises not fulfilled, the inefficiency of the government and corruption scandals. All these have created an atmosphere where any [new] government will be seen by the people as something better.
Moreover, there is a very big concern and debate about the development paradigm. The left, and the CPI(M) in particular, through an international conference, have come out with a blueprint of what we think needs to be done. Kerala is particularly vulnerable to the current moves to have free trade agreements, the international treaties, the Doha Round on agriculture, etc. These have a negative effect on the country as a whole, but more so in Kerala where you have predominantly commercial crops. Livelihood of a large number of people is dependent on that.
But the UDF will be the gainer from this campaign against NDA policies.
Many of these were initiated by the Congress government at the Centre. The free trade agreement with ASEAN, which affects [the] coconut [sector], came into effect when Manmohan Singh was prime minister. We had raging battles on that in Parliament. So the Congress is at a discount on this.
What about West Bengal?
West Bengal is a very different situation. There, we are witnessing some kind of a surge from among the people for a change of government. A poribortan to poribortan. We had not anticipated this during the last five years, when we have been the principal target of political terror and intimidation unleashed by the Trinamool Congress government. We have lost more than 175 of our comrades. Nearly 1,00,000 families of our traditional supporters have been evicted from their homes and hundreds of our local offices have been occupied or closed down. Professors were being targeted for cyber messages, women being targeted, raped, and law and order collapsed.
So, there is a build up of resentment. That is reflected in this surge, first visible when we had the local bodies' elections a few months ago. We suddenly found people carrying both our red flags and the Congress flags. This was unprogrammed, unplanned. We hadn't expected this. Now we see even the Bengali bhadralok coming to our meetings, some carrying the Congress flags. So everybody has been feeling the pinch. Families scared to send daughters to school, youth migrating for job and education. Many are landing in Kerala. Imagine, from Bengal to Kerala!
Will you win in West Bengal?
The big question mark over Bengal is [whether we will have] free and fair elections. If we have free and fair elections in Bengal, I can be categorical. Our experience with the last rounds has been terrible. I went to the Election Commission today to apprise them of things going on there.
If the next phases in Bengal are free and fair?
I am confident that if there is a free and fair election, we will win, there is no question of that.
So will you take this camaraderie with the Congress to its logical conclusion, of sharing power, if you are elected?
We have not thought of that. That is not on the agenda now. Our agenda is to first protect and preserve our party, our cadres. In that process when we see the upsurge in many of the constituencies where we have not been able to open our offices because of the pressure, we are fielding independents. There has not been any discussion among the leaders of either us or the Congress, at the level of Parliament or state level. The priority is to defeat the Trinamool. Out of sheer popular response, we are trying to avoid clashes between candidates and division of votes. Our understanding in the party congress is that we will have no alliance with the Congress. That remains.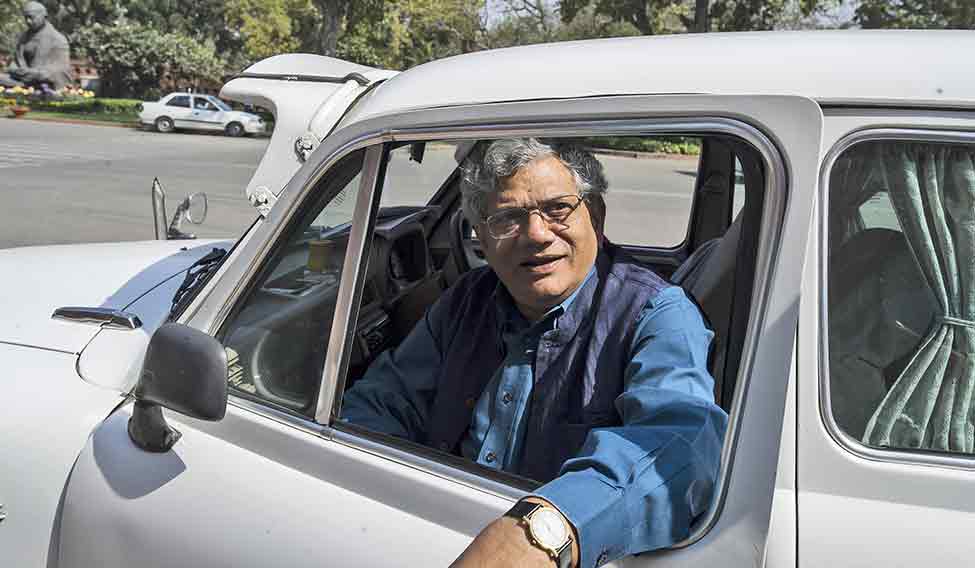 At the national level, you have given a call to oust Modi and save India. Aren't you, as general secretary, talking to other parties on that?
I was playing that role even before the elections. That was always there, even before I was general secretary. I was in touch with Nitish [Kumar], Lalu [Prasad], Sharad Pawar, Deve Gowda—all of them are part of the democratic forces.
Without the Congress you can't do it.
The Congress is a leading party of the Indian ruling classes, the bourgeois-landlord class. We have come to the collective conclusion in the last party congress that it was the Congress policies and performance, and particularly corruption, that was exploited by the communal forces [to come to power]. These policies are the ones that paved the way for the rise of this communal danger. As long as those policies are there, our approach remains the same. Therefore we said no front, no alliance. On specific issues, we have done both floor coordination in Parliament and even outside Parliament. On issues like land acquisition, Sonia Gandhi and I walked together to the president of India. So, on issues, yes. But in terms of any political understanding, no question.
But you need the Congress if your fight is against Modi.
That doesn't require any alliance or understanding with the Congress. Look at how the JNU incidents happened. Rahul Gandhi and I were there on the same platform. Hyderabad happened; Rahul was there, I was there. We all were there. But there is no question of any political alliance or talks.
How did the JNU issue work for you?
It brought into national focus an important issue, of what the BJP-RSS represent. It was important that it came into public—that brand of nationalism, that brand of majoritarianism. That whole communal thing needed to come out sans all the subterfuge, openly, in front of the people. It was simmering earlier. The JNU and Hyderabad incidents helped.
Has it simmered down in society, or is it only an issue that the elite are discussing?
It has simmered down, but I won't be able to tell you how far down. The reason why I say is both these universities take a large number of students from the marginalised sections. These universities give weightage to first-generation students from educationally, socially and economically backward sections.