I felt Justice Karnan was perfectly all right and there was not even a hint of any mental imbalance. He gave his answers with great clarity, dictating even the punctuations, wherever needed.

There are many who like to draw parallels between Justice Karnan and the legendary Karna, his namesake from the Mahabharat.
About three weeks ago, I rang up Justice Chinnaswamy Swaminathan Karnan, sitting judge of the Calcutta High Court, requesting an interview. "I am out of station now. I will consider whether to give you an interview or not after I return," he replied.
Justice Karnan has been engaged in a bitter legal battle with the Supreme Court. A seven-member Constitution Bench of the apex court on February 8, 2017 stripped him of all his judicial powers and asked for an explanation about the allegations of corruption he raised against judges of the Supreme Court and the Madras High Court. Justice Karnan retaliated by issuing a contempt notice to the seven judges. Subsequently, the Supreme Court ordered Justice Karnan to be medically examined to know whether he was "feigning mental imbalance" and submit the report by May 8. Within hours of the order, Justice Karnan asked the Delhi Police to get the seven judges examined by a psychiatric board.
Is he insane? I wondered. But he seemed perfectly all right when I talked to him over the phone. I again called him up for the appointment. This time, the judge burst into laughter. "Why would you like to interview me? The Supreme Court thinks I have lost my mental balance," he said.
"Your lordship, I would like to see for myself," I replied.
Justice Karnan handed over the phone to his secretary and I got an appointment for May 4, the same day the medical team mandated by the Supreme Court was scheduled to examine him. When I reached his sprawling apartment in the plush New Town area of Kolkata, which also functions as his makeshift office, a large media contingent was already present. I saw Justice Karnan in the corridor, dressed in a white shirt and dhoti, looking a little tense.
"Do you know where are the doctors and the police team accompanying them?" asked Justice Karnan.
"Why the police?" I asked.
"If I refuse to submit to the test, the police would forcibly take me in their van to the hospital, as if I am a criminal. The judges of the Supreme Court have forgotten that I am a sitting judge of a High Court," he said.
As there was no trace of the medical team, Justice Karnan went back inside after asking me to wait for half an hour. He returned as promised, wearing a beige suit. He told the crowd outside that he was waiting for the medical team.
Minutes later, he sent his secretary to invite me inside. When I entered, Justice Karnan was speaking with his son, who was calling from France. Both his sons are engineers, one based in Paris and the other in Chennai. His wife, Saraswati, teaches in a government school in Chennai. After the phone call, Justice Karnan asked his secretary to close the door so that we would not be disturbed.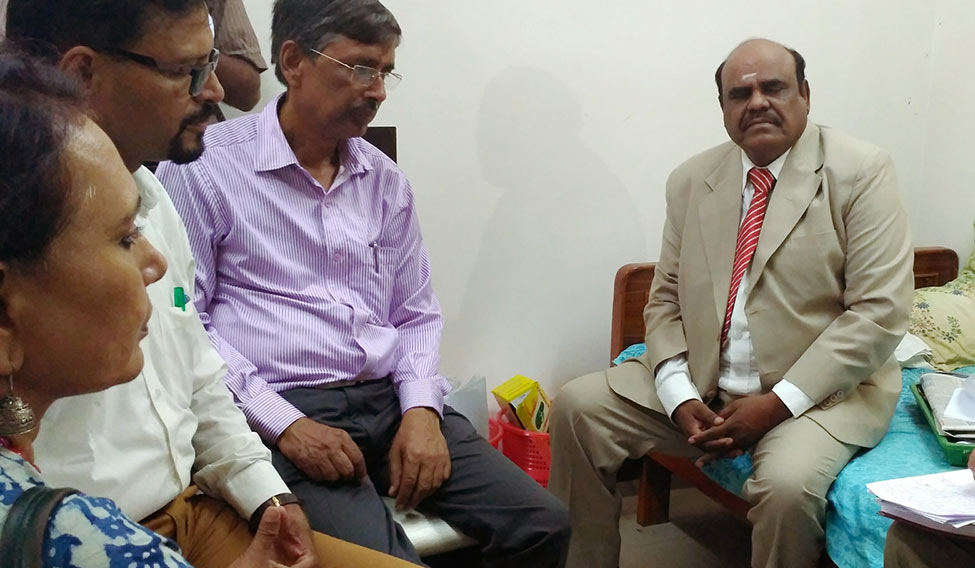 "Yes, you can ask me what you want to know," said Justice Karnan, taking off his coat and tie. As he started talking, I felt he was perfectly all right and there was not even a hint of any mental imbalance. He gave his answers with great clarity, dictating even the punctuations, wherever needed.
He started by saying that no court in the country, including the Supreme Court, could order a medical test of any person without the approval of his family. "Why are they doing it to me? It is a violation of my fundamental rights," said Justice Karnan.
There was a gentle knock on the door. A security staff opened the door, and came back and whispered, "Sir, a Tamil police officer has come with heavy forces and doctors. They want to see you." The doctors were accompanied by around 25 policemen, led by C. Sudhakaran, deputy commissioner of the Kolkata Police. Justice Karnan asked the security staff to tell the doctors to wait outside, while he continued to answer my questions.
After we finished, he put on his coat and tie, and called the doctors inside. The team of four doctors from the Calcutta Pavlov Hospital (Mental), led by superintendent Dr Ganesh Prasad, stepped inside. The judge told them that he did not require an examination as he was of perfect mental balance. Prasad, however, politely stressed that the doctors were only obeying their orders. Justice Karnan understood their predicament and summoned his secretary and dictated a three-page letter explaining why he would not be able to go through the medical test. As the letter was being prepared, he asked the doctors whether they had breakfast. They all said yes, and then he asked his cook to serve them tea. He then handed over the letter to Prasad and gave a copy of it to the media team waiting outside. As the official team was ready to leave, Justice Karnan offered to arrange vehicles for them.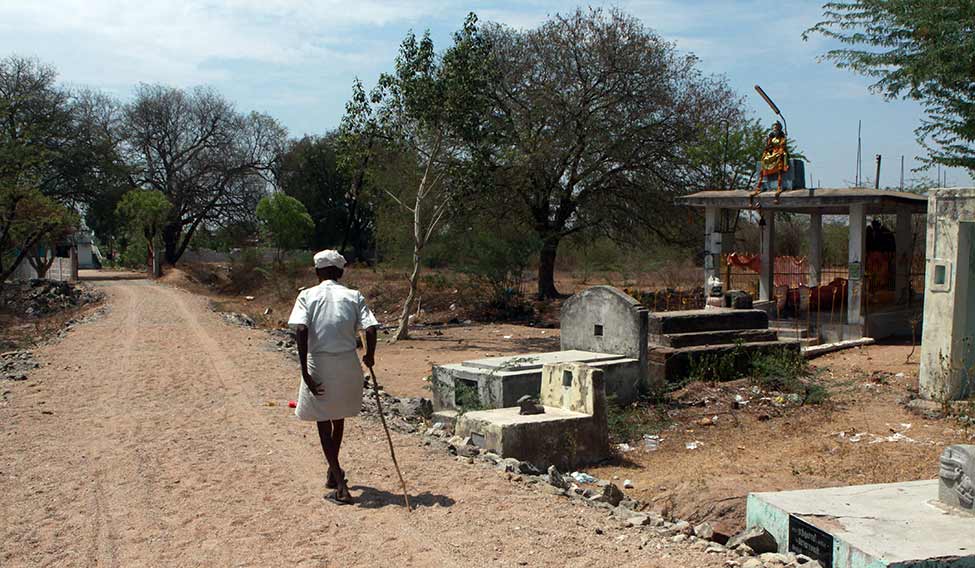 "No, sir. We have our official cars," said Prasad. As he was walking out, Prasad told me that there seemed nothing wrong with Justice Karnan. "He looked very normal to me," he said. "However, we would tell the West Bengal government that we could not force him for the medical test because of his present stature."
Justice Karnan, meanwhile, asked me to return the next day as he was feeling "excited" and "fatigued".
NEXT MORNING when I met him, he was taking his diabetes medications. "If I do not take these pills, my blood sugar goes up and I fall sick. I can't miss them even a single day," said Justice Karnan. I then requested his permission for taking a few photographs and he started laughing. "So many pictures! For what? I am not getting married again," he said.
Photographs done, I asked him about his childhood. Though he was initially reluctant to speak about his childhood spent in the village of Karnatham in Tamil Nadu's Cuddalore district, he opened up gradually. His father was a respected school teacher who won the President's award. But, their family was poor. "From the time I turned five, I used to spend most of my time in a forest as our land was inside a forest. Till I was 19, I had to toil hard in the fields. I used to walk three miles a day to reach my school," he said.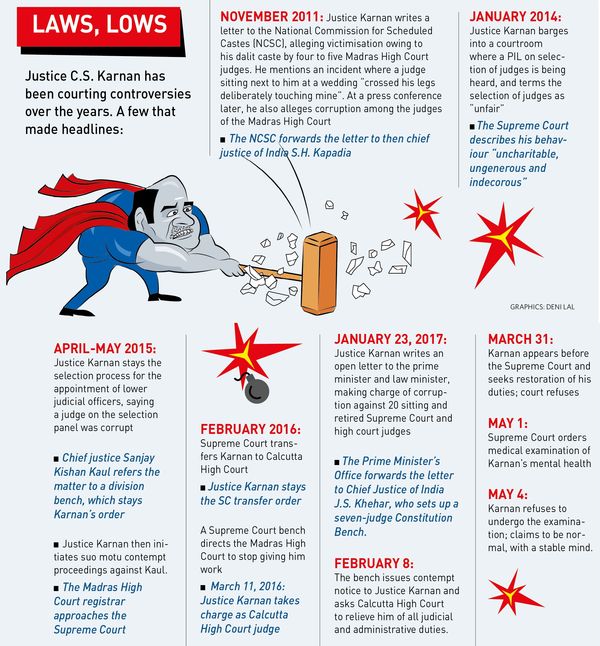 When he was in class ten, he nearly missed his mathematics final examination. As usual, he was working in the paddy fields. "The clock was ticking and my mother came rushing, warning that I would miss my exam if I continued to work," he said.
He did not have a watch to check what time it was, so he ran to the school. By the time he reached, the question papers had already been distributed. He said he somehow managed to give the examination. "But when the results were out, I had scored 100 out of 100," he said.
"As a child, he often had to eat frogs, snakes and wild animals as his family often went without proper food. But he never complained," said Antony Lazaro, a family friend. Justice Karnan said he took postgraduate degrees in arts and later in law and started searching for a job rather late. "Judiciary was not my first choice. But, age was not on my side. I had got seven job offers, but I thought I would be able to work independently in judiciary. So I joined the Madras High Court as an advocate," said Justice Karnan.
Lazaro said within a short time, Karnan became one of the star advocates in the court. "He was empanelled as government counsel and was legal adviser to several government bodies." His work was noticed by Chief Justice A.K. Ganguly, who proposed his name to be appointed as a judge of the High Court. He took charge on March 30, 2009. And, then began the controversies.
Justice Karnan said he felt that being a dalit, he was not accepted by the "elite circle" of judges. Moreover, there was "rampant corruption among the judges. When I protested, I was humiliated," he said. He has repeatedly complained about what he perceived as irregularities in the Madras High Court. "If I, who have legal immunity, would not talk about corruption, then who will?" asked Justice Karnan.
After repeated tiffs with his brother judges, he was transferred to the Calcutta High Court last year. But, in Kolkata, too, he continued with his anti-establishment campaign, alleging that the judges "misused government money given to the judiciary", "promoted nepotism" and "used malpractices during transfers and promotions". He also complained that he had been continuously "humiliated" and "disregarded" because he was dalit. "I was disregarded by judges although there is a law against atrocities against the Scheduled Castes, Scheduled Tribes and backward classes. Shouldn't that be a criminal offence?" he asked.
Justice Karnan was selected as a High Court judge by a collegium headed by Justice K.G. Balakrishnan, the first dalit chief justice of India. Balakrishnan said the collegium only maintained the tradition of accepting the recommendation of the chief justice of the high court concerned to promote a senior lawyer from that court as a judge. Justice Ganguly, who recommended Justice Karnan's name, refused to comment. "The matter is pending before the Supreme Court. It would be highly improper and immoral on my part to comment on this till the Supreme Court gives its final judgment," he said.
In January this year, Justice Karnan wrote to the prime minister and the law minister that 20 sitting judges of the Madras High Court and the Supreme Court had "used malpractices in the selection procedure of recruiting magistrates and judges". The total amount of corruption, according to him, is about Rs 10 lakh crore. Asked whether he received any reply to his letters, Justice Karnan refused to comment.
The PMO forwarded the letter to the chief justice, who set up a Constitution Bench, comprising Chief Justice J.S. Khehar, Justices Dipak Misra, J. Chelameswar, Ranjan Gogoi, M.B. Lokur, P.C. Ghose and Kurian Joseph, to examine the issue. It issued contempt notice to Justice Karnan on February 8 and asked him to appear before the court. It also asked the Calcutta High Court to relieve him from all judicial and administrative duties.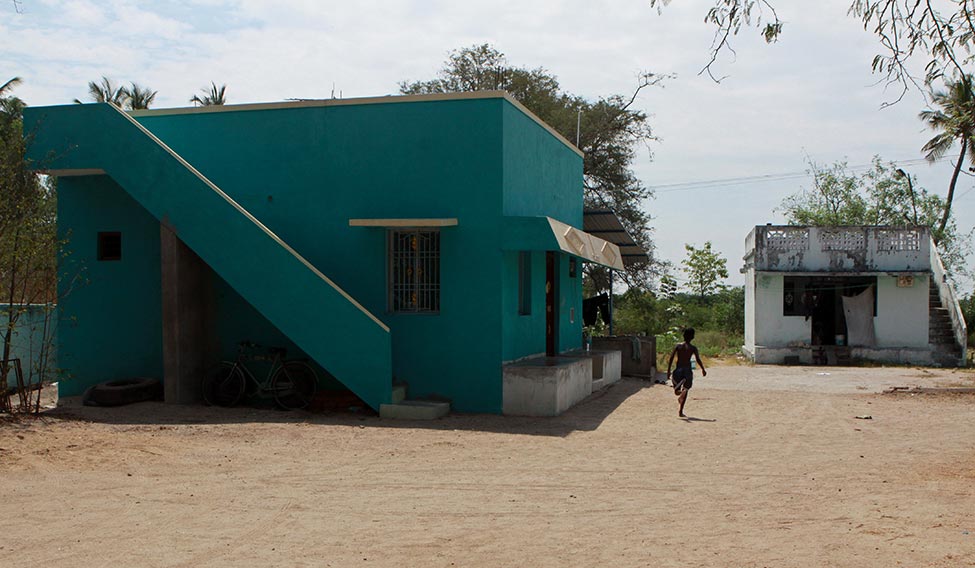 On March 31, Justice Karnan appeared before the bench and said he might consider withdrawing his complaint if the apex court "restored his administrative and judicial work". The bench turned down the request and ordered him to reply to the contempt notice within a month. It was after he chose not to reply to the notice that the Supreme Court asked the West Bengal government to organise a mental examination of Justice Karnan.
Asked about why he was so keen on taking on the Supreme Court, Justice Karnan said it was not a battle between him and the apex court. "It is a tussle between me and the corrupt judges of the Madras High Court and the Supreme Court, who are being supported by the seven-judge bench. I am surprised that even after getting such a serious letter from me, the bench did not bother to investigate the charges," said Justice Karnan.
He also referred to the federal structure of the judiciary. "The Supreme Court and the High Courts are different entities and they are same in status and position. The chief justice of the Supreme Court cannot snatch away my administrative powers just because I raised an alarm about corruption by a section of the judges," he said. In his view, the real reason behind his humiliation was that he was dalit. "I faced tremendous amount of humiliation from my colleagues in the Madras High Court. This is highly improper and against law," he said.
Legal experts, however, reacted sharply to Justice Karnan's "erratic behaviour". Senior lawyer Ram Jethmalani asked him to put an end to what he was doing. Attorney General Mukul Rohatgi, too, shared the same view. But Justice Karnan said such people had no locus standi in the issue. "They are nobodies. But I am legally equipped. I told the judges to put me behind bars if they wished."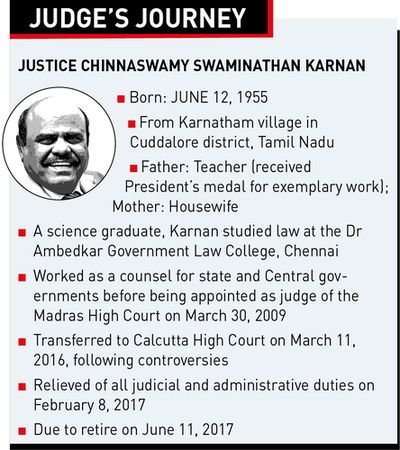 A section of lawyers in Kolkata, however, said Justice Karnan had a point. Arunava Ghosh, one of the senior-most advocates of the Calcutta High Court, said Justice Karnan raised some issues of corruption. "He had the guts to report to the higher authorities what he saw. Those issues should be investigated properly. Why was the focus shifted to something else?" Ghosh asked.
Describing Justice Karnan as an honest judge, Ghosh said, "After Justice Karnan took charge, he threw a party on the request of the High Court staff. The total amount spent for the party was around Rs 40,000. Justice Karnan spent the entire amount from his pocket. In my four-decade-long career, it was a first. Usually, for such parties, expenses are drawn from government funds."
There are many who like to draw parallels between Justice Karnan and the legendary Karna, his namesake from the Mahabharat. Karna was denounced by his brothers as he was brought up by a low-caste charioteer. And, Draupadi refused to consider him for marriage because of his caste. Although his mother, Kunti, accepted him as her son and requested him to support the Pandavas, Karna remained loyal to his friend Duryodhana.
Does such uncompromising attitude in his career extend to his private life as well?
"I am a very serious person by nature. I don't even watch movies. I have no hobbies except social service," said Justice Karnan.
"He has not forgotten his roots," said Lazaro. Each morning, he greets his maid and his security guard with a smile and spends a few minutes talking to them. His lifestyle is simple, which is evident from the inexpensive steel utensils used in his home. "His lordship is a down-to-earth person," said Lazaro. "His wife, Saraswati, however, is very modern and mixes easily with people. As we all know, opposites attract," he said.
As I was about to leave, I got a sense that Justice Karnan was completely unfazed by the controversies surrounding him. "If you go to my village you will know that I am not power-hungry or corrupt. The villagers will tell you what I stood for throughout my life. If you see a child weeping, tell him my name and he will stop. I have left such a lasting impact among my people," said Justice Karnan. "I have maintained dignity and honesty in my life. I am the people's judge and I would like to remain so till I retire."