"He might be a crude and rustic man, but he is always disciplined. He never goes against the law. [During our childhood] he was always disciplined and obedient. He would punish us if we did wrong" - S. Arivudainambi, Justice Karnan's brother
Dogs and cows roam the narrow road leading to Karnatham village in Cuddalore district of Tamil Nadu. The hamlet is dotted with thatched huts, half-constructed buildings and thorny shrubs, and is generally devoid of activity. A few lungi-clad men sit chatting under a withered banyan tree, waiting for the government liquor shop to open. Thin, dark women walk by swiftly, with firewood on the heads. This is the village that birthed Justice C.S. Karnan, the judge who judged the judiciary.
When we ask for Justice Karnan's house, the men and women give us a sly smile, before pointing to a bust of B.R. Ambedkar and the small, muddy lane opposite to it. Near the bust is a grave, of Justice Karnan's father, Chinnaswamy Swaminathan, who won the president's award for excellence in teaching. Near the grave is the entrance to a 15-acre farm and a well-built farmhouse.
A half-naked old man with sore eyes sits in a one-room building next to the farmhouse. "This is Karnan's house. They are five brothers. He is my nephew. They are hardworking. They were raised here, but none of them come here to take care of me," says the old man, Chinnaswamy Kasilingam. He recalls the old days when his brother Swaminathan and his children would work on the farm together.
Karnan, born on June 12, 1955 as Karunanithi Swaminathan, went to primary school a few hundred metres from his childhood house, which is about 700 metres from the farmhouse. He was among 13 children in the village to go to the government high school in Mangalampet. He would walk three kilometres every day to reach school. "He was the only dalit among the 13 in that batch to have cleared SSLC with first class. He was always good and sincere at studies," says his brother, S. Arivudainambi, a lawyer at a Virudhachalam court.
After completing school, he did his bachelors in botany at New College, Chennai. He then attended the Ambedkar Law College in Chennai and completed the course in 1983. Soon after, he enrolled as a lawyer before the bar council of Tamil Nadu and served as standing counsel for the Central government for more than a decade.
In 1991, he changed his name from Karunanithi to Karnan. "My sister-in-law Saraswati is a believer in numerology," says Arivudainambi. "It was as per her advice that my brother changed his name." Nowadays, Saraswati, the headmistress of a government school at Mannady in Chennai, frequents temples to ask God to relieve her husband of the legal mess. "She visited our family deity only a day ago," says Arivudainambi.
Justice Karnan's family, especially the brothers, have been associated with the government for long. His elder brother, S. Manuneethi, recently retired as an officer from the Neyveli Lignite Corporation. His younger brothers S. Deivaneethi is a practising lawyer in the Madras High Court and Thiruvalluvar is an instructor in the state police training institute in Avadi, Chennai. "They haven't divided the assets among themselves," says Kasilingam. "There are four big houses in Mangalampet and the 15 acres here. They come here often. You can also see the temple the brothers are constructing here." Actually, they are reconstructing the old temple of Bairavar, the family deity. "But, it is for the entire village," says Arivudainambi.
"He is the real Karnan. He hasn't taken home any salary since 2009, after he became a judge," says advocate Peter Ramesh Kumar, his colleague. "He took home his salary only for two months. He would always donate it to the SC/ST students for their studies."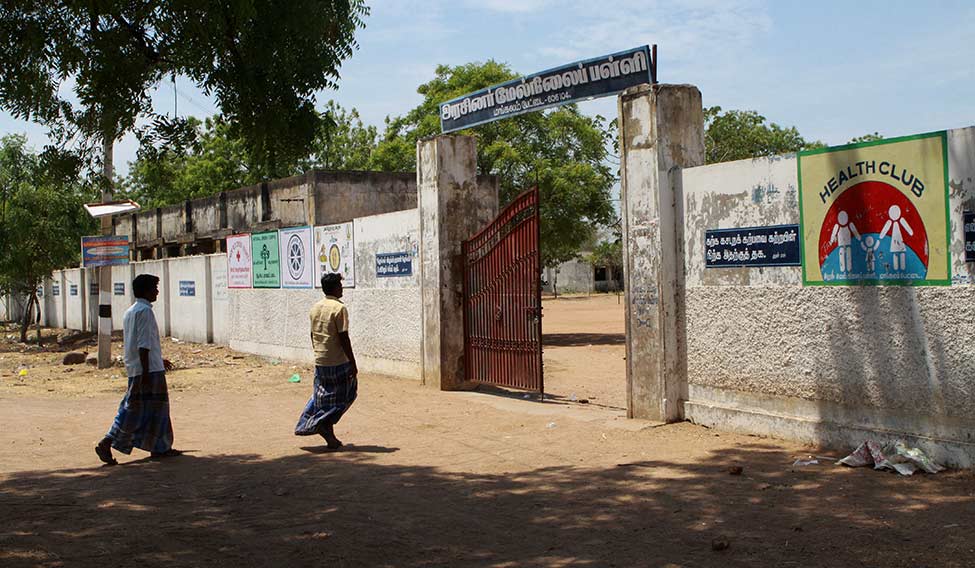 Karnan became a judge in the Madras High Court in 2009, but his legal troubles began on November 2, 2011, when he, for the first time, alleged that he was humiliated by fellow judges. Within a week, he alleged that there was corruption inside the Madras High Court, particularly among the judges. He also went to the National Commission for Scheduled Castes, alleging that he was being harassed and victimised by other judges as he was a dalit. NCSC chairman P.L. Punia forwarded the complaint to then chief justice of India S.H. Kapadia.
In 2014, when a division bench of the Madras High Court was hearing a petition regarding names recommended for the post of judges, he stormed the courtroom, declaring that the "selection of the names is not fair. I would file an affidavit on the issue." The Supreme Court condemned the behaviour, saying: "The sudden unfamiliar incident made us fume inwardly at this raw unconventional protest that was unexpected, uncharitable and ungenerous and, to say the least, indecorous."
Around this time, Rajesh Kumar Agrawal, the chief justice of the Madras High Court, wrote to then chief justice P. Sathasivam, asking him to transfer Justice Karnan to any other High Court. "Justice Karnan barged into my chambers hurling a volley of invectives... seeking a change in portfolio.... In fact, some of my brother judges are afraid of him," he said. Justice Karnan wrote to the NCSC, accusing Agrawal of discriminating against him.
In 2015, Justice Karnan stayed the selection process for the appointment of lower judicial officers in the state judicial service commission on the grounds that one of the members of the selection panel, a sitting judge, was corrupt. He also expressed dissatisfaction over the selection of judges and called the collegium system of selection of judges "autocratic". The same year, he also accused a sitting judge of the Madras High Court of sexually assaulting an intern in his chambers. Following this, in 2016, the Supreme Court transferred him to the Calcutta High Court.
"I don't understand why everyone is accusing him for his behaviour," says Arivudainambi. "He might be a crude and rustic man, but he is always disciplined. He never goes against the law. [During our childhood] he was always disciplined and obedient. He would punish us if we did wrong." Once, Arivudainambi and Thiruvalluvar went to watch a popular Shivaji Ganesan movie in a nearby theatre. When they returned home late in the evening, Karnan asked them where they had gone. "He punished us. We were made to starve that night because we went to the theatre without informing our parents," recalls Arivudainambi.
He was particular that all his seven siblings, including three sisters, were good at studies. As a youngster, he used to invoke Ambedkar and wanted to follow in his path. "Karnan was the only one among us who was always hardworking," says Arivudainambi. "He was an early bird. He would wake up at 3am every day to read law books and law journals."
Justice Karnan's understanding of the law and the judicial system stemmed from those early hours, says Arivudainambi. The Madras High Court campus, however, is abuzz with questions about Justice Karnan's knowledge of law. Allegedly, his assistant, a retired district magistrate, used to help him write judgments.
While his friends and family liken him to Karna of the Mahabharat, for people at the Madras High Court, he will always be a tragic figure of the Indian judiciary.