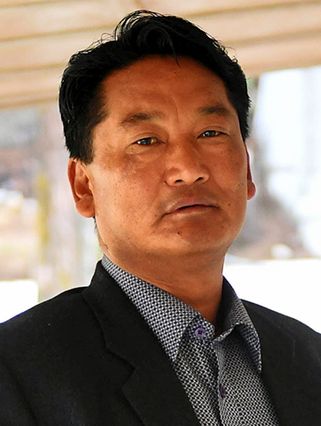 After the split in the National Socialist Council of Nagaland in 1988, Chuba Ozukum, then the general secretary of the Naga Students Federation, banded together with some leaders to form Naga Hoho, an organisation that would work for the unification of and reconciliation among all Naga groups, irrespective of their regions. Today, even as the NSCN(IM) moves towards a settlement with the Indian government, there are still differences between the various Naga factions. Ozukum, however, insists that there can only be one solution. Excerpts from an interview:
What is the progress of the peace settlement?
We don't find any sign of a settlement. People are getting impatient. They don't know what is going to happen.
What are your expectations from the framework agreement?
We expect something good to emerge from it. There is nothing to be scared. We may not get complete sovereignty, but then, in today's modern world, it can be defined in other ways.
Are some of the Nagas still talking of complete sovereignty?
Yes, there are some people who say they will accept nothing short of sovereignty. [But] even if India gives us sovereignty, are we really ready for it? So, the majority of the Nagas think this [current framework agreement] is the best option for us. There can never be 100 per cent consensus, even if we wait for 500 years. If you look at Naga history, every village was once independent and there was headhunting among villages. Till date, that runs in the blood. There are clashes of interest. The authority that is negotiating has to understand how to handle such issues.
What has Naga Hoho told the Indian government?
When we met Prime Minister Narendra Modi, the home minister and our negotiator [NSCN(IM) general secretary] Muivah, we told them we cannot compromise on integration [of Naga territories]. I am happy that Muivah said integration will happen.
Are the Nagas of Nagaland satisfied?
People have started getting impatient. They are saying Nagaland should seek a separate solution. But, to my understanding, we cannot have separate solutions for separate areas. Some of the Nagas are also telling the NSCN(IM) leaders that if a political settlement is beyond their capacity, they should break the ceasefire and allow other groups to take up the negotiations. It is high time we decided. Nagaland cannot remain like this forever.
Are the problems of the Nagas in Myanmar being addressed?
It is an international issue. We are in touch with our people there and always share our problems. Last year, when we went to Burma, we met representatives from the government and requested them to look after our people. They do not have water, electricity or dispensaries. We have conveyed our message to Khaplang [whose faction operates from there], as our people there also want peace and development.
Why did the NSCN(K) break the ceasefire?
According to reports, Khaplang was not happy when the Indian government did not initiate any political dialogue with his group.
What if the NSCN(K) does not come to the negotiating table?
If any faction doesn't accept any arrangement, there will be a problem. The negotiating parties need to think seriously how to go about it.
The BJP has its own government in Manipur as well as at the Centre. Do you have any hopes from the BJP?
There is, of course, more hope from the BJP government. The Congress never did anything, apart from [prime minister] Narasimha Rao's time. Ibobi Singh, the former Congress chief minister of Manipur, was so wicked that he used the Naga issue every time there were elections. Even now we think the Congress is not serious. We have two years left of the Modi government's five-year tenure. If nothing happens and some other party comes, we cannot hope for anything.