"Goans have a lot of talent and there's lots more we can offer than just alcohol" - Darryl Pereira, CEO, Reira Group
Armando Gonsalves, a real estate businessman, is the proud owner of Gonsalves Mansion, an 88-year-old house in the heart of Panjim city. In a quiet, leafy neighbourhood, his blue and white bungalow, built in 1929, stands on a slightly higher plinth (denoting the status of the family).
Armando says, "These homes are not really Portuguese homes; you don't find such homes in Portugal. These are Indo-Portuguese homes, Goan homes, built by Goan craftsmen. The roof, for instance, slopes to let rainwater run off, and the high ceilings cool the rooms."
The 23-room house is modern compared with houses of the aristocracy in Goa, says Armando. "I converted it into a more comfortable home with modern amenities in the last 20 to 25 years," he says. The house has an office, which takes up 50 per cent of the bungalow, along with a conference room, two sitting areas, a dining room with an enormous chandelier and four suite bedrooms. There is also a theatre which can seat 100 people.
Armando added modern bathrooms and a direct pipeline for water supply, ensured continuous power supply and has plans to expand the kitchen so that it can serve his office and the residence.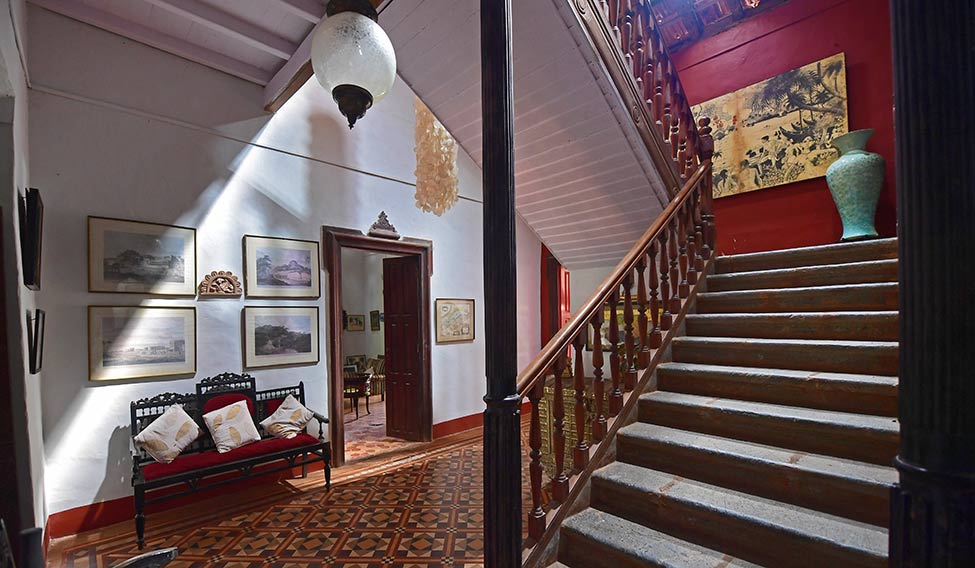 The mansion, which has housed famous writers such as Thomas Keneally, is also known as the 'home of jazz' because it is where jazz revival in Goa began. "This home is known for culture, art and music. Everything here is linked to the heart of Goa, the spirit of Goa and the Goan-ness of our people. When it comes to doing stuff for the community, this home is number one," says Armando, who also runs an organisation called 'Goa Forgiving' which has fought for various causes ranging from the Campal Creek campaign to the fight against casinos to fighting the Goa government for de-classifying the coconut tree. "This home exudes love, and a good vibe. A lot of good things happen here," he says.
In Loutolim, Salcette, near the famous Saviour of the World church, a mud road leads to a sprawling white bungalow which belonged to the renowned Indian cartoonist and painter, Mario Miranda. His wife, Habiba, and sons Rishaad and Raul continue to live in the house after his demise.
The house is more than 400 years old. "It's been in my dad's family for a really long time," says Rishaad, a graphic designer. Miranda returned from England to find the house ransacked, and the property sealed by the Army since nobody had come forward to claim it. "So, my father went to Delhi and met Indira Gandhi to get it back," says Rishaad. The house has a driveway, a garden, its own private chapel, a courtyard and 30 rooms, including seven bedrooms. It also has other jewels like the 300-year-old tiles from Italy, glass from Belgium and china from Macau. The stairs make a rhythmic sound when you climb. "It's all Burma teak, recycled from old ships," says Rishaad. Upstairs is a huge room that would give the Taj Falaknuma Palace's dining room a run for its money. "My parents had a lot of parties here," says Rishaad. In the adjoining room, warships painted by Miranda's grandfather on the cornice are still intact.
This house has hosted personalities such as writer Salman Rushdie, photographers Steve McCurry and architect Charles Correa. Shyam Benegal's Trikal was shot here, as were some scenes of the 1980s
film Jalwa.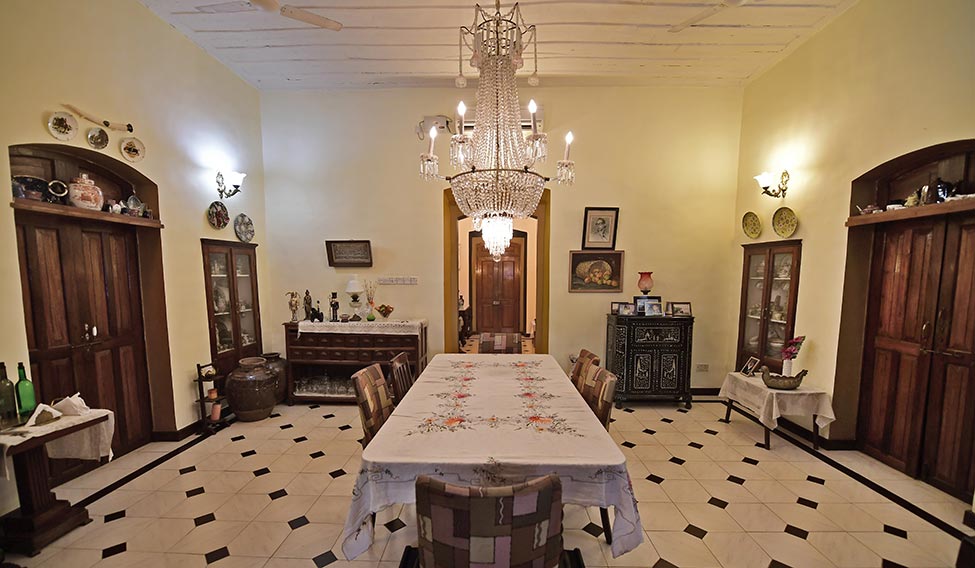 "My father's favourite part of the house was his studio upstairs, which had a window next to which he liked to sit," says Rishaad. "Design-wise this house is more of a Hindu-styled one, because we were Saraswat Brahmins who were converted by the Portuguese."
"The courtyard was all stone. But, when our first son was born, we did a Mexican lawn. The other smaller kitchen, which was the lady of the house's kitchen, is now a laundry room. The traditional kitchen is big and slightly modernised, but still has provisions for stone and firewood cooking," says Rishaad, who loves cooking. He also added a sit-out converting the area which used to be the staff room in the old days. "I will have something like a barbecue area here," he says.
In Majorda, on the road leading to Nuvem Church stands Ave Maria—retired headmaster Oscar Gonsalves's bungalow—on 9,000 square metres of expansive property, where peacocks welcome you.
Oscar does not remember whether the house is 18th or 19th century. The bungalow occupies 850 square metres of the property, which also has his dairy, poultry and vegetable farms. "Now, my son has also set up a big pond, and, so, we even have our own fish," he says.
"It was my mother, who on her trips to Portugal bought lots of crockery, furniture and chandeliers for the house, which we continue to treasure," says Oscar. He has inherited a unique 16-seater teakwood dining table, which stands on five legs. "The best part is the design, it was designed at least 150 years ago and it can be converted from being a six-seater to a sixteen seater," he says. He has also inherited a lot of gold-rimmed dinner sets, all 'Made in England', exquisitely crafted tea sets which bear the name of his ancestors in gold lettering.
In Oscar's home, lots of changes have taken place. "I changed all the walls because after the Koyna earthquake, there were lots of cracks. We added western bathrooms, brought the kitchen further up and had it powered by fuel straight from our biodiesel plant. Now, we have six bedrooms, two visiting rooms, a prayer room, a TV room, two store rooms, a dining room and a kitchen," says Oscar.
He is happy that his son after completing his MBA in England and working for IBM has returned home. "I feel comfortable knowing that this house will be taken care of," he says.
In Saligao, Darryl Pereira, CEO, Reira Group of Companies, bought an old house and brought in every element of modern living into it. Called The First House, it has been designed to look like an old house, but is geared up for modern living.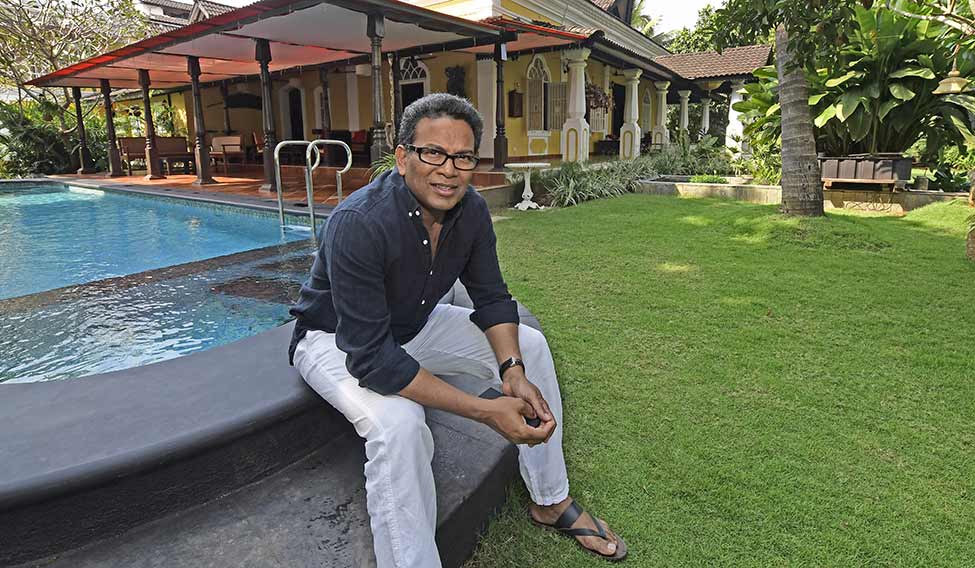 Pereira says that when he walked into the house, originally built in 1896, it was in a general state of disrepair. "I got the feeling that it had a lot of potential and decided to restore it. The concept was a luxury farmhouse." Since his company's mantra is "live the green life", he tried to retain as much as possible of the old house while introducing water-harvesting, aquaponics and hydroponics.
Pereira believes there's a lot of science and physics that goes into everything he does. "I've restructured the old house, but the elements are authentic, such as the balcao [balcony], for instance." He has also re-planted the trees, which act as a screen and help in cutting out the sound. The house even has a games room and a swimming pool. "I have a lot of evening dinners and meetings here, where people come to socialise and chat, and pool [game] is great for that. There's no competitiveness, you talk, you drink, you unwind and discuss business in an informal way. The swimming pool is not too large or ostentatious, yet I wanted to have a certain kind of luxury," he says.
Pereira says, the best compliment he has received was from a man who turned to him and said, "You make Goans look good." "Bollywood has always portrayed us Goans as an Anthony or a D'Souza hanging around a bar or on a beach, with a bottle in our hands, tottering home drunk. But, Goans have a lot of talent and there's lots more we can offer than just alcohol," he says.