Now, with the Chinese saying that they have come to stay, many wonder whether there had been a deal between China and Bhutan behind India's back.

Bhutan, which India views as a protectorate, has been straining at the leash, much like Nepal. India's big-brother attitude hasn't helped.
The Jats, some 250 of them, are waiting in their tents, pitched across the stretch in Doklam, the region in Bhutan where the Chinese want to build a road. They have no fear. They believe they would get a three-day warning about any Chinese strike from Baba Harbhajan, their guardian angel.
A soldier of the 23 Punjab regiment, Harbhajan disappeared during a patrol in 1968. His body was discovered later, but his spirit, dreaded by the Chinese as the 'ghost who rides the white steed', is still worshipped in a shrine near Nathu La, the mountain pass that connects Sikkim and Tibet. The baba has never let down the Indian Army, which treats him as a living trooper and accords him all privileges, including annual leave and timely promotions.
But, at 14,000ft, the commanders aren't taking chances. During the two-month-old standoff, they have tried everything—from bluster to bullying and backtracking. But, with China standing firm on its demand that India clear out totally from Doklam, the troops are back. They belong to a Jat battalion, and they have come to stay. Watching them over are light gun batteries of an artillery regiment 15km away.
After drumming up war hysteria, with Defence Minister Arun Jaitley boasting of an India that is different from 1962 and General Bipin Rawat claiming capability to fight on two-and-a-half fronts, India had withdrawn most of its troops from Doklam by the third week of July, leaving behind a patrol party of about 40. The white flag was raised at the political level, too. External Affairs Minister Sushma Swaraj said in Parliament: "It is essential that all parties concerned display utmost restraint…. India is committed to working with China to find peaceful resolution of all issues in the border areas through dialogue."
The Chinese, however, switched to a new position. "After the incident, the Bhutanese made it very clear to us that the place where the trespassing happened is not Bhutan's territory," claimed Wang Wenli, deputy director-general of boundary and ocean affairs in the Chinese foreign ministry. India ignored the statement, but on August 8, China Daily, virtually a mouthpiece of China, warned that "the window for a peaceful solution is closing", and that "the countdown to a clash between the two forces has begun", unless India withdrew "all its troops". The same day, the official Xinhua press agency commented: "If there is any unsettled border issue between China and Bhutan, then that is an issue between China and Bhutan. It has nothing to do with India."
The Army brass are now wondering whether they had missed the game altogether. The Chinese had attempted much the same work—construction of a road—in Doklam only three months ago, but had backed off when the Indian Army forbade them. But now, with the Chinese saying that they have come to stay, many wonder whether there had been a deal between China and Bhutan behind India's back.
Reading between the lines of some of the Chinese statements, which question the Indian Army's locus standi in Bhutan, leads to such conclusions. "India's intrusion into the Chinese territory under the pretext of Bhutan has not only violated China's territorial sovereignty, but also challenged Bhutan's sovereignty and independence," said one statement.
It strikes at the root of India's strategic posture in the region. Indian military planning had assumed that any bid by China to violate Bhutan's sovereignty would be an act of war, and that India would then be justified in invoking its friendship treaty with Bhutan to move its brigades. "Now the Chinese, with these kind of statements, are trying to turn the tables on us…. This has serious implications," said an intelligence analyst.
Interestingly, most decision-makers in the security establishment are unaware of the provisions of some of the treaties. "The 1949 [India-Bhutan] treaty had been explicit—that we had a security stake in defending Bhutan," pointed out M. Rappai, honorary fellow at the Institute of Chinese Studies. But Article 2 of the 1949 treaty, which allowed India to steer Bhutan's foreign and security policy, was dropped in the treaty of 2007. The new treaty even allowed Bhutan to shop for non-lethal militaryware from any country. Then, in 2012, there was another agreement between India and China, which concerned tri-junction borders, but its provisions remain secret. "We don't know what the later agreement says. Is it an agreement? What are its contents?" wondered Rappai.
There are more issues that disturb India. Bhutan had held 24 rounds of talks with China over disputed regions, and the understanding in India was that those had been inconclusive. Yet, Bhutan did not alert India—Indian intelligence, too, failed—when the Chinese built dirt tracks across a disputed stretch. Bhutan complained only after the Chinese arrived to upgrade the dirt track into "a motorable road from Dokola in the Doklam area towards the Bhutan Army camp at Zompelri on 16 June", as a Bhutanese press statement said.
Bhutan, which India views as a protectorate, has been straining at the leash, much like Nepal. India's big-brother attitude hasn't helped. As former ambassador P. Stobdan said, "Many people in Bhutan think that India has for too long prevented their country from normalising diplomatic ties and negotiating a border settlement with China."
India has a military training mission in Bhutan and its Border Roads Organisation has built 1,500km of roads, bridges, airfields and helipads for its forces to operate there. When Bhutan complained about the Chinese intrusion, India sent about 270 of its troops to the trouble spot, along with bulldozers. When the Chinese insisted on building, Indian troops pitched their tents at the spot. In the next few days, India sent another 150 troops. More troops moved into Sikkim from the Sukhna-based 33 Corps.
However, with China warning of a limited war, India withdrew most of its troops from Doklam. Senior officers refrained from flying into Bhutan, so as to keep the issue localised. But the Chinese upped their ante—they wanted India to vacate the stretch totally.
On India's Independence Day, Chinese troops refused to turn up for the ceremonial border personnel meeting. Where they did turn up was in Ladakh. Chinese soldiers reportedly tried to enter two areas near Pangong lake in the Indian side of the Line of Actual Control. The Indian Army foiled both the attempts, but not before engaging in stone-pelting that resulted in minor injuries to troops on both the sides.
The Chinese have been behaving differently from their earlier intrusions. For one, they claim to have notified India before they entered Doklam. As former diplomat M. Bhadrakumar pointed out, the Chinese "claim that they had notified the Indian side out of goodwill on May 18 and June 8, and that the Indian side didn't make any response. Instead, when the Chinese began building the road on June 16, within 48 hours, Indian troops intervened to stop the work. From all appearances, India didn't blunder into the standoff. It was a political decision to project military power."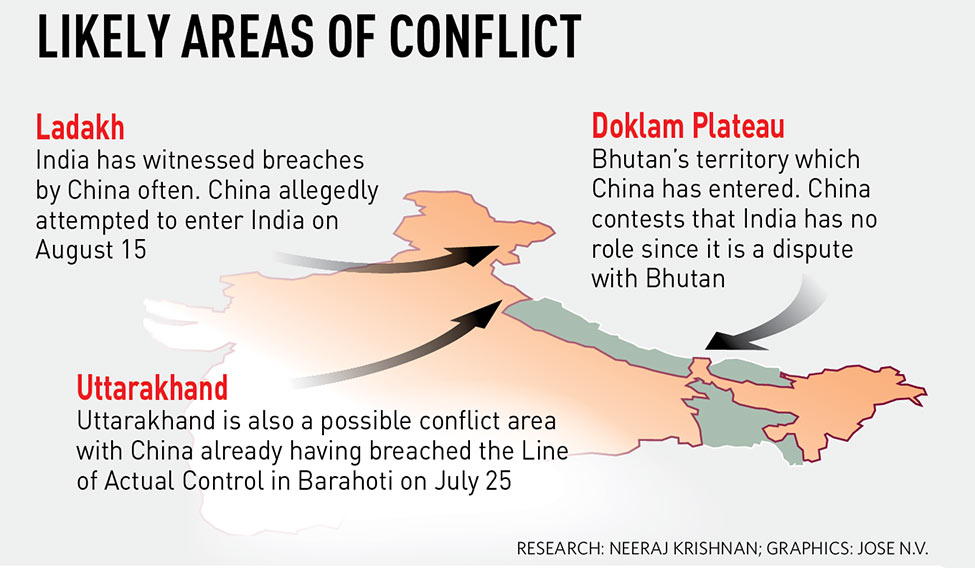 Apparently, Indian intelligence had failed to gauge China's resolve. The People's Liberation Army had recently overhauled its military structure. "The transformation in the PLA was in six main areas," said Lt Gen G.L. Narasimhan, member of India's National Security Advisory Board in a lecture at the Indian Council of World Affairs. "Those are transformation of higher defence organisations, creation of PLA headquarters, reorganising military regions into theatre commands, creation of PLA Rocket Force, creation of PLA Strategic Support Force and reduction of 3,00,000 people. There will be five new theatre commands, namely eastern, southern, western, northern and central."
Interestingly, the troop strength of the western theatre command, which overseas the entire Indian frontier, will be cut by half. Instead, the PLA will have a highly mechanised force—lean, mean and agile. The western theatre is currently being commanded by Zhao Zongqi, a four-star general who had served in Tibet as deputy chief and chief of staff from 1984 to 2004, when the PLA's rapid reaction forces were sent to quell riots.
As legend has it, Zhao wormed his way into Vietnam disguised as a peasant to gather intelligence during the 1979 Sino-Vietnamese war, much like India's national security adviser Ajit Doval having gone in disguise into Pakistan in the 1980s. Zhao had visited India and Pakistan last December and met the then Army chief Dalbir Singh Suhag, vice-chief Rawat and eastern commander Lt Gen Praveen Bakshi. Incidentally, India had to change its eastern commander, who is in charge of the Bhutan-Sikkim area, midway through the Doklam crisis. Lt Gen Abhay Krishna, who was heading the southwestern command in Jaipur, has taken over from Bakshi, who retired on July 31.
Zhao's "stance on Tibet is unlikely to be soft", observes a paper prepared by a team headed by Maj-Gen B.K. Sharma for the think tank United Service Institution. It says China's new theatre command structure "will be more efficient from a Chinese perspective, as they can have better synergy and orchestrate interplay between application of forces on our western and eastern sectors."
The big question is: what do the Chinese want? There are only intelligent guesses. One is that they are trying to build a class-40 road, one that can carry light armoured vehicles weighing up to 40 tonnes. Most of Doklam is a plateau, but army officers rule out use of tanks at that height with today's infrastructure. But a show of force can overwhelm the Bhutanese army camp at Zompelri, and the Chinese can thus enter Bhutan.
The road that China proposes to build would lead up to Gyemochen, which China claims is the terminal point of the tri-junction between India, China and Bhutan. India and Bhutan claim that Gyemochen to be within Indian territory and that Batang La, 8km north of Doka La, is the terminal point of the tri-junction. "India has no claim on the territory south of Batang La, which it believes to be Bhutan's," said Manoj Joshi, a distinguished fellow at the Observer Research Foundation. "But China has insistently contested the Bhutanese claim; as far back as 2005, they had built a road in the area that terminated at a point below the Indian posts at Doka La. Chinese vehicles would come to this point; thereafter their personnel would go on foot and patrol the region south of this till the Jampheri or Zompelri ridge."
How much would this contested area—about 89sqkm—matter? From here begins the Jampheri ridge, and from there troops can move to the foothills of Bhutan, and thence to the slender 'Chicken's Neck' of the Siliguri corridor. If the Chicken's Neck is cut, India would lose the entire northeast. Therefore, the Army has maintained both the flanking ridges of the Chumbi valley well fortified. Poised as they are on the ridges of Chumbi, Indian forces can easily pour fire and brimstone on any Chinese intruder.
That does not mean that the Chinese will sit tight. The Indian leadership has been far too audacious in the past few months to China's liking. President Xi Jinping is reportedly peeved at India's boycott of his 'One Belt, One Road' project. Also, India's decision to welcome the Dalai Lama into Arunachal Pradesh with much fanfare has not gone down well with the Chinese. The Dalai Lama had visited Arunachal six times earlier, but India had not gone to town with those earlier visits. The publicity given to his recent visit, as also to the visit by US Ambassador Richard Verma, looked like calculated moves aimed at spiting the Chinese. And then there was the statement by Arunachal Chief Minister Pema Khandu questioning the Chinese sovereignty over Tibet. "China has no business telling us what to do and what not to do because it is not our next-door neighbour," Khandu had said.
Said Lt Gen G.M. Nair, former military secretary who had commanded the Kangra-based 9 Corps: "Xi has made this a prestige issue, and he would want it sorted out before his big party congress in October. They will try out something else, somewhere else."
The big question is: where would Zhao strike? The intelligent guess is that he will not strike at Chumbi, "where his troops would get bottled up," said Nair. The Arunachal neighbourhood, too, has been ruled out, with India having made Tawang into a virtual fortress.
Where else? Apparently, the military brass expects trouble in Ladakh, where the line-up has certain gaps. Late July, Border Roads Organisation chief Lt Gen S.K. Shrivastava flew to Leh "to inspect the strategic roads in the most strategic region for India" and to check with the 14 Corps commander what more was required.
Yet there are worries. A strike in Ladakh suits the Chinese not just tactically, but strategically and politically as well. Sitting just a few ridges away are the Pakistanis, who may like to join the Chinese in a pincer around northern Kashmir. Some Chinese strategic experts have hinted at the possibility.