Maunmohan Singh went to Himachal Pradesh yesterday. The headlines today say Maunmohan Singh broke his silence in Himachal," said Gujarat chief minister Narendra Modi, almost a year before he was named the BJP's prime ministerial candidate. It was not the first time that Modi took a swipe at Singh for his silence. In the run-up to the Lok Sabha elections last year, as he campaigned across the country, "Maunmohan Singh" almost always figured in Modi's speech.
But, ever since he took oath as prime minister, he has never referred to Singh that way. In fact, Modi even invited Singh for tea recently. Ironically, 13 months into office, it is Modi's silence that is the talk of the country. Congress leaders call him "Maunendra Modi" and "Swami Maunendra Baba". Even his partymen wonder, "Why doesn't he tick them [opposition] off?" Detractors ask why Modi is silent when External Affairs Minister Sushma Swaraj's "humanitarian help" to Lalit Modi, former commissioner of the Indian Premier League, who is now in exile in London, has plunged the BJP into crisis.
Political rivals and activists have been demanding that the prime minister speak out on a range of issues. Modi, however, has kept a high-decibel silence. The leader who used to crowdsource subjects on which to interact with people has turned a deaf ear to those who demand his "mann ki baat"—heartfelt views—about controversial issues.
Months after the BJP-led National Democratic Alliance government came to power in Delhi, Uttar Pradesh saw a series of communal clashes, in which people belonging to minority communities were forced to flee their villages. Some people saw the BJP hand behind the clashes. They said the party wanted to precipitate a situation that would result in the state government being dismissed, paving the way for early assembly elections. The "Modi magic" would then have ensured that the saffron camp bagged the politically prestigious UP.
To muddy the waters, Pravin Togadia of Vishva Hindu Parishad spoke about contentious issues such as Article 370 and the uniform civil code. It prompted Nusrat Ali, secretary-general of the Jamaat-e-Islami Hind, to urge Modi to speak. "The PM's silence on the divisive hate campaign of BJP leaders and affiliated outfits of the RSS gives an impression of silent understanding between them and him," said Ali.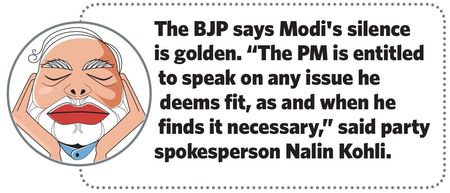 As Modi continued his silence, inciting statements by saffron organisations became more frequent. "These statements have always been there. Did people ask previous prime ministers to speak on them?" asked a BJP leader. Nevertheless, an effort to assuage fears of the minorities would have helped the government, but it did not happen.
Modi's silence has cost him and the BJP dear. During the campaign for the Delhi assembly polls, he addressed four rallies, but kept mum about the controversial speech by Union Minister Sadhvi Niranjan Jyoti. She had said that the candidates of the BJP were "Ramzaade" (children of Ram), and the rest, "haramzaade" (bastards). The party lost the elections, and Modi, his magic. "He [Modi] should have spoken on the issue and chided the minister," a Delhi BJP leader said then.
There were more such instances. Party MP Sakshi Maharaj asked Hindu women to have four children each, even as BJP leaders scoffed at the lack of family planning among Muslims. Appalled, a BJP member suggested that Maharaj should refrain from talking about such issues. But, Modi, again, chose to remain tight-lipped.
Then came the ghar wapsi controversy and the attacks on churches and minority communities. Rattled, opposition leaders asked the prime minister to break his silence. M. Karunanidhi, former Tamil Nadu chief minister, published a pamphlet saying he was "surprised and shocked at the silence of the prime minister" on "increasing instances of right-wing leaders and some Union ministers making hindutva statements".
It was not just in India that Modi's silence was being questioned. On February 6, days after US President Barack Obama's India visit, and exactly a day after Obama famously said that "acts of intolerance" against religious faiths of all types in India in the past few years would have shocked Mahatma Gandhi, the New York Times ran an editorial titled 'Modi's dangerous silence'. "Mr Modi needs to break his deafening silence on religious intolerance," it said. And it asked what would it take for the prime minister to speak about the mounting violence against India's religious minorities. Modi's silence, said the editorial, gave the impression that he "either cannot, or does not, wish to control the fringe elements of the Hindu nationalist right".
Back home, farmers who felt threatened by the BJP's land acquisition bill and academics who opposed the saffronisation of higher education wanted Modi to be as forthcoming as he was during his election campaign. As the main opposition party, the Congress began to call the PM Maunendra Modi, egging him to break his silence.
And, on June 14, the Congress got what it was waiting for—a scandal of scam-like proportions. It came to light that External Affairs Minister Sushma Swaraj had bypassed official channels to get travel documents for Lalit Modi, who is wanted in India in 16 cases being investigated by the Enforcement Directorate. It was also revealed that Lalit Modi had benefitted from his links with Rajasthan Chief Minister Vasundhara Raje.
The Congress gleefully used Modi's own words against him after the scandal broke. "I will not discriminate. I will not spare even the BJP and NDA candidates,"  Modi had said while speaking about his stand on corruption on April 21 last year. Two months later, as prime minister, he tweeted, "Time has come to take tough decisions in the interest of the nation. Whatever decisions we take will be solely guided by national interest."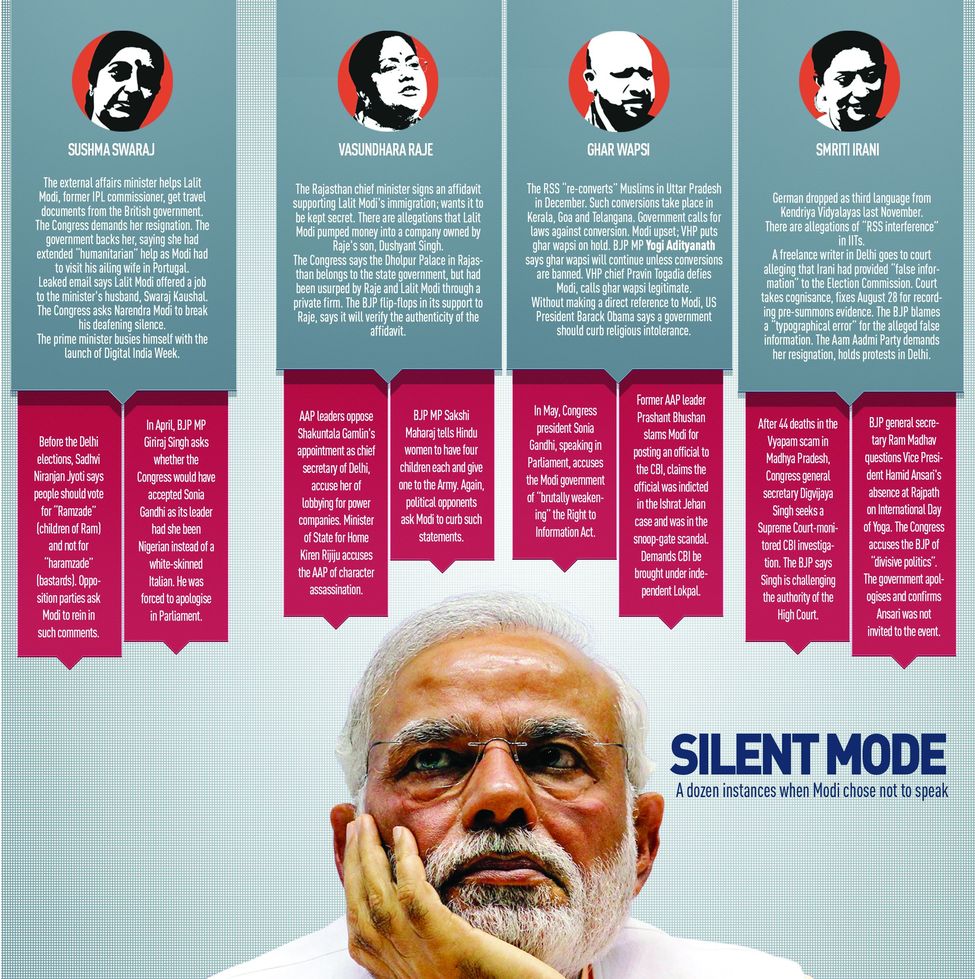 Said P. Chidambaram, former Union finance minister: "The prime minister, who criticised Manmohan Singh for being silent, is silent now. It is time for the people to question their leader on his electoral assurances, as one year has gone by since the new dispensation came to power."
Jairam Ramesh, Chidambaram's party colleague, hit harder. "The weak-kneed, laboured and conspiratorial defence of the indefensible by the Modi government has exposed the falsehood of Prime Minister Narendra Modi's hyperboles like 'zero tolerance for corruption', 'scam-free government', 'na khaoonga, na khane doonga [won't be corrupt, won't allow corruption] and 'transparent government'."
Sachin Pilot, president of the Congress in Rajasthan, said Modi's silence had "undermined the promise of zero tolerance to corruption. Contrary to people's expectations of taking action against wrongdoings, there has been a deafening silence from the prime minister."
Congress spokesperson Randeep Surjewala said the silence of an otherwise very communicative prime minister "is intriguing and smacks of latent complicity". He pointed out that Modi rode to power on a promise of transparent and corruption-free governance. "There is a case of corruption in the Raje case, and abuse of office and conflict of interest in Swaraj's dealing with Lalit Modi," said Surjewala.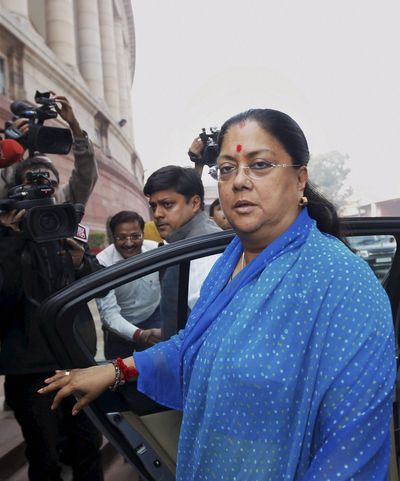 The Aam Aadmi Party, which has demanded that Sushma and Vasundhara resign, questioned Modi's silence on the issue. "The prime minister is tweeting away, wishing the people of Madagascar and Mozambique on their Independence Day. But, he does not address the people of India on so crucial an issue," said party spokesperson Raghav Chadha.
The BJP, however, maintains the PM's silence is golden. "The prime minister is entitled to speak on any issue he deems fit, as and when he finds it necessary," said party spokesperson Nalin Kohli. "He cannot be expected to speak on a script of the opposition's writing. What corruption are they talking about? Lalit Modi's ED cases remain where they are. No one from the BJP diluted or sought to close the cases, and no one has facilitated his exit from India or prevented his return. The answers have to come from the Congress government that evoked weak sections of law in the case against Lalit Modi. The BJP has no connection with him or with his personal, professional and business dealings. Our only concern is with the ED cases, and we are not spokespersons for Lalit Modi."
By latching on to the Lalit Modi controversy, said Kohli, the Congress is trying to obfuscate the discourse about development. "What did the PM promise?" he asked. "[Did he promise] to keep a perception of clean government, or to deliver a clean government?" Kohli believes that the way the issue is being raised shows "the despair of the Congress".
The Prime Minister's strategic silence is designed to show that it is a matter of perception that the BJP is battling. The party plans to deal with it in Parliament, possibly by fishing out similar instances involving former ministers of the Congress, and exposing the actions taken then.
Apparently, Modi does not care for the fact that two wrongs do not make a right, or that he was committed to cleansing "Delhi politics" and replacing it with the brand of politics he had assiduously built up during his election campaign. The silence is also intended to take the fizz out of the Lalit Modi controversy.
Sources say that, even though Modi is not happy with the situation, he will not axe Swaraj or Raje for now. The decision was taken at a meeting between Modi and BJP president Amit Shah. The rationale was that sacking Swaraj and Raje will set a precedent, which would then be applicable when someone makes "a genuine, inadvertent mistake". The logic, it seems, calls for the interpretation that Swaraj and Raje's "mistakes" were not genuine or inadvertent.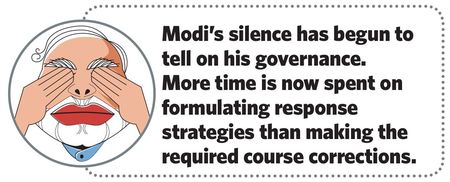 Modi and Shah also decided that the party would deal with the crisis politically. Among the points discussed at the meeting was the precedent involving former Karnataka chief minister B.S. Yeddyurappa. The line of reasoning, apparently, was: "What did we gain by securing Yeddyurappa's resignation? He was exonerated by the court." In Sushma's case, even though what she did was possibly improper, "there is no case, and there will be none that will stand the test of law".
Shah and Modi also asked: "What will we gain by sacking Raje?" The answer they arrived at was: "turmoil and instability in Rajasthan", which will affect governance in Delhi. The attempt now is to delineate the Raje issue as a "regional" one. The feeling is that, unlike the 2G and coal block allocation scams, which were not issues of perception but matters the courts adjudicated on, Sushma's was not a case that was worth the prime minister speaking or acting on.
The BJP perceives Modi's silence as something that strengthens it and the government. There is a feeling that Lalit Modi may tweet to the prime minister's detriment if the latter chooses to respond to the current controversy. Lalit is reported to have told Indians who visited him in London that he was close to both Narendra Modi and Amit Shah, from the PM's days as president of the Gujarat Cricket Association, a post that Shah now holds.
It is not that Modi has never spoken on contentious issues. When the opposition, along with some BJP leaders and the RSS, found fault with the land bill, he had his say in Parliament. His move was appropriate and clever, as he knew he had the last word in the Lok Sabha.
Also, ten days after the New York Times editorial, Modi broke his silence on the issue of religious intolerance at a function to celebrate the beatification of Kuriakose Elias Chavara and Mother Euphrasia. "My government will ensure that there is complete freedom of faith, and that everyone has the undeniable right to retain or adopt the religion of his or her choice, without coercion on undue influence," he said. "My government will not allow any religious group, belonging to the majority or the minority, to incite hatred against others overtly or covertly. Mine will be a government that gives equal respect to all religions."
Interestingly, Modi's communication strategy on contentious issues has always been to address directly the people he chooses to address. As Gujarat chief minister, he went through fire for ten years, never responding to charges against him levelled from all over the country. He, instead, spoke to his constituency in Gujarati and raised the issue of Gujarati pride.
Modi's communication strategy also involves addressing topics selectively, and leaving out their contentious strands. His tweets and speeches are entirely on what he chooses to communicate. They are not in response to the gripping issues of the day. For instance, in his Mann ki Baat addressed to farmers, he painted a rosy picture of how their lives would be if the land acquisition bill became a law, but kept mum about the state of the agri-economy.
For now, Modi's silence has begun to tell on his governance. Political issues are taking his focus away from implementing his maxim of "minimum governance, maximum government". More time is now spent on formulating response strategies than making the required course corrections.
First, his ministers had to convince the people that the government was not against minorities. Then they had to clear the air on ghar wapsi, saying it was not a government-sponsored programme. Much effort also went into persuading farmers of the merits of the land bill.
Now, they have been told to take up cudgels on behalf of BJP ministers—both at the Centre and in states—who face charges ranging from corruption to impropriety. The accusations levelled against leaders like Union Minister Smriti Irani, Maharashtra Women and Child Development Minister Pankaja Munde and Madhya Pradesh Chief Minister Shivraj Singh Chouhan have weakened Modi's plank of corruption-free governance.
Some BJP members admit in private that the image of the government has indeed taken a beating. Party veteran L.K. Advani and RSS ideologue K.N. Govindacharya have made pointed references to the need for probity in public life. "Knowing the prime minister, he would be furious with all these ministers for tarnishing his spotless image. But there would be good reasons for his silence, and for not sacking them," said a senior party leader.
With his grand gestures and tall promises, Modi had given supporters a sense of change. Through his frequent attacks on Manmohan in the run-up to the Lok Sabha elections, he gave the impression that he would not remain a silent spectator when a girl was raped or anyone in his government came within miles of being corrupt. He convinced the nation he would be the "pradhan chowkidar [primary guard]" who would hold everyone to the highest standard of honesty and credibility.
His silence on contentious issues, however, has put at risk the image he has built. "We never expected Manmohan Singh to speak, because the nation knew he was a proxy. But here is a prime minister who is in total control of his party and his government. His silence makes the government look rudderless," said Pramod Kumar, director of Institute for Development and Communication, a Chandigarh-based think tank. "Modi is talking on all issues from female foeticide to Digital India and from Swachh Bharat to Make in India; but he remains silent on issues that pertain to the functioning of the government."
Indeed, Modi has become quite like his predecessor—a prime minister with a clean image, silently watching the excesses of his colleagues. While Manmohan took a few years to acquire that image, Modi has beaten him to it—he has done it in 13 months.