A deceptive calm prevails at the India-Pakistan border post at Suchetgarh in Jammu. There are no overt signs of the rising tension between the two nuclear-armed neighbours, after India attacked militant camps in Pakistan-occupied Kashmir on September 28. The BSF even allows visitors a quick peek into its sprawling post. Some of the tourists click photos at the barrier close to a peepal tree that delineates the territories of India and Pakistan. The Pakistani city of Sialkot is just 11km from here. 
But in villages around Suchetgarh, people are worried. Many of them have fled to safer places as the Army prepares slowly for war. At Abdullian village, a few jawans in civvies were hauling garbage out of an unused concrete bunker. When we reached the spot, they quietly moved away and insisted that no pictures be taken. A few boys who returned to the village to check on their homes and cattle were the only civilians in Abdullian. "Most of us left after the news of war spread,'' said Krishan Singh, a student. He came back because he felt bored at the ITI complex at R.S. Pura where the villagers were staying.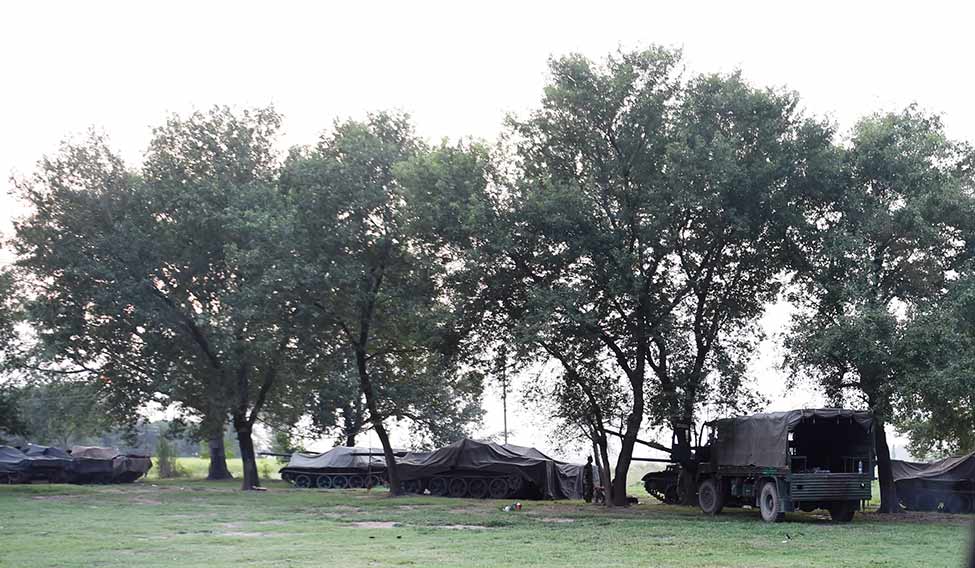 From their camp at the ITI complex, people make regular trips back to the village to tend their cattle and their rice fields. The villagers are worried that they would lose their ready-to-harvest rice crop if tensions continued on the border. 
At Palanwalla, a sensitive border strip, the Army refused to allow us to proceed close to the border. "It is not safe, we are not allowing anyone. Please leave,'' said the soldier who was manning the checkpost. A BSF officer at another border post warned us about the dangers along the border. "We are not doing anything, but you never know what they (Pakistan) will do,'' he said. "We open fire only if someone tries to intrude into our side." 
On September 30, residents of Raipure in Akhnoor were forced to leave their homes at midnight after the police asked them to rush to safety. The panicked villagers grabbed some clothes and bedding and left. Some went to stay with their relatives. Others, like brothers Dev Raj and Bodh Raj, took shelter in a camp run by Radha Soami Satsang Beas, a religious sect.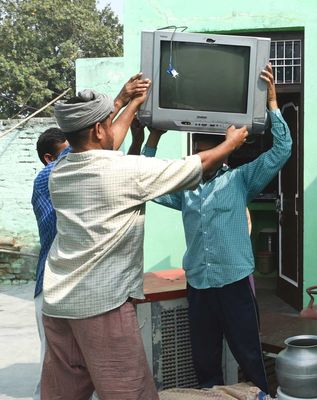 At the camp, the villagers spend their time talking about the frustration of having to leave their homes. Young boys talk about their studies, hoping that normalcy would return soon. The police make routine visits to the camp to update the list of people who have left their homes.
The students are worried that the uncertainty is hurting their future. "We hope there is no war so that we can return to our homes and resume our studies," said Vijay Singh, a student. However, there is little likelihood of schools and colleges in the border areas reopening any time soon. In many places, schools have been converted into temporary relief camps. Residents of Palanwalla, for instance, are staying at the government higher secondary school in Khour. Palanwalla residents had fled their villages during the Kargil conflict in 1999 and were unable to return to their homes for years. 
The frustration of having to leave their homes repeatedly was nowhere so pronounced as it was in Sainth, a village on the International Border. When we reached Sainth, the last three families were getting ready to leave, loading their belongings into vehicles. "It has become impossible to live here,'' said Sukhdev Singh, a government employee. "My two daughters are terrified by the firing. It is very risky to stay back,'' he said, referring to Pakistani shelling. Dulat Ram Khajuria, a former soldier, said the villagers were facing many problems and the government was not bothered. "The Army has taken our land on rent and is paying us a meagre amount,'' said Khajuria. "And now, when our crops are ready for harvesting, we are forced to leave. If this continues for another ten days, wild boars and pigs will destroy our crops." A group of villagers were seen raising slogans against being forced to abandon their homes, asking the government to put an end to the practice even if that meant going to war.
More and more residents said they were thinking about moving away from the line of fire. The government has alerted all district administrations in Jammu & Kashmir to get ready for all exigencies. Imam Ali, a resident of Srinagar, who had shifted to Karnah in Tangdhar close to the LoC, said he did so because of the tensions in the valley. "Now the situation has deteriorated in the border areas, too,'' he said. "Where do we go now?''