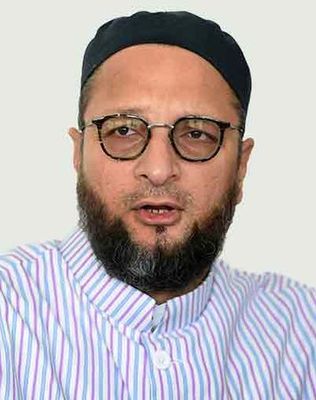 All India Majlis-e-Ittehadul Muslimeen president Asaduddin Owaisi is a vocal critic of Islamic State, which he says has nothing to do with Islam. He has also offered legal aid to seven persons arrested by the National Investigation Agency (NIA) in Hyderabad for their alleged IS links. He has not commented on the charges against televangelist Zakir Naik, but the chief of his party's Maharashtra unit has demanded an end to the "media trial" of Naik. Excerpts from an interview with Owaisi.
Why are you supporting Ibrahim Yazdani, one of the persons arrested in Hyderabad?
The NIA has levelled charges against him, which his family says are false. Our party's legal cell has examined the matter and certain facts have come to our knowledge. A sum of 015 lakh has been shown recovered from Yazdani. But his family says the money belonged to his father-in-law, who has a footwear shop in the city. As you know, Ramadan is a month of huge sales and they had that cash at home, which the NIA termed as terror fund. We will defend him and the other arrested, which is anyway their right.
On the one hand, you are defending terror suspects. On the other, you are criticising IS and its ideology.
IS is misusing the name of Islam to push its agenda. Its acts and ideas are barbaric. As an Indian Muslim, I have every right to expose them. As far as the arrested boys are concerned, I would like ask: Have they been convicted? How can the media decide on their guilt? Only courts can decide on it.
Have you drawn the government's attention to your concerns about IS?
I have been talking about it for the past two years, calling on intelligence agencies to act before it is too late. But the government has its own agenda. It is only concerned about Sadhvi Pragya and other Hindu extremists accused in terror cases…. After the Mecca Masjid blast in 2007, scores of Muslim boys were picked up and tortured. But it was revealed that the blast was carried out by Hindu extremists. I don't have very high hopes on the government.
The number of boys getting influenced by IS is rising.
There are around 11.5 crore Muslims in India who are under 35. Only 23 have allegedly joined IS. [The interview was conducted before the suspected flight of 21 Muslims from Kerala to areas held by IS came to light.] That is a minuscule number, but we do not want even one Muslim to get swayed by the destructive and damaging ideology of IS.