Political observer Hemant Shah said the prevailing situation in Gujarat was the result of lawlessness for the last 15 years.
Chalo aapde 878 maate (Let us go for 878). It is a number familiar to most dalits in Saroda, a village near Ahmedabad. It is the survey number of a piece of land, which according to official records, is owned by dalit families in the village. Across Gujarat, thousands of acres of government land have been allotted to dalits. However, the allotment remains on paper as the land is cultivated by others, mostly upper caste people, and the dalits work as labourers.
Gita Dinesh Maheriya is one such dalit. Her husband, Dinesh, who died two years ago of throat cancer, was among 115 dalit farmers from Saroda who were allotted 55 hectares in 2006. After toiling from morning till evening, she makes just Rs 150. "My husband's dream of taking possession of the land remains unfulfilled," she said. "Had we got it, our struggles would have come to an end."
Ramanbhai Maheriya, another dalit villager, said the dalits had done all they could to take possession of the land. Many representations were made. "We had to borrow money to share the cost of photocopies, postage and transport," he said. Politicians, he said, were taking advantage of the issue. "Senior minister Bhupendrasinh Chudasama is aware of the problems. He has been giving us assurances and has won elections from here twice," he said.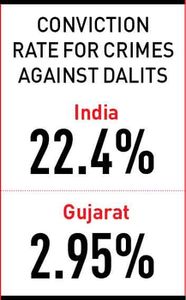 Caste discrimination has made the situation worse. It forced Ranchod Maheriya to give up his job of removing animal carcasses long before the Una attack. He quit two years ago after he was beaten up by upper caste villagers for skinning a dead cow. Today, Ranchod works as a farm hand.
His wife, Laxmi, was a cook in an anganwadi. She quit that job five years ago. "The children would not eat food cooked by me after they came to know that I was a dalit," she said. Laxmi and Ranchod work hard to support their son's education. They want him to get a decent job once he completes his BCom. Laxmi said setting up a business in their village was next to impossible. "There is not a single shop owned by a dalit on the main road. No one will go there. And how much would you earn by setting up a shop among our own people who are already facing financial issues," she said.
Several hundred kilometres away in Mota Samadiyala in Una taluk, Vanita Sarvaiya has the same grievances. Her father, Balubhai, and her two brothers were among those beaten up in Una for skinning a cow. "The discrimination is visible. Dalits cannot even step inside a ration shop. We have to stand outside to buy grocery," she said.
In Saroda, upper caste and OBC people are reluctant to admit that they have encroached upon land allotted to dalits. Jaswant Thakore said he owned less land than what was allotted to him. Pointing towards a one-acre plot, he said his father had been tilling it for years. Ramanbhai said Thakore actually had much more land than what was allotted to him. "In fact, Thakore has given away a chunk of it on a fixed rate for tilling," he said.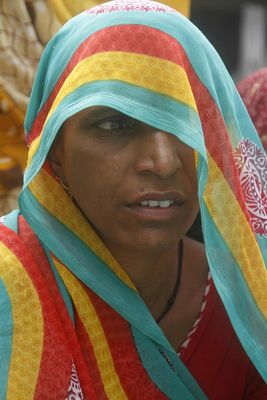 In Upardal village in the nearby Sanand taluk, Jethabhai Makwana and his brother Kantibhai were allotted 1.27 hectares and 1.30 hectares, respectively, which was illegally occupied by powerful Patel groups. They got it back because of the efforts of their brother Dineshbhai, who works in a private firm. Dineshbhai said despite repeated requests, the police had refused to file an FIR about the encroachment, until the executive magistrate intervened. "I do not know why, but probably out of fear, the Patels have given up possession of the land," he said. Charges had also been filed against the encroachers under the Scheduled Caste and Scheduled Tribe (Prevention of Atrocities) Act.
Subaben, mother of the Makwana brothers, fears the encroachers. "They are headstrong people. You never know what they will do," she said. Her fear is not unjustified. There are only 13 dalit beneficiaries in the entire village.
Dalit and OBC beneficiaries are often denied their rights on flimsy grounds. Amrat Prajapati spent Rs 1.50 lakh in 2008 for cleaning up the land he was promised so that it could be measured and allotted. "Nothing happened so far although the authorities keep saying they would come," he said. BJP spokesperson Bharat Pandya said the government had been conducting samvad setu to redress such grievances. Ministers and district authorities attended this programme. "I will not say that such problems do not exist," he said. "I do not have the figures of how much land has been allotted and how much is not in possession."
Dalit rights activist Jignesh Mewani, however, said there was sheer apathy on the part of the administration. "The land has been allotted because the Constitution says we are a secular and socialist democracy. But in Gujarat, land reforms have been scrapped and corporatisation has taken over. The land given to the poor is in possession of people belonging to upper caste and class," he said.
In response to a PIL filed by Mewani, the government filed affidavits on the issue, which showed that 15,519 acres of surplus land remained undistributed. But in several places, the allottees were not in possession of land. It also mentioned that the entire exercise will have to be carried out by physically verifying each and every parcel of land along with further verification of possession. Mewani said of 37,000 allottees, 17,000 were dalits. The rest, he said, were STs and OBCs. An action taken report filed by the government in February gave further details about land allocation and possession. It acknowledged encroachments in several cases and listed steps to be taken by district collectors.
Political observer Hemant Shah said the prevailing situation was the result of lawlessness in Gujarat for the last 15 years. He said the political parties were interested only in protecting their vote banks. "There is no concept of equity and equality," he said. "There is no social concern."