Bharvi Bhalla was just 13 when she was diagnosed with an ovarian cyst, which turned out to be a rare germ-cell tumour. The tumour was surgically removed and she also had a few cycles of chemotherapy. "We are expecting a 95 per cent cure for Bharvi. She can lead an absolutely normal life and pursue her hobbies," said Bharvi's doctor Amit Aggarwal, senior consultant oncologist, BLK Hospital, Delhi.
Cancer specialists today are confident of positive results like never before. The dreaded disease is increasingly treated like any other lifestyle disease in most of the cases, thanks to emerging treatment modalities. "Apart from surgery and chemotherapy, we now have immunotherapy and molecular therapy, which have much less side effects compared with chemotherapy. In fact, chemotherapy has also become patient-friendly. Surgery, too, is performed in a minimally invasive manner in most cancers where the tumour is well-defined," said Aggarwal.
Dr B.S. Ajaikumar, chairman, HCG Hospital, Bengaluru, said India was now at par with any developed country in cancer treatment. "The cure rate has gone up dramatically in the past few years. In advanced stage cancers, too, doctors are equipped to improve the quality of life of the patient," he said.
Immunotherapy, in which drugs are given to trigger the body's innate immunity to fight the cancer, has revolutionised cancer treatment. "Normally, it is the body's own immunity which protects us from developing cancer. In cancer patients, however, this doesn't work so effectively. We stimulate this immunity with the help of latest drugs. These have minimal side effects," said Dr Vijay Agarwal, senior consultant oncologist, HCG hospital, Bengaluru.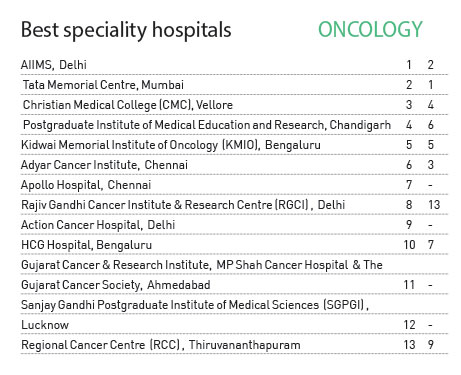 Genomics is another field that is changing the way doctors are diagnosing, treating and managing cancer. By studying the genetics of a cancer patient, doctors can figure out which treatment will be the most effective in the patient. It reduces the cost of the treatment. "In a lung cancer patient who has developed adenocarcinoma, we look for defects in the EGFR and ALK genes. If these genes are defective, the patient may respond better with targeted therapy rather than chemotherapy. On the other hand, in a colon cancer patient with a defect in KRAS gene, the patient should not be given targeted treatment as it would be detrimental to their health and costs about Rs1 lakh per week. We do gene testing for many cancers now. Genomics may also help us identify family members of a cancer patient who are susceptible to developing cancer," said Agarwal.
Another field that has revolutionised cancer care in India is nuclear medicine. Though it started 50 years ago when iodine isotopes were used to treat thyroid cancer patients, today several untreatable cancers are managed with nuclear medicine. Doctors use high-dose radiation to treat small and precise tumour cells with the help of latest targeted therapies. It has allowed better disease control with fewer side effects for certain malignancies.
"PET MRI has been found to be particularly useful for brain and spine, breast and pelvic cancers and allows whole-body screening if we suspect the spread of the cancer to other parts of the body", said Dr Indirani M., senior consultant, department of nuclear medicine and PET, Apollo Hospital, Chennai.
Nuclear medicine has emerged as a hope in some inoperable metastatic neuroendocrine tumours, primary liver cancer and colorectal liver metastases, in adults and children.
Cancer is indeed no more a death sentence.