Dabangg Khan cried. Activists rejoiced. Bollywood grumbled. Electronic media rambled. And, the fans rallied behind their Supreme Khan. As evident from a colleague's Whatsapp status message: "Hum dil de chuke sanam (I have given my heart, darling)… Whatever the verdict, always your fan".
"Mujh par ek ehsan karna ki mujh par koi ehsan na karna (Do me one favour of never doing me a favour)!"
This was one of Salman Khan's killer dialogues in the film Bodyguard. The social media was quick to play with it as the Mumbai sessions court sentenced the actor to five years in jail. The court, opposed to what many Salman fans wished, showed no leniency while delivering the verdict in the long-running case. Yet another wake-up call for the elite, they say.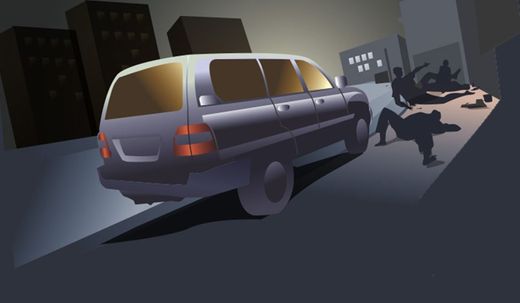 Here is a timeline of the 12-year-old hit-and-run case
2002
September 28: In the wee hours, Salman Khan's SUV rams into a bakery near his sea-front apartment in Bandra. Four pavement-dwellers are injured; one dies later. Salman gets arrested in the afternoon, but is released on bail.
October 21: The actor, who allegedly drove the vehicle in a sloshed state, is charged with culpable homicide not amounting to murder (Section 304 II of the Indian Penal Code).
October 24: Salman is rearrested, but a sessions court grants him bail.
2003
March: Salman challenges the application of Section 304 II.
May: The court rejects Salman's challenge.
June: Salman moves the Bombay High Court, gets reprieve.
October: The state moves the Supreme Court.
December: The Supreme Court asks the magistrate to study the evidence and conclude the case.
2006
October: The Bandra metropolitan magistrate's court frames charges under section 304 I (rash and negligent driving).
2007
May: Salman was drunk at the time of the accident, says a chemical analysis report.
2011
March: The prosecution presses for stronger charges.
2012
December: The Bandra metropolitan magistrate's court shifts the trial to the Mumbai sessions court.
2013
March: Salman files a revision petition in the sessions court.
June: The court rejects it.
July: It frames charges under Section 304 II.
December: The court orders a fresh trial.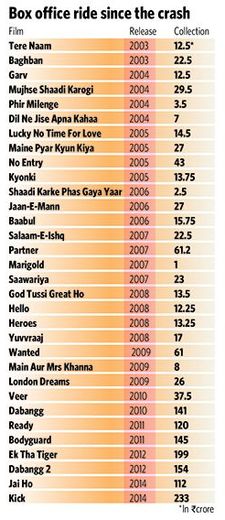 2015
March: Salman says it was his driver Ashok Singh who drove the SUV. He concedes that he was at a bar before incident, but "drank only water". Special Public Prosecutor Pradeep Gharat closes his arguments after examining 27 witnesses.
April: The defence argues against prosecution charges, examines just one witness, driver Ashok Singh, and closes its arguments.
May 6: The sessions court finds Salman guilty of culpable homicide, and sentences him to five years in jail. Over to the High Court
Controversy Khan
1999: Salman Khan and some of his co-actors in the film Hum Saath Saath Hain are accused of hunting the endangered chinkara and blackbuck deer in Jodhpur. Charges are also filed under the Arms Act. Salman gets five-year and one-year sentences in two chinkara poaching cases; he's out on bail and appeals are pending in court. The cases of blackbuck poaching and possession of illegal arms are still being heard.
2002: Salman breaks up with Aishwarya Rai, who accuses him of assaulting her. Later, he is accused of harassing and threatening the former Miss World.
2003: Salman allegedly gets involved in a nasty verbal spat with actor Vivek Oberoi (who was reportedly dating Aishwarya).
2008: Salman and Shah Rukh Khan break into brawl at actor Katrina Kaif's birthday party. Katrina is Salman's ex-girlfriend.
2010: He is slammed for his comments to a Pakistani TV channel that the 26/11 Mumbai attacks received so much attention only because the targets were "elite". He also reportedly said that Pakistan was not to be blamed for it, and it was the failure of the Indian security establishment. He apologises for the comments.
Moolah matters
* Salman is the only Indian star to deliver seven Rs100 crore-plus films in a row.
* Analysts say about Rs230 crore is riding on Salman, with two upcoming films—Bajrangi Bhaijaan and Prem Ratan Dhan Paayo—in the final phase of production, and his endorsement tie-ups with 10 brands including Thums Up, Suzuki two-wheelers, Wheel detergent, Revital and Yatra.com.
* The actor has apparently signed four other big-ticket films, including Dabangg 3.
* Salman hosted the past five editions of the Bigg Boss reality TV show, earning Rs30-50 crore per series.
* Reports say illegal betting worth Rs2,000 crore took place on the hit-and-run case verdict.
* In 2007, Salman launched an NGO named Being Human Foundation, which focuses on health care and education for the underprivileged. It raises income primarily from the $100 crore-plus Being Human apparel and accessories brand, which has a cult following.