The 21st century belongs to the knowledge age, where acquisition, possession and application of knowledge are the most important resources. Knowledge is acquired through education, information, intelligence and experience. It is available in academic institutions, libraries, research papers, seminar proceedings, organisations, workers, managers, drawings, process sheets and shop floors.
Knowledge, though mainly associated with education, comes also from learning skills such as those possessed by artists, artisans, philosophers and saints. There is an abundance of unorthodox, earthly wisdom in our villages and even in our folk songs.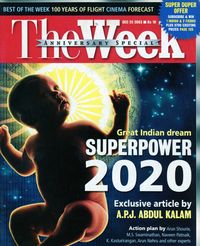 Knowledge has always been the prime mover of prosperity and power. The world today has already moved into an information society. This society derives its economic growth by further value addition to the explicit knowledge through networking. Connectivity and software products are now driving the economies of the nations. Tomorrow's world will be one that recognises knowledge in its most comprehensive form and add further value to products through innovative knowledge-intensive products/services in a network ambience. It is these knowledge products that will contribute to the economic growth of nations.
A knowledge society is driven by societal transformation and wealth generation. The societal transformation is built on education, health care, agriculture and governance. These will have to lead to employment generation, high productivity, high industrial growth, empowerment of weaker sections, networked and transparent society and rural prosperity.
The Planning Commission had formed a task force to evolve action plans for transforming India into a knowledge power. The team has identified wealth generation as a key task. It also identified the areas that will lead us towards a knowledge society: information and communication technology, biotechnology, weather forecasting, disaster-management, tele-medicine and tele-education, technologies to produce native knowledge products, service sector, and infotainment. These core technologies, fortunately, can be interwoven by IT.
While a knowledge society has a two-dimensional objective of societal transformation and wealth generation, a third dimension emerges when India has to change into a knowledge superpower—knowledge protection. A knowledge superpower has to focus on two important issues—economic prosperity and national security. Our communication network and information generators have to be protected from electronic attacks through surveillance and monitoring and building technologies to handle such attacks.
To generate wealth, which is the second component for establishing a knowledge society, it is essential that simultaneously a citizen-centric approach in shaping business policy, user-driven technology generation and intensified industry-lab-academia linkage have also to be established. It is only through the process of innovation that knowledge is converted into wealth. IT and communication can help in a big way in the transformation process. Besides education and health, IT can also help in agriculture and in providing rural connectivity. Nationwide knowledge management involves setting up of infrastructure, processes, policies and practices which will lead to an environment where knowledge creation is encouraged, nurtured, rewarded and exploited. Our science and technology, fiscal, trade and industrial policies have to be evolved based on our strengths, weakness, environmental threats and opportunities.
The strategies involved in knowledge creation, knowledge exploitation and knowledge infrastructure will finally lead to wealth generation and improvement in national economic indicators. The strategies involve preserving knowledge through knowledge networks, human resource planning and development, promoting venture capital and national and international market development, selected technology acquisitions and infrastructure development.
As the world transforms into a knowledge society, India has tremendous advantage due to its core competence in IT, vast natural resources and, above all, 300 million ignited youth. This strength must be harnessed fully for the transformation of society.
For more stories on and by Abdul Kalam, go to http://goo.gl/oou7kh