Like the great poet Subramania Bharati, Kalam wanted no child, woman or man to go to bed hungry in our country. That was the reason for his interest in the Green Revolution and in my own work.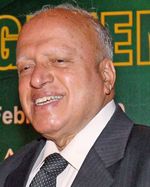 My association with Kalam extends to nearly 40 years. Vikram Sarabhai first told me about him and said that he was an exceedingly capable, competent and concerned professional. At our very first meeting, I was impressed with his determination to see India as a developed country. He didn't like India being referred to as a developing nation which is struggling to feed itself. Like the great poet Subramania Bharati, Kalam wanted no child, woman or man to go to bed hungry in our country. That was the reason for his interest in the Green Revolution and in my own work. When he was president of India, he mentioned in every lecture how the Green Revolution changed our destiny in the field of agriculture and food security.
To Kalam, religion, caste, language and other criteria that divide Indians and place them in pigeon holes were unacceptable. He was an Indian first and Indian last. Therefore, he wanted all parts of India to progress. For Kalam, the rural-urban divide in access to basic needs like school, drinking water, electricity, roads and health care was a matter of deep concern. That is why when he became president, he started advocating PURA (Providing Urban Amenities in Rural Areas). He actively encouraged both government and non-government institutions to take to PURA. In fact, when Pakistan president Pervez Musharraf visited Kalam in Rashtrapati Bhavan, he showed Musharraf on a computer screen the basic elements of PURA and advised him strongly that PURA should be taken up in Pakistan as well, so that people in rural areas have access to the minimum needs of a human being.
I must also refer to the changes he brought about in Rashtrapati Bhavan. In the room where president normally meets visitors, Kalam installed a working table in a corner along with a computer. Whenever Kalam wanted to make a point to an important visiting dignitary, he will take him to the table and make a PowerPoint presentation.
Kalam was a great educationist. Spreading scientific literacy was his passion. Therefore, he gave much importance to young scholars and children. He often used to say that today's children are tomorrow's citizens and, therefore, we should pay considerable attention to their education, physical health and value systems. This is essential to generate the human resource needed for us to become a developed country.
In September 2003, Kalam came to Kottakkal in Kerala to inaugurate the Centre for Medicinal Plant Research of the Arya Vaidya Sala, which is the oldest and the most reputable Ayurveda centre in the world. As usual, the security personnel had put several barricades to keep the audience away from the president. Students were asked to sit in one enclosure surrounded by a fence. Kalam noted it from his seat on the dais. As soon as the meeting was over, Kalam rushed towards the enclosure where the students were seated. He apologised to them for him being inaccessible due to security reasons and distributed his visiting card that had his email address. Kalam encouraged them to write to him with their doubts, and said he would respond immediately. This was not an empty promise, as I learnt subsequently from some of the students that he had replied to them and that they are very proud to have a letter from the president of India.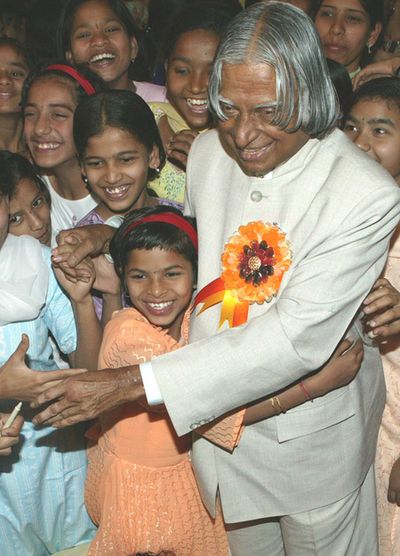 Let me cite an example of Kalam's concern for building the self-esteem of economically and socially underprivileged rural women. I had invited him to deliver the first convocation of the Jamsetji Tata National Virtual Academy (NVA), and he readily accepted when he came to know that the academicians were all rural women and men who had studied only up to class eight or ten. He was highly impressed with the capacity and unrecognised ability of rural women. He mentioned in his address that the academy represented "the core competence of rural India". At the end of the convocation, Kalam liberally gave time to sit for photographs with the rural women and men who had been elected as fellows of NVA. He then asked me where the next convocation would be. I told him that we were planning to have it in Hyderabad at the Agriculture University. He then wanted to know whether he would be invited for that as well. I told him it would be a great honour as well as a tribute to the rural academicians, if the president of India was the chief guest at two consecutive convocations. This was the hallmark of Kalam's humility and modesty on the one hand and love for rural families on the other. He never stood on formality or protocol and he is therefore rightly referred to as people's president.
Being an outstanding scientist, and the first scientist to receive the Bharat Ratna, Kalam placed emphasis on chronicling facts and events accurately. His various books, including Igniting Minds, are a testimony to his desire to record his observations and viewpoint. He also got several books prepared by eminent scientists on the flora and fauna of the Mughal Garden of Rashtrapati Bhavan. At Kottakkal, he requested P.K. Warrier of the Arya Vaidya Sala to help him set up a medicinal plant garden in Rashtrapati Bhavan. Kalam, in fact, set up an astral garden. He also advised the governors to establish similar gardens in Raj Bhavans. I have seen a very good medicinal plant garden at the Raj Bhavan in Kolkata, which was set up by Gopalkrishna Gandhi when he was the governor.
Kalam's work in the field of missile technology and his contribution to Pokhran II are well known. Probably it was due to his enthusiasm for science and technology that Atal Bihari Vajpayee added a 'Jai Vigyan' to Lal Bahadur Shastri's 'Jai Kisan' and 'Jai Jawan'.
Kalam used to make his own PowerPoint presentations and sometimes he could be seen working on them sitting on the dais, based on the composition of the audience. The security personnel used to wonder what he was doing. Kalam was always generous and gave more time to the organisers than they had bargained for.
To sum up, Kalam was an unusual human being full of love for fellow human beings and full of concern for the progress and development of India on secular, democratic and egalitarian manner. The best tribute we can pay him is to work for his vision of India as a developed country where there will be no one below the poverty line and where there will be no child who is malnourished or illiterate.
Swaminathan, father of India's Green Revolution, is chairman of the National Commission on Agriculture, Food and Nutritional Security of India.