The Gaurs built Nirman Sadan, the headquarters of their Jaypee Group, putting in a lot of money, effort and passion. But in April, Manoj Gaur, executive chairman and CEO of the group, had to give away the keys of the grand office complex on the Noida-Greater Noida Expressway to Axis Bank in lieu of Rs 700 crore his company owed. Later, Gaur sold his cement plants in Uttar Pradesh, Madhya Pradesh, Himachal Pradesh, Uttarakhand and Andhra Pradesh to Aditya Birla's UltraTech Cement in an attempt to get rid of a part of his company's Rs 75,000 crore debt.
Corporate India is going through a phase in which many promoters are giving up everything to save their companies from going bust. Ten of India's largest corporate groups together owe more than Rs 7 lakh crore to banks. "Companies are going through one of the toughest phases in their lifecycle. Some of them have already defaulted and some might in the next few weeks. The larger problem is a result of overambitious corporate and careless banks," said Vikram Dhawan, director of Equentis Capital, an investment adviser.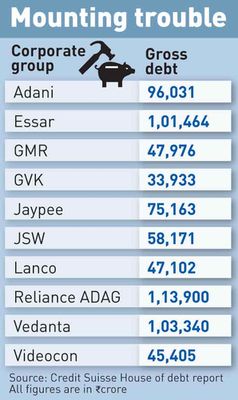 Between 2009-10 and 2013-14, India Inc doubled the total debt on its balance sheets—from Rs 20 lakh crore to more than Rs 41 lakh crore. The problem, however, had started long before that. In 2006-07, the government announced ultra megawatt power projects (UMPP) and infrastructure companies scrambled for such projects. But many of these UMPPs were soon cancelled because of unrealistic bidding and fuel shortage. Also, government-owned power distribution companies were not paying on time. The power sector's debt in 2013-14 was an alarming Rs 9.5 lakh crore.
"Too much capacity got built in anticipation of growth. The policy environment, however, was not supportive of these expectations. As a result, plans came to a standstill and profitability suffered," said Ashutosh Maheshwari, chief executive officer, Motilal Oswal Investment Banking. On the east coast, he said, four major ports came up—Gangavaram, Kakinada, Karaikal and Krishnapatnam—with an eye on the raw material needs of thermal power plants. But with the flopping of the power story, their utilisation currently stands at just 30 to 40 per cent.
Infrastructure companies' overseas acquisition spree between 2006 and 2011 further stretched their balance sheet. In 2011 Adani Group acquired Abbot Point Port Terminal in Australia for $2 billion. The same year GVK acquired Hancock Coal of Australia for $1.2 billion, and Lanco bought Griffin Coal of Australia for A$730 million. "The external environment is as much to blame, especially in the case of steel companies. Global price of iron ore came down heavily and that made Indian steel makers less competitive," said Deepak Sharma, managing director of Sarthi Advisers, a boutique investment banking firm.
IRON AND STEEL companies owe about $46.5 billion to banks. "In India, long-term infrastructure financing is nonexistent. Infrastructure funding through banks is costly," said Divyanshu Pandey, partner at JSA Law. A recent report by India Ratings and Research says corporate debt worth Rs 6.7 trillion faces risk of default, as nearly half of the top 500 corporate borrowers may be unable to refinance their debt. Banks might need to bear losses between 40 and 70 per cent in 240 companies which are under heavy debt in steel, construction, power, textiles and infrastructure sectors.
Most indicators reflect the sorry state the banks are in. The debt-equity ratio (which shows how much debt a company is using to finance its assets relative to the value represented in shareholders' equity) for BSE 500 companies has gone up from 0.7 per cent in 2009-10 to 0.9 per cent in 2013-14. Also, the interest coverage ratio, which indicates a company's ability to repay its debt (calculated by dividing a company's earnings by the interest payment during the same period), has not been comfortable for many companies.
The consequences of a heavily borrowed corporate sector are many. The first being the impact on capital expenditure, which is the money a company invests in new projects or acquiring assets. India Inc's capex contracted 27 per cent in FY15, says Reserve Bank data. This was the fourth successive annual decline. High corporate debt brings down profit, diminishing a company's ability to invest in future growth.
Second, debt-ridden companies find it tough to ride any uptick in the economy. "These companies bear the brunt of high debt at stock markets, too. Share prices have come down way below from what they were," said Sharma.
One good thing, however, is many corporates have realised that it is critical for their business to repay loans. With lines of credit drying up, they are left with no option but to pay up. Asset sale is one of the many ways through which companies are trying to reduce leverage on their balance sheet.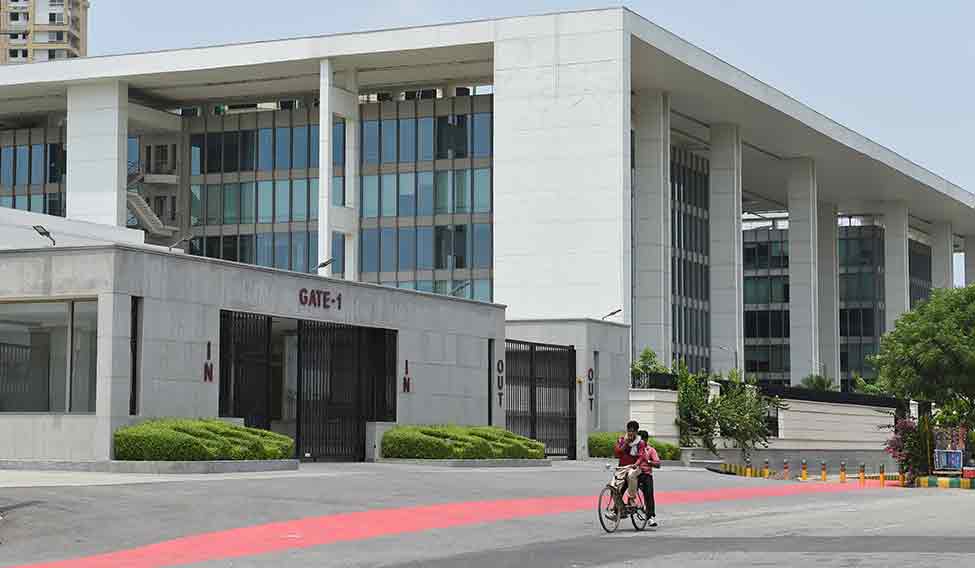 The Reliance ADAG group, which has a gross debt of Rs 1,13,900 crore, has put 44,000 telecom towers on the block. In November 2015, it sold 49 per cent stake in its electricity generation, transmission and distribution business in Mumbai and adjoining areas to a Canadian pension fund. It sold its cement business to Birla Corporation and is now looking to sell its roads portfolio. Heavy debt has forced Essar Group to scout for buyers for its prized asset—Essar Oil's Vadinar refinery, which has a capacity of 20 million tonnes per annum. GMR has already sold stakes in its road, power and coal assets.
GVK Group, which runs the Chhatrapati Shivaji International Airport in Mumbai and Bengaluru International Airport, owes Rs 34,000 crore to banks and is planning to sell stake in its airport division. In April, GVK sold 33 per cent stake in Bengaluru Airport to Fairfax India Holdings.
The problem is, stressed assets have few suitors and they seldom fetch the actual value. "Global buyers are not coming in and even within India, large companies are not opening their purses. Some of the assets are available at attractive prices, but there is a general sentiment of caution. Also, this time around, banks are not willing to fund big acquisitions," said Maheshwari.
Interestingly, many asset sales are being led directly by banks, with the RBI's noose tightening around them. For instance, Jaypee Group's asset sales, including the cement deal with UltraTech, have been driven by bankers. Banks are also invoking strategic debt restructuring (SDR) in cases where the firm has defaulted on loans. Under the SDR scheme, banks convert a part of the loan into equity holding. They are required to bring in new promoters within 18 months. So far they have used it in 15 cases, but have not found a strategic partner for any of the firms.