"The business should be done with discipline and the banks should have norms. It is unfortunate that the families of polishers also have to suffer" - Sevantibhai Shah, exporter
When Dilip Dholakia moved from his hometown in Amreli, Gujarat, to Surat, he was sure that the affluent diamond city would take care of him. But now, about a year later, he is thinking about going back, because he lost his job at a diamond polishing unit and is not able to find another. In fact, thousands of diamond polishers in Surat, Ahmedabad and Amreli have lost their jobs owing to a slowdown in the industry.
About 90 per cent of diamonds in the world are polished in India. Gujarat accounts for about 80 per cent of this. The current downturn is attributed to overproduction of polished diamonds, increasing prices of rough diamonds and the influx of synthetic diamonds in the market.
What is stopping Dholakia from going back is the fact that things are not any better in Amreli. "My elder sister works as a farm labour to take care of my 48-year-old disabled mother," he said. He was earning just Rs4,000 a month in Surat, and the employer used to cut Rs1,000 from that amount as deposit. Now Dholakia is working at a small diamond polishing unit run by his cousin, Bhupat Vasterpara. But that is a temporary option as Vasterpara also is struggling for survival. "For the last 10 months, I have not taken any profit home. Earlier, I used to get Rs25,000 a month. I have money enough only to run the unit for a month," he said. The women in his family earn around Rs6,000 by doing stitching, which helps him make ends meet.
It was this cushion Bhavin Prajapati, 32, did not have. Jobless for a few days, he committed suicide. "He tried to fit into another unit, but could not come to terms with the mental stress and salary cut," said his elder brother Ashwin, who, too, lost his job. Their five-member family is now clueless about survival.
Reportedly, two other people who had lost their jobs also committed suicide. The Surat Diamond Association, however, tried to play down the situation. "Yes, one odd case might be genuine," said Dinesh Navadiya, president of SDA. "In other cases, the reasons have been different, other than work related."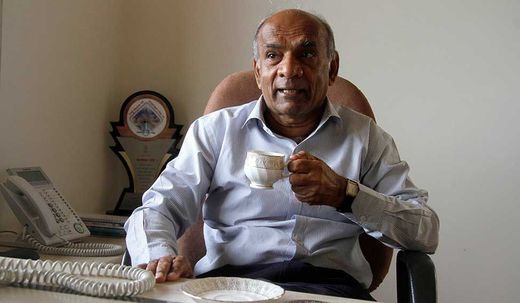 Neither the SDA nor the Ratnakalakar Vikas Sangh, an organisation for diamond polishers, has the exact number of workers who have been laid off and the closed units. RVS president Jaysukh Gajera said at least 10,000 diamond polishers lost their jobs. Not all cases were reported because diamond polishers fear that they would not be re-employed in the industry.
Dinesh Sheladiya's small diamond polishing unit in Ahmedabad had braved the recession in 2008. But he took a break this time. "Who likes to close a unit? But, this time I had no option," he said. He put the number of closed units at 150. Like most others, he has surplus polished diamonds. And, he attributed the slow business to the influx of synthetic diamonds. "Diamonds is a business of trust," he said. The price difference of around Rs10,000 between real and synthetic diamond forces the real diamond seller to reduce the price. On the other hand, the price of roughs has been on the rise.
There is no agency that controls the influx of synthetic diamonds. "Their mixing with real diamonds should be considered a crime," said Chandrakant Sanghvi, a leading diamond exporter in Surat. Many people in the industry attribute the liquidity crunch in the market to the overspending of some units. "I feel the banks are also responsible for this," said Navadiya. "We have been telling banks to give smaller credits to more people. In some cases, these units have taken credit much more than the actual exports."
Sevantibhai Shah, one of the most respected men in the industry, agreed that the current slowdown was more severe than the one in 2008. He said the irresponsible behaviour of a few people in the market made it worse. "One should operate within one's own limits," he said, referring to overspending. "The business should be done with discipline and the banks should have norms. Small unit owners do not get credit. It is unfortunate that the families of polishers also have to suffer. But if discipline is maintained and banks also remain careful, things will fall in place." Shah was among the first employers in the industry to offer provident fund and pension scheme for workers.

Though Sanjay Kothari, former chairman of Gems and Jewellery Council, is hopeful that the situation would improve by September, not many people see a revival at least until Christmas. And, that is not good news for those who lost jobs. Said Babubhai Kathiria, the SDA's treasurer: "Nobody is interested in taking the workers who have lost their jobs when they themselves want to cut down."
Lost sparkle
* About 90 per cent of diamonds in the world are polished in India. Gujarat accounts for about 80 per cent of this
* The current slowdown is the result of lack of demand, rising price of rough diamonds and the influx of cheaper synthetic diamonds
* Around 10,000 diamond polishers are said to have lost their jobs. Some 150 units have been closed
* Rough diamond import in April-June was for Rs26,678 crore. It was for Rs31,233 crore a year ago; a decline of 14.59 per cent