There was no swinging session by the Sabarmati this time. The bromance of the Obama visit—bear hugs, first names and the joint Mann ki baat—was absent, too. When you are hosting heads of over 50 nations at the same forum, it is rather time consuming to go hugging each one of them at every session. The media had to satisfy with one great photo op: at the prime minister's banquet, most of the African leaders wore the ikat silk kurtas and tussar Modi jackets, each a bespoke piece gifted to them.
But the India Africa Forum Summit 2015, which began as a rather low-key affair despite being the biggest gathering of world leaders in Delhi after the 1983 summit of the Non-Aligned Movement, has paid India rich dividends, perhaps even more than what it got from its wooing of the US and China.
For starters, India this time was the magnanimous big brother, offering itself to lead as the voice of a third of humanity at international forums like the United Nations meetings, where richer nations manage to edge out others.
Also, India was not in the seeker's role, but in that of the giver's. It did not have to woo African leaders for investments, rather, it was investing in Africa's future. Despite the hype of Chinese President Xi Jinping's visit last year, India was promised just $20 billion in investment over the next five years, against expectations of $100 billion. In contrast, India has promised a credit of over $10 billion over five years, in addition to the $7.8 billion concessional credit pledged in 2008. A grant of $600 million and 50,000 scholarships, too, were announced.
To the untrained observer, this may seem rather modest, compared with China's wooing of Africa. The China-Africa trade today stands at $200 billion, while India's trade with Africa is worth only $70 billion. But scratch the surface and you can see that India's engagement with Africa is not just the 'chequebook'' one. Deliberations on agricultural aid, education and health care, offering cheap technology, sharing satellite space, and working towards joint goals in climate change are levels of engagement at a more organic level. India has promised help in setting up a Pan African Virtual University. Common concerns of fighting terror and maritime security were also discussed.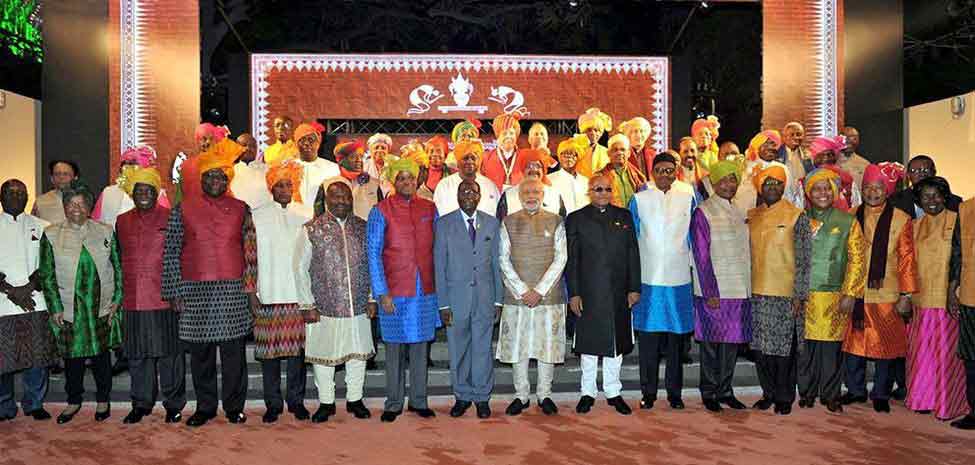 Liberian President Ellen Sirleaf was not just providing lip service when she named this summit as one of the historical processes of 2015 that will determine the state of the world in the next few years. The first outcome of the summit could be seen in Paris in December where world leaders will gather to sign a treaty on climate change. Prime Minister Narendra Modi asked Africa to join the alliance of solar-rich countries ahead of the summit, to press for a solar-powered future that ensures that the "snow in Kilimanjaro does not disappear, the glacier that feeds the Ganga does not retreat".
Already, indigenous technology from Barefoot College, Tilonia, Rajasthan, is helping remote African villages. The institute selects unlettered village mothers and grandmothers for a six-month training programme in sign language to install, maintain and repair solar circuits for household lighting. The initiative, which began in 2008, will scale up with five regional centres to be opened shortly. The need to back each other at global forums was reiterated when Zimbabwe President Robert Mugabe emphasised that the UN was long overdue for reform. India has been seeking a permanent seat in the UN security council, and Africa, too, wants a representation there. The leaders suggested that the world order was changing, and they should together demand one seat for India and two for Africa.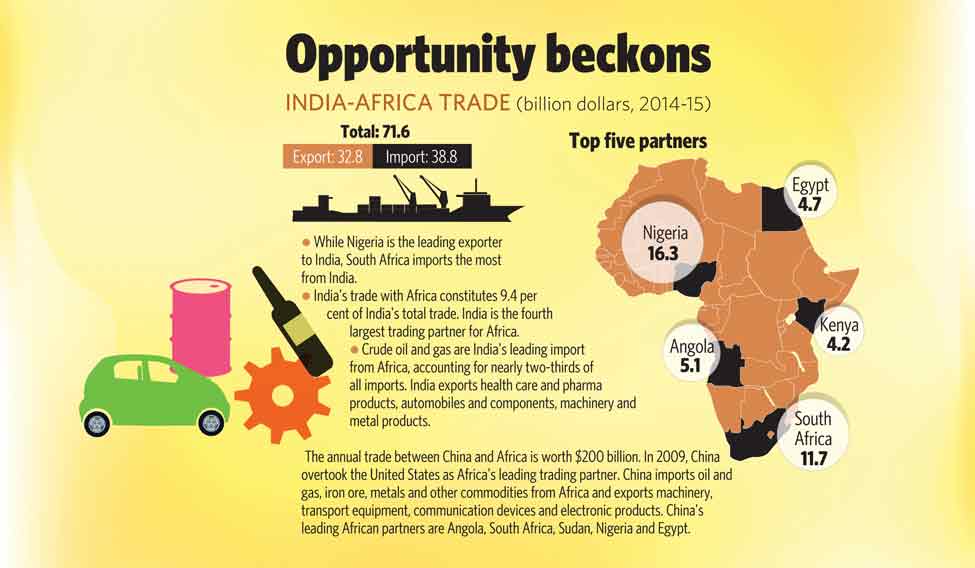 While comparisons with China are inevitable, what India has to its advantage are its historical ties with Africa, going back to the days of Ibn Battuta and beyond. More importantly, the shared history of colonial rule, too, binds the two. Although Modi made no mention of Jawaharlal Nehru and Indira Gandhi, whose reachout to several African leaders formed a part of the shared history, many of them mentioned Nehru and Indira. Mugabe fondly remembered Nehru and Gandhi, as did South African President Jacob Zuma. King Mohammed VI of Morocco said Nehru and his grandfather worked together against colonialism.
Forget history, the success of the present summit is based on the initial work done by the Manmohan Singh government, which rolled out such a systematic pan continental engagement with the first India-Africa meet in 2008. Though Congress president Sonia Gandhi and Manmohan Singh were absent from Modi's banquet, Zuma later broke protocol and visited them. Clearly, governments may come and go, but diplomatic ties should continue for ever.